Welcome!



Hey, I saw our first lightning bug the other night here in Kansas!

I think we all are so ready for summer this year. But before the summer solstice, that wonderful and meaningful day: Father's Day on June 16.

Love him, recognize him, talk to him often.

This will be the first year without my own dad due to Covid-19. I miss him terribly. Yet, I am gifted by two things he left me, his faith and the talent of art.

I only hope those attributes will help you too.

By the way, if you missed the first free download when you signed up, you can get it here.
Today's Highlights
1. cookie cutter flips 2. summer themed cookies, inspiration 3. business sense 4. quick business tips
Cookie Cutter Flips
(***Trouble shoot cracks, color bleed and more.)
Here's some delightful inspiration for you. There's no end to cookie cutter flips. They are all around the internet. This section will be included in each newsletter because of their popularity.
I just love creative people, don't you?
Not always my own ideas, but they are my own decorated cookies (if you have an email with just html, you will not be able to see the photos).
-snowman head to gumball machine
-apple to strawberry
-flower to turkey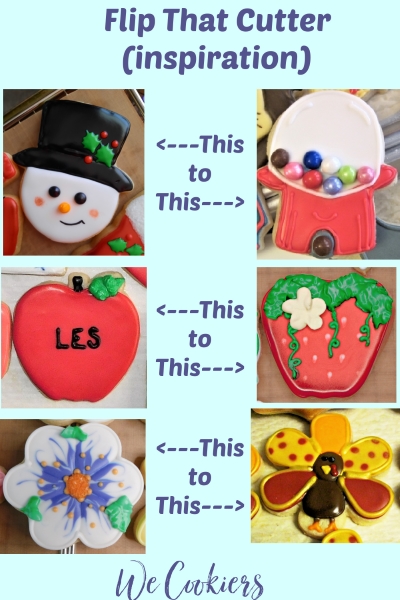 Click this link for your "My Cookie Cutters" printout. This is a special gift to the We Cookiers, those who have signed up for The We Cookiers Express newsletter.
Summer-themed Cookie Inspiration
How about some inspo for summertime cookies?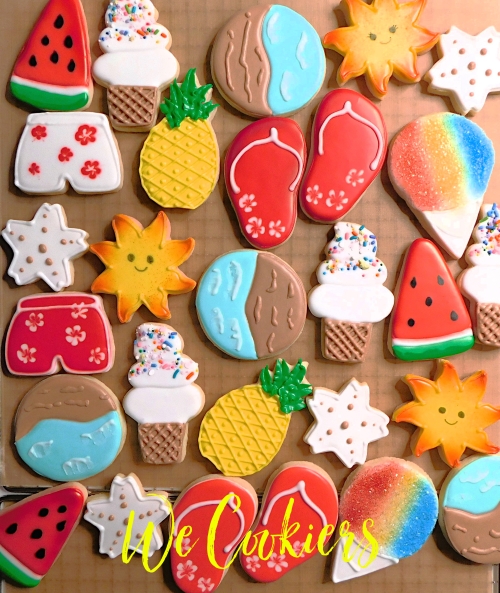 Business Sense: marketing yourself
Here are 4 ways to get your name in front of the public...
1. Have a local bakery supply shop? Ask if they mind you setting up a pop-up booth either in or in front of their store on a Saturday. You could work together to promote each other the week before.
2. Become more involved in your community. Start a 'clean up (your town/city) name. On your posters and advertisements, use your business name.
3. Did you know that your local newspaper will do a write up on your business for free? Contact them for great exposure! Most will take pictures of you 'at work' and your works of art.
4. When you do have an order, you might want to do up a punch card for the customer. After so many punches (on the card ha ha), they can get a free extra large cookie, or whatever you choose.
Quick Business Tips
1. Do you know the laws for cookiers in your state? Please make sure you are versed in them. It would be terrible to start a wonderful business only to have to tear it down or get fined.
I live in Kansas where it is not law to be licensed. However, since I have chosen not to do so, I am restricted on certain items. For instance, anything that needs refrigeration is off limits. A great many cookiers are also cake and anything people. Making chocolate dipped strawberries is illegal where I live because of refrigeration.
2. A huge and most important issue is copyright infringement. Did you know that the NFL and Disney, just to name a couple, will fine you $250,000 if they catch you selling any of their copyrighted items? That's not to mention jail time, confiscation of items in your kitchen, and lawyer fees.
Last month alone, Disney sent out 10,000 cease and desist letters to cookiers and cake decorators on the internet. They have teams of people hired to scout out the abusers.
My advice? Don't even go there. Better to stay above board.
You can always go to Disney's website for more information and apply to use their material.
Alrighty, that's all for this month. May God bless you abundantly!

"Say it, and it becomes so. Write it, and it becomes history."-Pepper Blair Pepper Blair on Pinterest