A warm welcome to you!
Are you head-long into the holiday season now? It's here!
I'll get right into it...
Before I forget, it's official...WeCookier's now has opened a shop. I know, I know, I've been promising for a while now. It's so hard finding the right company that has everything you need on the business end. I'm very pleased and hope you are too. Please let me know if you have questions or concerns!
You will find the shop on the menu tab on WeCookiers.com, 'Shop Gotta-havs'.

Click on the image to be taken directly to it.
Today's Highlights
1. newest pages at WeCookiers.com 2. your question, my answer 3. humorous cookies #1 4. decorated cookies for fall inspo photo 5. business sense 6. quick business tips
Newest Page at WeCookiers.com
I've been so busy with the shop and local orders, there wasn't time for writing a new page. Here is a replay from the newest pages in case you couldn't tune in last month:

Wedding Sugar Cookies--this page makes clear everything you need to know about selling wedding cookies: price, bulk or individual bagging, using deep or dark colors, AND...a new free download! Video included

Wedding Sugar Cookies

Here is a video on YouTube welcoming you to 'Shop Gotta-havs', along with the first set of royal icing sheet templates:

Shop Gotta-havs! welcome & 3 sheet set


If you haven't already, make sure to subscribe to my YouTube channel to catch all my releases. I've made it a priority to publish 2 times a week, usually Wednesdays and Thursdays.

WeCookier's YouTube

Your Questions, My Answer
Q: There are so many places and avenues to try to sell online. What is the best place the costs that least in fees?

A: Okay, I made this question up. However, I believe it is a common pain point of many and you will find great value in the answer. I will speak on my own experience and learning:

I checked out dozens and dozens of places from Etsy to Pay-Pal, from Shopify to Big Commerce, and in-between. I'm not saying anything is bad and the wrong way to go. But, for me, I needed an outlet that would collect sales tax and deal with the VAT tax (Value Added Tax from Europe). I also wanted an all-in-one shop that provided a cart as well as payment processor. One other point I wanted was to have it the same look and feel as my website.

I created many accounts then deleted them.

The one that came highly regarded from where I created my website (SBI!) was Ecwid. After a couple of months on the fence I chose them. They offered everything I need/wanted plus so much more. I am super pleased with Ecwid! (No, I'm not getting paid for this).

Just so you know, you pay a monthly or yearly 'subscription' for your shop. That's it. No other fees whatsoever!






Cookie Cutter Flips/Humorous Cookies
For Halloween I did some black cat cookies. I made some capsule shaped cookies for another order.

I got a little creative.

I thought 'why not trade out humorous cookies instead of cookie cutter flips in the periodical sometimes. It won't be often probably, but here goes...

Cats being scared by cucumbers, lol! The video I made for it will be up next week.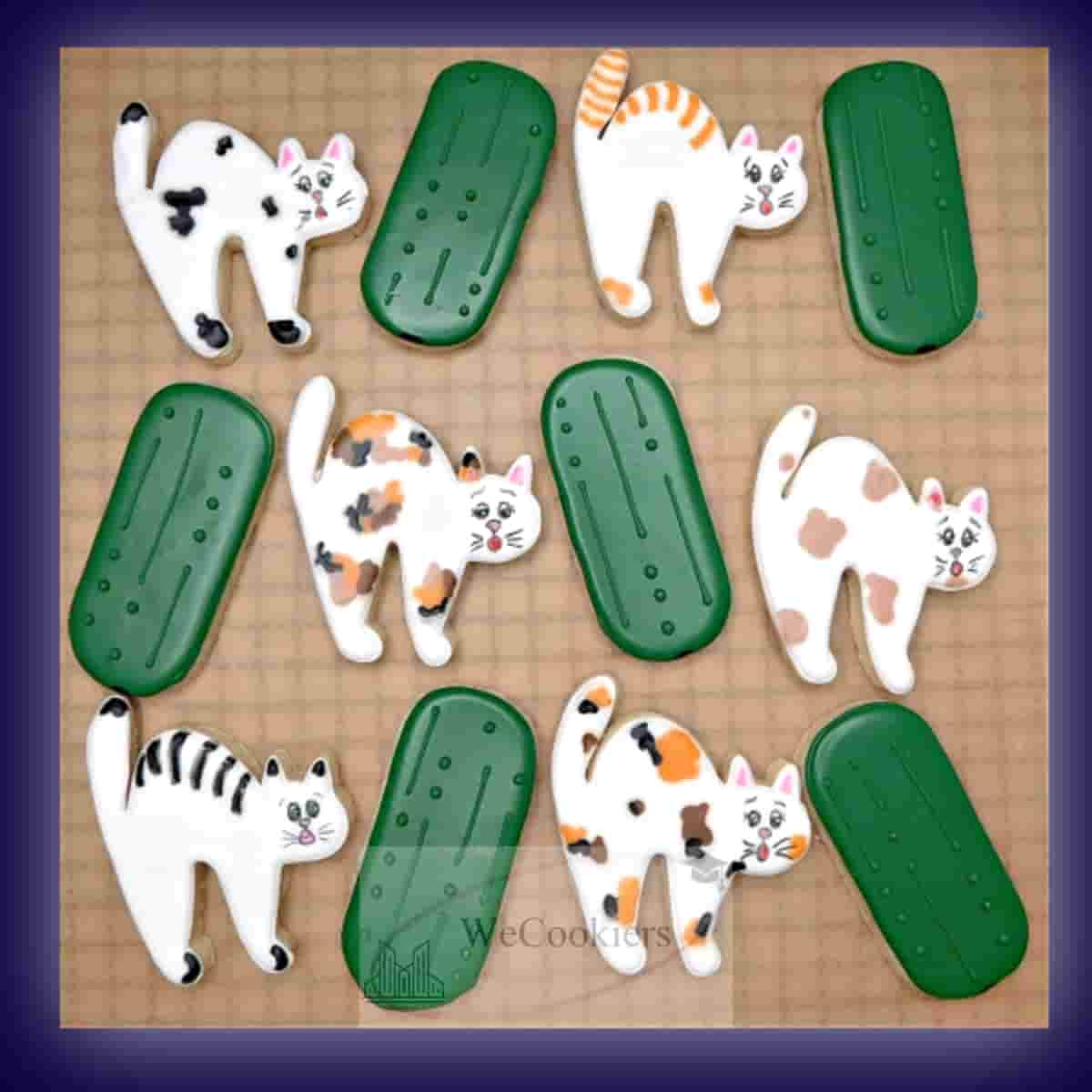 Decorated Cookies for Fall Cookie Inspo
I had an order for 4 dz fall cookies. As rushed as I've been, I decided to slow down and do a lot of different cutters and detail work. Here's the inspiration photo. The video will be coming soon!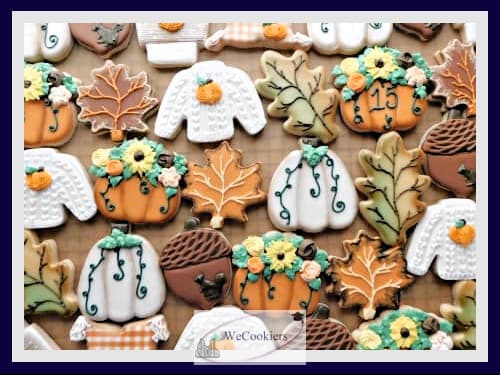 Business Sense: marketing yourself
1. Where we live, we have small rocks around town and in the parks that are painted. You put them in an inconspicuous around town. Whoever finds them, they'll see something pretty or words of kindness.

How about a different take on that? Find rocks that fit in the palm of your hand. With a marker or paint, make a rock 'coupon' offering the finder a free cookie, on the flip side, put the location they can pick it up.

2. I'm brainstorming as I'm typing this. Why not venture further and have a bunch of business owners (you could make it for just home businesses too), get together for a neighborhood-wide or city-wide rock coupon hunt. Get with your local chamber and let your local newspaper/station know about it. Drum it up and have a whale of a day! Sounds fun. I just might do this!

3. Do you know someone who has trailer they could load with hay? I'm thinking how fun it would be to get together a hayrack ride for the community. You could charge for a ticket or not.

This is probably what I would do. Of course let your medias online and local know about it! Have the person you hire, or a generous friend, load it with hay. Place banners on both sides with your logo/business name and contact. Set up a station with hot chocolate and marshamallows, and of course, your delicious decorated cookies! You can either offer the refreshments before or after the ride. How fun that would be. Your name just keeps spreading and spreading!



Quick Business Tips
1. Packaging means so much. When you hand that order of cookies to your customer, make sure to make it look special. Add bows or ribbon along with your stickers of contact and ingredients. Don't crowd the cookies. Spread them out so that when you hand it over, it looks larger.

2. Have you gotten a heat-sealer yet? If not, I urge you to. I like to bake and decorate so the ordered cookies are as fresh as possible.

However, the down side to that is you never know when something may come up. Perhaps you'll be sick or an emergency will happen. Rather than cancelling on your customer, which isn't fair to them, if you can do them up early, heat seal the cookies and freeze them, it will give you relief that it's behind you.

Freshness, you ask? If you take them from the freezer, and leave them sealed inside the airtight container til they come to room temp, they won't fade, even if you've airbrushed them. They will taste like you just took them out of the oven, seriously!

This is especially helpful as the holidays are here and there are b-day orders between.

3. Do you make videos yet? If you do, do you share videos from YouTube to your Facebook page? Did you know that when you do this, you will get very few likes, views, etc. from your followers? If you find this happening, it is because Facebook gives all other posts preferential treatment. Facebook, like any other social media, want people staying ON FACEBOOK. To do this, they simply won't let your followers see it, or show it very little. Kinda, huh?



A warm thought from Pepper:
Site Sell's Video Tour--get to know them!




Hope you're having a cozy fall. Blessings,