Wedding sugar cookies
Wedding sugar cookies can be the most beautiful of all cookies. That doesn't mean they have to be elaborate and highly detailed. Many times, being minimal is more elegant.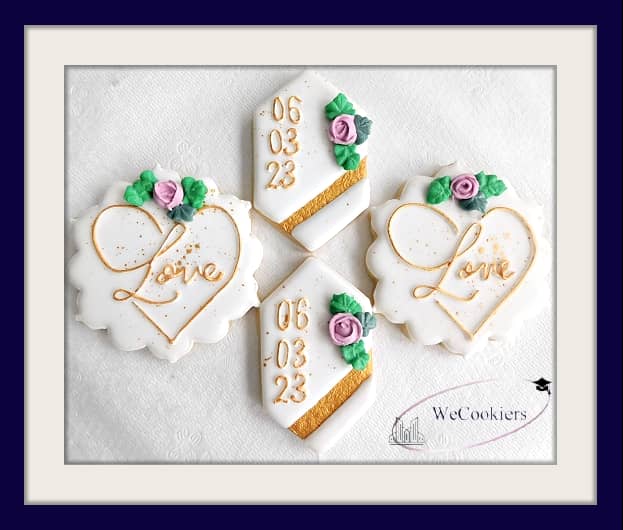 I do want to be clear. This page is not about cookie inspiration for wedding cookies, but rather what is involved in the process of taking orders. I provide these pages more for inspiration, ideas, and techniques:
-Decorated Wedding Cake Sugar Cookies (live before long)
-Wedding Decorated Sugar Cookies (live before long)
-Decorated Bridal Shower Cookies (live before long)
-Decorated Anniversary Cookies (live before long)
This page offers these sections:

-colors
-price/deposit (video in this section)
-packaging
-free download order form
I think you will benefit from this page. It will coach you into these different aspects and serve as reminders.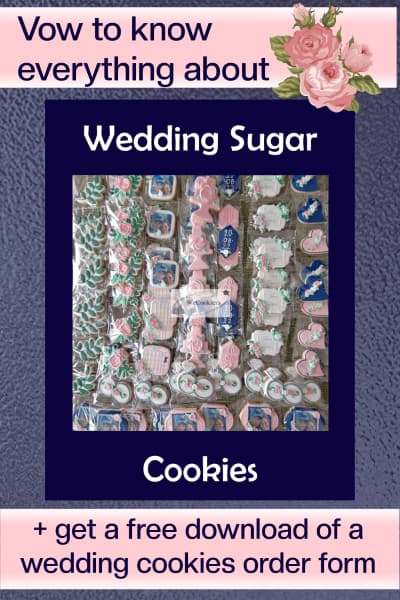 Wedding sugar cookies: royal icing (or glaze) colors

Did you get my Superior Royal Icing recipe yet? It's a free download here: Supreme Royal Icing. It truly is above any other!
Also, with wedding sugar cookies, you tend to be more stressed since it's for such a special day. Therefore, getting all the tips and hacks you can avoid color bleed is a necessity. Guess what? I have that free 2-page download here: Royal Icing Tips (scroll about ½ way down on that page).
Okay, that brings us to the royal icing or glaze (great free recipe here).
It is quite amazing to me still that so many people do not realize the significance of the deep colors. As they will stain mouths and clothes.
It's their option, of course. But you need to make sure to release yourself, in writing, so the customer doesn't come back and complain about their ruined pictures!
I like to tell them that the base color will be white, ivory, or such, but the flowers, detail, or writing will be the colors of their choosing.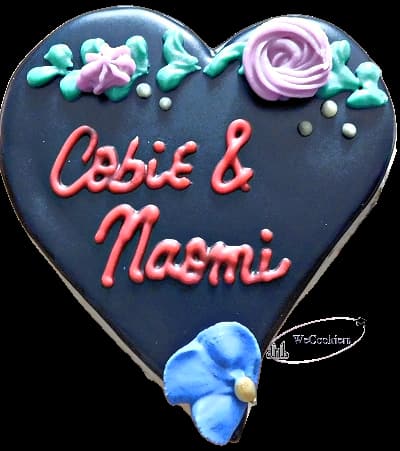 Two added points on colors for wedding sugar cookies…
-deep and bright colors will take quite a bit more food gel to achieve, which means more out of your pocket. You may want to adjust the price. I try to add at least $2.50 per dz extra.
-the second thing is time. It will take overnight to let the colors bloom and come to the true color, after making the royal icing up. You know the saying, 'time is money'. Therefore, the price above reflects the time involved as well. Fair enough.
Wedding sugar cookies: price and deposit

What justifies the price of wedding sugar cookies? Here is a worksheet for regular, everyday decorated cookies, for free, of course: Price for Decorated Sugar Cookies
This is the video I did for pricing regular cookies, but certainly useful for wedding sugar cookies as it has a great and free handy tool.
Well, this is what is involved in wedding sugar cookies:
-stress
-staying up late, often all-nighters, remember...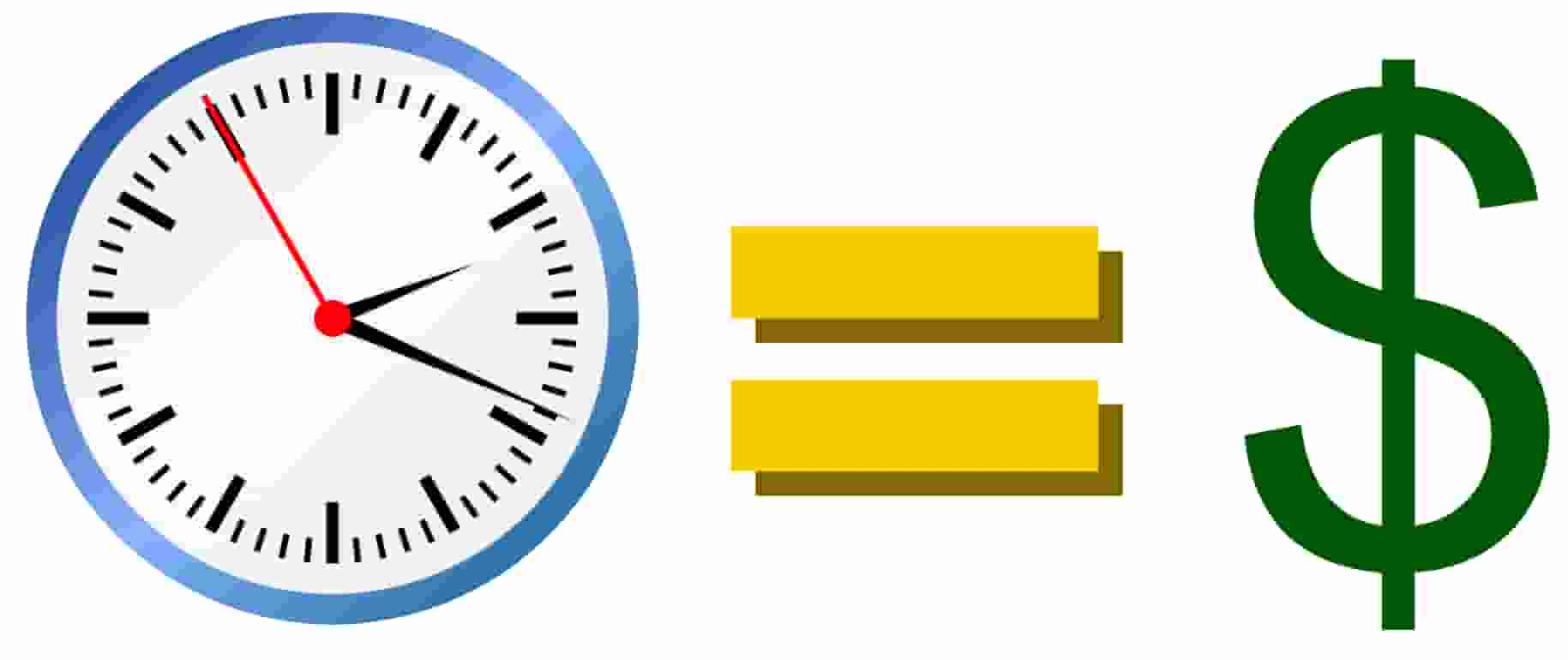 -special boxes and heat-seal bags
-time to develop colors
-they usually just take more time!
-talking out the order/meeting with the customer will require at least an hour of your time
As far as the deposit goes, it's not much different than normal orders. I do ask my customers for a deposit 1 month before pick up. Every cookier has their own policy and how much they ask for a deposit. A good rule of thumb for me has been to charge half the cost of the order, then the rest on pick-up day. Again, it depends on the cookier. A lot of them will demand payment upfront. Whatever you are comfortable with.
When you get an order for wedding sugar cookies, and receive inspirational pictures, sometimes you can think, oh wow, that will be simple! Then when you get in the middle of these professional cookies, you soon realize it takes you more time and becomes quite involved. A lot of this can be due to the fact you are going slower to be more careful since it's such an important day.
Make sure to study any inspiration pictures. Zoom them in so you can see how much detail there is. Deep or dark colors? Take note of that.
Wedding sugar cookies: packaging

Wedding sugar cookies: packaging
This brings us to wedding sugar cookie packaging.
2 thoughts on this…
-if you will be using bright/deep colors
-individually heat-sealed or a dz sealed at a time
If you are making wedding sugar cookies that require the deep/dark/bright colors, you will need to make sure the royal icing dries…very well. Still scared of color bleeding?
First, my advice is straightforward.
Take this free download for Royal Icing Tips. It tells you all the ways to combat this problem from the start. On top of that guide…
I suggest dusting with cornstarch.
Directions for dusting with cornstarch:
Take a new blush brush and dab on the sugar cookie with cornstarch or powdered sugar. You aren't brushing it on, but dabbing it so you'll see little piles on the cookie. Let it set for 5 minutes then brush it off with the empty brush. That will soak up in wetness on the cookie from food color markers or damp royal icing. They should then be ready to bag.
Now for the bagging…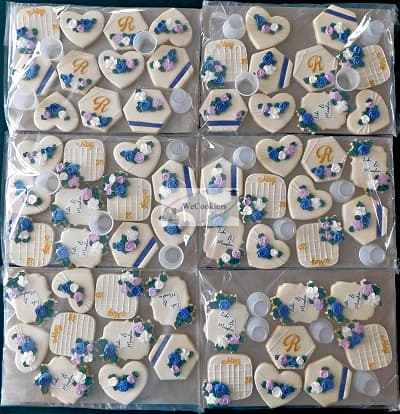 Heat-seal an entire cake board full of cookies instead of individually bagging them.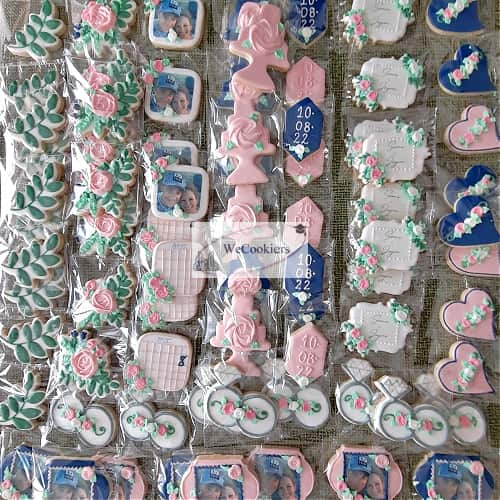 Individually bagging and heat-sealing cookies would be for little favors for the guests to take home to eat.
I'll interrupt myself here. I always give more than I need to with my customers. I haven't done this myself, I just thought of it and will start it! Maybe give the customer a sweet list of how to display their favor cookies to take home. Here is a website that has some great inspiration for that: thenot.com
Usually, you will have dozens of wedding sugar cookies to make. If I know they are to be taken and eaten at the event, I will place them on a ¼ sheet cake board with a dob of royal icing on the back to hold them in place. I then take the board with cookies and slide them into a large bag (food-grade), and heat-seal them that way. This will save loads of time bagging! It also helps the one setting up so they do not have to cut open dozens of bags.
I tell the customer 'This is my process'. Otherwise, they probably would expect them individually bagged and heat-sealed.
On the flip side, if you do individually bag them, they should pay more. As doing so will add a significant amount of time and cost more for all the bags.
You will want to address this when they are placing the order.
Wedding sugar cookies…free download

WHAT?! Another free download? YIPPEE!
Thank you for reading through this page on wedding sugar cookies. Hopefully, you have gleaned some good information.
Here is the free download I mentioned above, The Wedding Sugar Cookies Order Form, which can also be used for wedding shower cookies.
Click on the image for the download with my compliments!
Take me to the top of Wedding Sugar Cookies