Welcome!


When life gives you lemons...
...make lemon cookies.
Know what August 20th is? It's National Lemonade Day in the United States.
My niece was just telling me about having a lemonade stand some days ago.
I've been thinking on what theme to share for this month's newsletter. Needless to say, that was inspiration!
Today I'm giving you a very easy tip on how to make the most fabulous lemon sugar cookies to decorate, including how to make the perfect lemon royal icing.
Simply use my sugar cookie recipe and exchange the almond EMULSION for lemon EMULSION. Then just add 1 tsp of lemon zest...mmmmm
Make sure to use emulsion not extract. Extract is for adding flavor for non-baking recipes.
Lemon royal icing? Use my royal icing recipe and exchange the vanilla extract for lemon extract. This link takes you to both recipes, one above the other. Just click on the digital recipe cards and it's yours for free!
Today's Highlights
1. cookie cutter flips 2. lemonade stand themed cookie inspiration 3. business sense 4. quick business tips
Cookie Cutter Flips
Out of my 1600+ cookie cutters, I did not have any cutters pertaining to lemonade stand cookies (except the jar).

So, I made up my own flips. Hope it inspires and helps you if you are in the same boat.

(if you have an email with just html, you will not be able to see the photos).

Here are two ways for the stand cookie:-top half of tent cutter + bottom half of mailbox cutter = lemonade stand

-front-facing school bus = lemonade stand

-ball bat minus the handle = fun jumbo straw

-walmart football cutter (because it's more round than elongated) - lemon (just kind of squish the ends a little)
Click this link for your "My Cookie Cutters" printout. This is a special gift to the We Cookiers, those who have signed up for The We Cookiers Express newsletter.
Lemonade Stand-themed Cookie Inspiration
How about some inspo for lemonade stand cookie theme?

These lemon-y cookies are perfect for those entrepreneur kiddos who want to earn some money via a stand.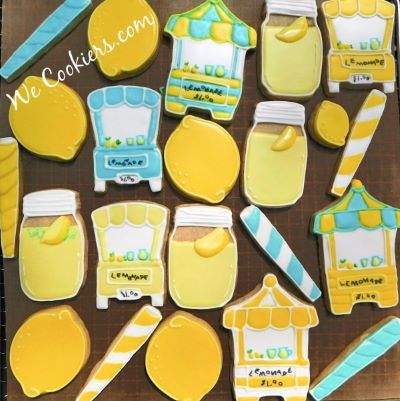 Business Sense: marketing yourself
Here are 4 ways to get your name in front of the public...
1. Have a couple of kids set up a lemonade stand (you just knew that was coming). Package individually and label with your name/logo/contact info.
You can even place a sign up sheet at the stand for taking orders.
2. Host a gathering with your town's best artists from all geners, example: painter, pottery artist, cookie artist (YOU), you get the idea. Remember, you are an artist too!
3. Engage part or all of your downtown area shop owners with a drawing for their customers. For every X amount of dollars they spend, their name goes into a drawing for a dz cookies. Advertise via fb, chamber of commerce and each store, sharing each other's posts.
Make sure to leave flyers that showcase your work with business cards.
Quick Business Tips
1. I know it is difficult sometimes, but you owe it to yourself to either get paid a deposit that at least covers your expenses or ask for the entire amount up front. One to two weeks before is the usual to collect payment.
I think every cookier has been taken at one time. Unfortunately it's after that when we implement rules.
2. Have a business policy in place and posted on your facebook page. It doesn't hurt to give a copy out with your orders as well. You will thank yourself over and again.
I will try to get a samply one made up you can edit.
3. ALWAYS be gentle, nice, engaging, but firm with customers. They will appreciate it and respect you for it.
4. You become how you act. Act like a professional and successful business person and that's exactly how they will treat you.
***I just started on Ko-fi. It's a place where artists go to grow. I would love to have you support me! Thanks ever so much. Support Me! Until next time, take care.
Warm Regards,

"Precision and perfection are the wings of godliness." Pepper Blair on Pinterest