Best Sugar Cookie Recipe
The best sugar cookie recipe at your finger-tips. 
Let's face it, it takes a lot of time to find the perfect recipe for cookieing. 
You want it. You need it. You have to have it in order to have your works of art be impressive.
You are given the best sugar cookie recipe below.
This will save you oodles of time and 'sifting' through a great many recipes!
As a primer, be sure to check out this page: How to Make Professional Cookies
---
Stay on 'track'...sign up for We Cookiers Express newsletter at end of page!

We Cookiers Cookie Train Express Newsletter Sign Up
---
The best sugar cookie recipe...the foundation of your business


You will want to read through the page for lots of tips as you go through the process, 'little nuggets of gold'.
Does starting your own sugar cookie business excite you? Then you need a solid foundation to build on.
That foundation begins with the best sugar cookie recipe.
Afterall, what good is a masterpiece atop an average or less than average base?
You need not have to necessarily buy name brand or expensive products.
I have tested name brand items against store brand ones.
Results?
I actually prefer some products with the store bought brands.
Two important keys:
ü  Real butter. Period.
ü  Emulsion, not extract
Here is the list of ingredients:

·         Walmart's Great Value flour
·         Walmart's Great Value sugar
·         table salt, usually Great Value
·         any brand eggs
·         cream cheese, usually Great Value
·         emulsions, LorAnn
***I purchase emulsions and so much more at Country Kitchen Sweet Art. It is a super company with incredible prices on shipping.
That's it? Yep. Super easy!
Emulsion? What is that?
Example of emulsion flavorings and sizes
The texture of emulsion is a thick pourable solution that is water-based. Since it doesn't have alcohol like extracts do, most of the flavor will stay in during the baking process.
Extracts have their place in frostings and icings. Though people do use emulsion in them as well. I do not since emulsion is expensive. I choose to use clear pure Mexican vanilla in its stead in royal icing.
The best sugar cookie recipe...'soft, durable, tasty'
This is a straightforward, no-fuss-no-muss sugar cookie recipe.
You clicked to this site because you saw the description promised "nice flat cookies that are still thick, soft, durable AND tasty". Did I mention a wonderfully velvety texture?
Look for yourself…
These photos indicate the thickness and velvety look of these tasty cookies.
There are photos below for a step-by-step process. A video will be added soon.
Without further ado…
Here is the best sugar cookie recipe you'll find.
This recipe is made available to you through the download link below—FREE.
Nita's Signature Sugar Cookies
Ingredients
2 sticks (1/2 pound) real butter, room temperature
4 oz. cream cheese, room temperature
1 whole egg, room temperature
1 ½ c granulated sugar
1 tsp almond emulsion
1 tsp butter-vanilla emulsion
1 tsp salt
3 c flour
This makes roughly 20, 3" cookies.
Click image for your FREE 'Best Sugar Cookie Recipe' download. You won't regret it!
This is my Superior Royal Icing Recipe that couples deliciously with these sugar cookies! Click to take you to the recipe.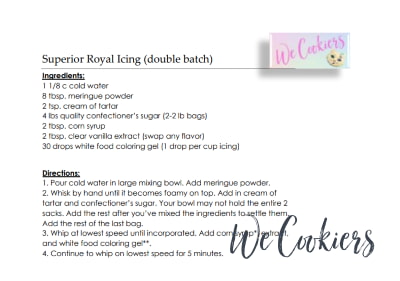 Superior Sugar Cookie Icing Recipe
***If you are comfortable with the recipe and eager to get started decorating, click the image to start the royal icing flooding process.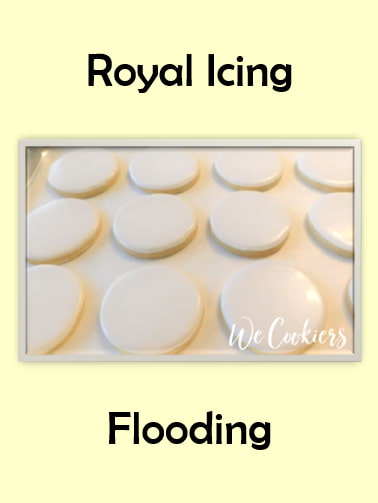 Royal Icing Flooding directions
These cookies will need to be chilled 15 minutes or overnight. If it is overnight, you will need to let the dough set out for a bit to make it workable or it will be brick-hard.
I have used it with just a few minutes being chilled before you use your cutters. You need it workable but not real soft.
Directions (stand mixer or hand mixer)
1.       Cream butter and cream cheese together until it looks fluffy and light yellow.
2.       Add egg, granulated sugar, and emulsions. Mix just until incorporated.
3.       Add the salt and flour. Mix only until the flour is mixed in. Over mixing could cause tough cookies due to the egg.
4.       Spatula it out onto plastic wrap on a table. Form a nice ball. Flatten the ball out to a rectangle or disk shape about an inch high.
It doesn't matter the height really. The more you flatten it out in this soft stage, the less you have to roll it out with your rolling pin. Also, flattening the dough into discs makes them perfect to stack.
5.       Wrap it tightly in plastic wrap. I double the plastic wrap if the dough will be in fridge more than a couple of days. Place it in the fridge for 15 minutes or overnight.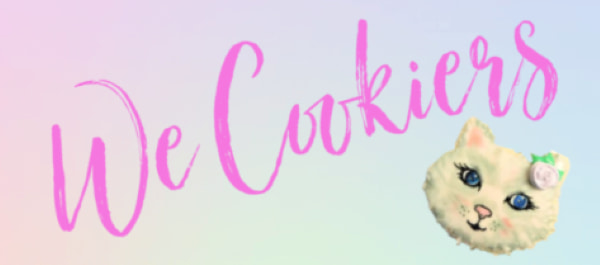 Follow We Cookiers on Pinterest! Click image above.
Step-by-step instructions of how to make the best sugar cookie recipe:
Step 1 Gather ingredients
Step 2 Add butter and cream cheese to bowl
Step 3 Beat butter and cream cheese til light and fluffy
Step 4 Add egg, sugar, and emulsions
Step 5 Lift paddle/beater to add dry ingredients
Step 6 Add flour and salt on top of wet ingredients
Step 7 Scrape bowl and paddle/beater
Step 8 Spatula out the dough onto plastic wrap
Step 10 Flatten dough ball into a disc shape about 1/2" thick
Step 11 Tightly wrap dough disc in plastic wrap
Roughly 1/2" thick
---
| | |
| --- | --- |
| Is what you are seeing useful? Like, share and follow on your favorite social sites! | |
---
Tip:
When freezing dough, double the plastic wrap and place them in a freezer bag with as much air as possible taken out of bag.
6.        When chilled, sift out some flour on your work station. Place dough on flour and roll out. I choose to cut them at ¼" thickness. All of my customers just love these thick and soft cookies!
7.       Cut out the shapes and place on cookie sheets.
8.       Place the cookie sheet in freezer. Allow to freeze completely.
9.       Preheat oven to 350⁰.
10.   When cookies have completed freezing, pull out of freezer and place right into the oven, yes frozen. Bake for 13-15 minutes. For a softer cookie yet, remove cookies just before they are finished baking. They will continue to bake after you take them out.
Step 1. Place dough on floured work station
Photo of spacing and thickness of cookies on cookie sheet.
I use Nordic Ware cookie sheets with parchment. When I take them out of the oven, I just leave the cookies to cool on the same pan on my baker's rack. They never get a browned bottom.
Bonus: saves an extra step!
Best sugar cookie recipe...you need to know these details and tips
Make sure they are cooled before you begin making your works of art.
These sugar cookies will last up to 2 weeks easily on the counter in an air-tight container.
Oh—did I say the cookie is delicious without any icing or frosting?
I have customers who prefer just the cookie, they are that good!
You want to be sure to click here for my favorite—no fail—sugar cookie icing recipe, aka: royal icing (link coming soon).
There you have it. The best sugar cookie recipe.
The We Cookiers Express newsletter sign up:
Sugar Cookie Home > How To Make Professional Cookies > Top of Best Sugar Cookie Recipe  >  Sugar Cookie Icing Recipe  >  Royal Icing Flooding