Ready for Fall?
I am! It's been a tough summer for many of us. The good news is, the heat is finally dissipating…now that's something to celebrate!
I welcome those wonderful autumn-decorated cookies. Have you decided yet what sugar cookies you will be decorating this year for fall? Oh, the choices!
Some of the autumn-decorated cookies I thought I would incorporate (though not limited to, naturally) are leaves mingled with flowers such as:
-mums -sunflowers -Russian sage -roses
Inspiration photo below.
Today's Highlights
1. newest page at WeCookiers.com 2. your question, my answer 3. cookie cutter flips 4. autumn-decorated cookies theme inspo 5. business sense 6. quick business tips
Newest Page at WeCookiers.com
Cookies on a Stick

This page walks you through how to put these babies together along with tips at the bottom to make it go smooth.

If you have made them before or it's your first set, be sure to share them in the comment box on that page. We would love to see and hear your story with them!

Click this link: Cookies on a Stick page
Your Questions, My Answer
Brand New Section! Your Question, My Answer
Q: I freeze my baked and undecorated cookies. Can I remove them from the freezer, decorate, and freeze them again until the day of pick up?
A: The only answer to this is that it depends on the sugar cookie recipe. If you are using the WeCookier's recipe, this is certainly doable.
I nearly always do it this way. It allows me to take on many more orders. They always come out of the freezer oven-fresh.
2 main things to keep in mind:
-allow them to dry well, up to 48 hours
-allow them to come to room temperature before opening or they could easily splotch and/or color bleed.
*extra note: you CAN freeze airbrushed cookies with WeCookier's royal icing, no problem!
---
Cookie Cutter Flips
Here are 3 cookie cutter flips I accidentally discovered as I was going through my cutters this week. They are not for autumn-decorated cookies, but maybe some to save for your last-minute bag of tricks!

-dress tie to dagger

-bow tie to hourglass

-megaphone to tassel

(Sorry, if you have an email with just HTML, you will not be able to see the photos).

Click this image to see my cookie cutter flips page: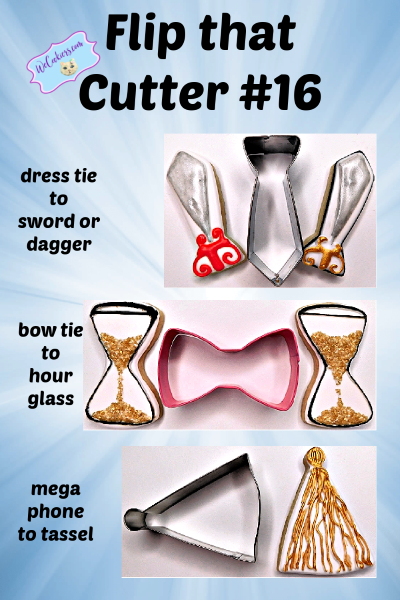 Autumn-decorated Cookie Inspo
I chose to do a cookie bouquet for the autumn inspo, as that is my new page...
Business Sense: marketing yourself
1. International Week of Happiness at Work is September 20-25. Promote this on your social media to inspire people to order your cookies (with that theme, of course), to give to their co-workers that week. Cookie bouquets would be a perfect way. Happiness is bringing smiles to others!

2. Have you written a mission statement for your sugar cookie business? This not only is great branding but sets you as a professional. A mission statement gives the reader a short overview of what you offer. It's short and to the point. Usually no longer than 100 characters. The shorter, the easier it is to remember!

3. What about colors? Color evokes many emotions. Do you want your customers to feel happy, calm, or motivated? When branding your business, search for the colors you are interested in.
Quick Business Tips
1. Going forward with choosing colors…did you know you can go to coolors.org to pick the perfect color palette for your brand?

There's a free version that is priceless! A couple of small ads stay on the screen unless you go to the paid version. They are small though and do not get in your way.

2. Do you heat-seal your cookies? Did you know you can decorate and dry them (well) and then freeze them in heat-seal bags? It's such a great time-saver!

As a side note, some sugar cookie recipes will dry out the cookie doing this. However, WeCookier's recipe is wonderful doing it this way. They stay oven-fresh for weeks out of the freezer in their bag!

3. Do you know why deep colors have a way of smearing and color-bleeding? It's because they are over-saturated with dye. To help guard against this, make sure to always let your colors develop overnight to see their true colors. Often, we get impatient and think it will have to have more color. Take your time.
---
Pepper Blair: "Dance your dance with such elan, the skies could fall unnoticed."

Alrighty, that's it for this time. I hope you have been making great strides in your sugar cookie business!

Until next time, many blessings!

Pepper Blair on Pinterest