Making cookies on a stick, start to finish
Make cookies on a stick easily. This is a unique cookie decorating technique and a sweet way to gift someone. They are not as hard as you may think. A little tedious, but not bad.
The beauty is that they can be of any arrangement, not just from flower cookies...
What this page covers:
-supplies for you will need

-directions

-tips on how to make cookies on a stick to prevent mistakes
*Here is a page on royal icing tips that every cookier NEEDS!
You can easily add airbrushing or edible images to the cookies on a stick so they will pop with personality!
How to make cookies on a stick…supplies you need
It is best to get organized from the start. I won't list the ingredients here. There are links to the recipes below.
1. You will first need the best sugar cookies to make the bouquets. Get the recipe here if you haven't already (it's free). Also, reserve a bit of cookie dough for the cookie patches on the back of them before baking.
2. My Superior Royal Icing or Best Glaze Icing is a must. I'm offering both as some cannot use royal icing for various reasons (though I am a royal icing person myself, you won't regret this glaze recipe).
3. Cookie sticks. Any sturdy sticks will do. With my sugar cookie recipe, I like to go with sizes of 3" and 4" cookies used together. this gives a pleasing variety.
I also use a variety of stick lengths to add depth,  including 4",6", and 8" (some companies size them at 7.9").
I know it's redundant, but by the rules of Amazon, we have to place a notice with each of their links. I hate that it 'clutters' a site up. Thanks for understanding!
As an Amazon Associate, I earn from qualifying purchases. This means no cost to you but I may receive a small commission when you click on the link below and make a purchase. 
I am proud to offer you affiliate links.
Why?
When you see one, that means I stand behind that product. I bought it, I love it, and I use it regularly in my own sugar cookie business. 
Because of this, you can be assured that there will be no spammy material/products on this site. 
These are the ones I normally purchase. Each image is a link to that size stick.
4" treat sticks
6" treat sticks
7.9" treat sticks
Although I have this picture below of Wilton treat sticks, I usually go with an off-brand because I'm conservative. I ran out of the ones I purchase online and grabbed these locally. Unfortunately costing $3 more for the box!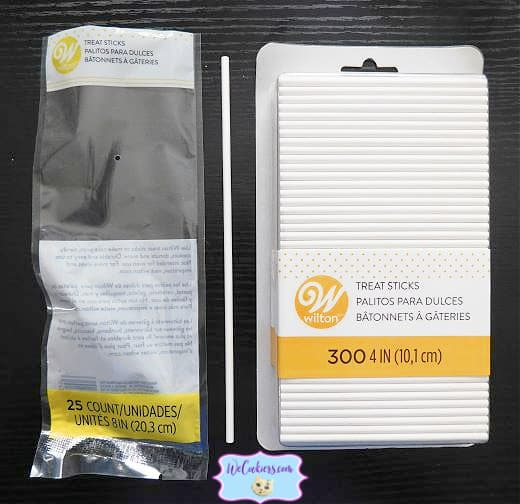 4. Ribbon
5. Dry floral foam

6. Water Balloons (if using them) tied to a stick

7. Crinkle paper or easter grass to hide the floral foam

8. Large bag to slip over the finished bouquet
9. Vase, pot, etc. for cookies on a stick to stand in
For flower bouquets, I add plastic greenery too.
You can pick up most of these supplies at a dollar store.

Directions for how to make cookies on a stick
Set everything up and get all the peripherals out of the way. Fit the foam into the vase or container I am going to use. I poke holes with pointed wooden skewers where I want the sticks to be, including any holes for balloons on sticks.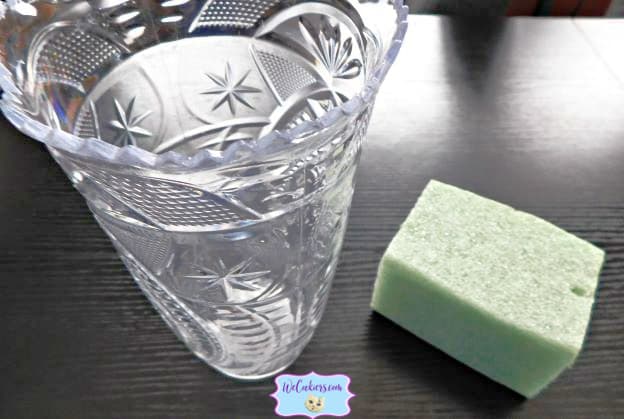 Set out the sticks, including the ones to tape the water balloons on--minus the water, lol! I won't blow them up until right before I place the bag over the finished project.
Take wooden skewers and poke holes where you want the cookies on a stick to be.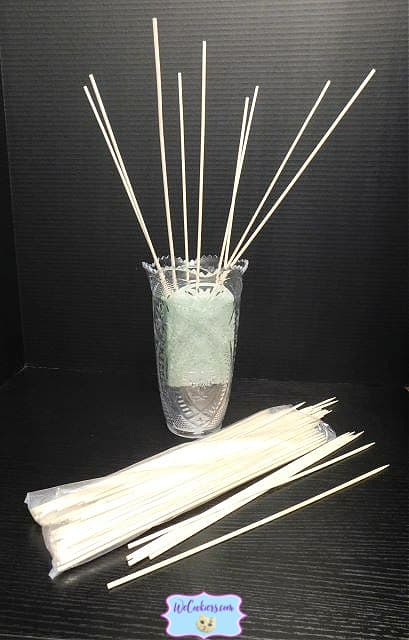 Remove the skewers and the holes will be the guide.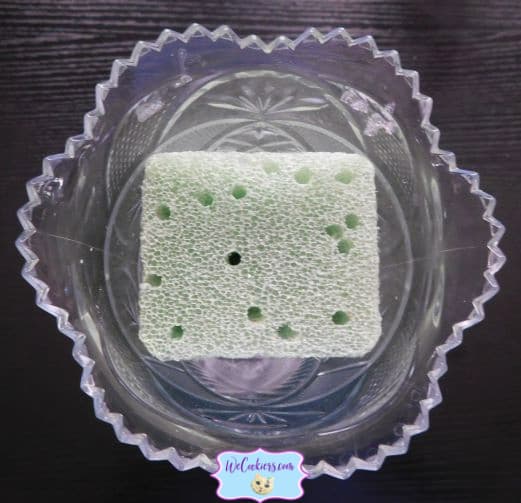 We are now ready to bake those delicious cookies!
Here's a guide on how to bake professional sugar cookies. I know, it seems simple enough, but there are a lot of tricks I do to make the most of time along with hacks to make each step go very smoothly for you. Worth the read!
When you are finished with that, come back to this page, Cookies on a Stick.
You will want to roll out the cookie dough quite thick. Mine are 1/2". Cut out the sugar cookies. (If you see the stick has gone through after they have baked and cooled, you can put royal icing on the back to support it).
After you have cut a tray of sugar cookies, you may need to refrigerate them to firm them up before placing the stick in them. It will depend on the temperature of your kitchen.
I prefer to first stick a skewer in to make the hole then add the stick...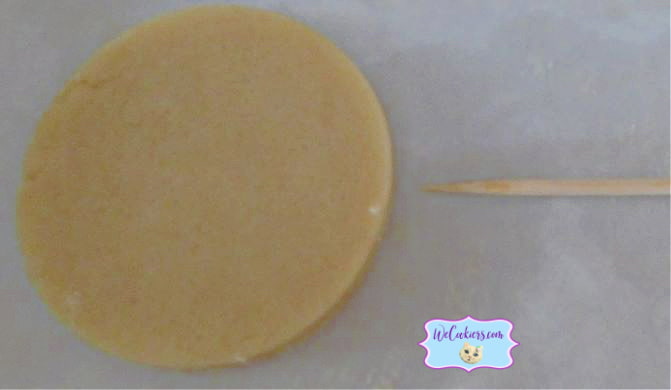 When they are ready, place the stick at the bottom. It is easiest to have them on the cookie sheet instead of picking the cut-out cookie up to do this. Be very careful to slide them in level so you aren't poking a hole through the bottom or top.
You should be able to arrange six cookies with the sticks on a ½ baking sheet. 
Place them in the freezer for 15 minutes. Remove them. Flip the cookies on their fronts and add some of that extra cookie dough to generously cover the stick area in the cookie.
Don't worry, they will flatten during baking. 

Bake them as you usually would. Flood with royal icing or glaze. Buttercream frosting will not work with cookie bouquets. Though my recipe does crust,  the frosting could begin melting at room temperature and slide off when the cookie is in a standing position. Add your beautiful decorating ideas. Let the cookies dry for 25-48 hours flat on the baking sheet or dehydrator rack.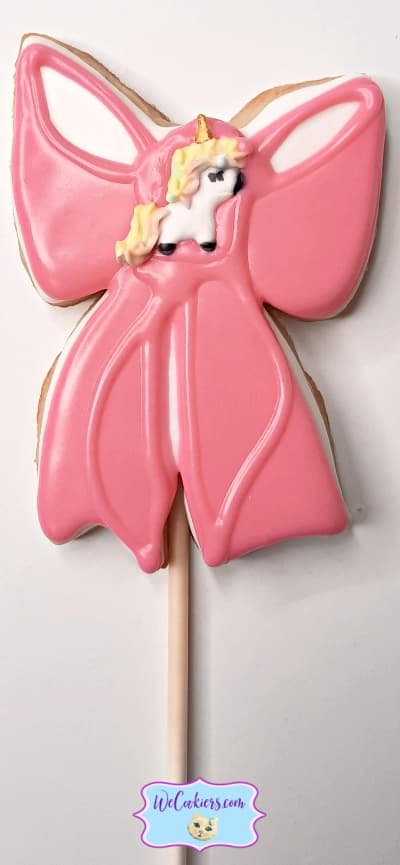 Now, how to make cookie bouquets, putting it all together…
Once dry, you can now put them in the holes you made in the floral foam. Blow up the balloons and tape them on the sticks. Insert those. Now add the crinkle paper, Easter grass, candy, rocks, etc. to cover up the foam. Attach any ribbons or bow. Cover with a large clear bag. Basket bags work great!
Last, show us your beauties by uploading them here. We would love to see them and be inspired by you! Please, no copyright or trademarked ones though, thank you!
There are tips right below this comment box for how to make cookie bouquets.
I found this site intriguing. It's not just for cookies on a stick, but you can start a franchise through this company. There's a gray box in the upper left to do that. You can also glean inspiration from their sugar cookie arrangements.
Tips on how to make cookie bouquets to prevent mistakes
I've put together some tips to help see you through with, hopefully, no mistakes.
1. The cookie dough needs to be nice and firm before placing a stick in them. You can use a wooden skewer to make the hole before putting the stick in to make it easier.
2. Bake the cookies for about 30-45 seconds longer than you normally would. If they are too soft, they will fall off the stick.
3. Be patient and allow the royal icing to dry on the sugar cookies for 24-48 hours.
4. Insert the balloons, if you are using any, as near to pick-up time as possible so they do not pop or deflate.
5. One big mistake to avoid is charging too little. You have extra expenses and extra time on these. Take that into account.
Remember to upload photos of your unique creations with their story to this page, Cookies on a Stick.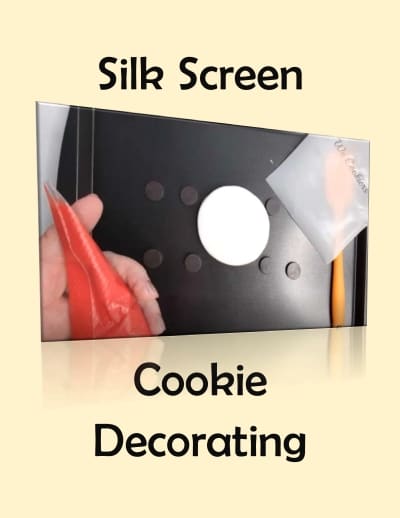 Silk Screen Cookie Decorating link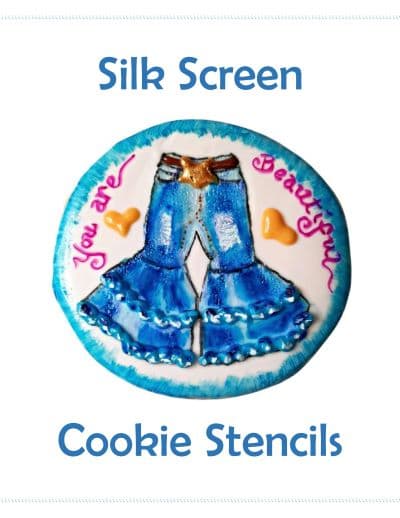 Silk Screen Cookie Stencils link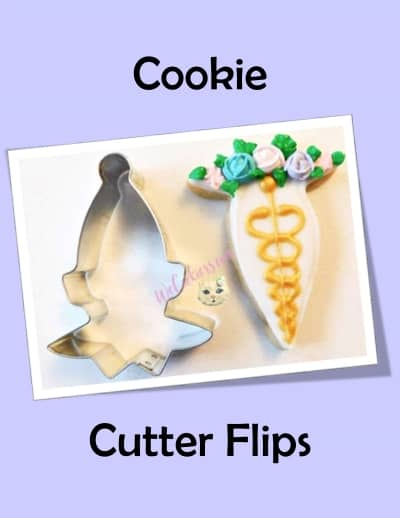 Cookie Cutter Flips link
Top of Cookies on a Stick