Happy Holidays!
Love and winter
Go together
Like a fire and snow…
Like the gentle touch of feathers
And a hearthstone's glow.
-Pepper Blair
Happy Holidays, straight from the North Pole!
Our cookie train stopped to visit Mrs. Clause. She is so busy baking! She asked me to give you some decorating inspiration for some Christmas sugar cookies. She said Santa wanted to send along an early gift too. So here goes…
Today's Highlights
1.Santa's gift to you 2. Christmas Sugar Cookies—flips 3. Christmas Sugar Cookies—Inspiration 4. Business sense 5. Quick business tips
Santa's Gift to You
Tis the season for giving, so here is a gift under the tree for you.

Here's a perfect organizer I've created for you. Whenever you have a set or two of themed cookies, you can write down the cutters you will be using along with the colors, amount, and consistencies of the royal icing. You can download and print off here: Cookie Themed Cheat Sheet .

If you missed my newest page on edible images, the how to's and questions and answers, this will take you there... Edible Cookie Images
Christmas Sugar Cookies—Flips
*Keep in mind that any animal can be decorated for Christmas with lights and morphed with a plaque cutter for a name or Christmas greeting

-turkey = mittens

-turkey leg = Santa's bag

-unicorn horn on top of plaque cutter = Christmas tree name or greetings plaque

-3 mountain cutter = 3 Christmas trees

(if you have an email with just html, you will not be able to see the photos).
Christmas Sugar Cookies--Inspiration
This is what happens when you can't make up your mind on what Christmas cookie cutters you want to use this Christmas!!! Ah, decisions decisions... .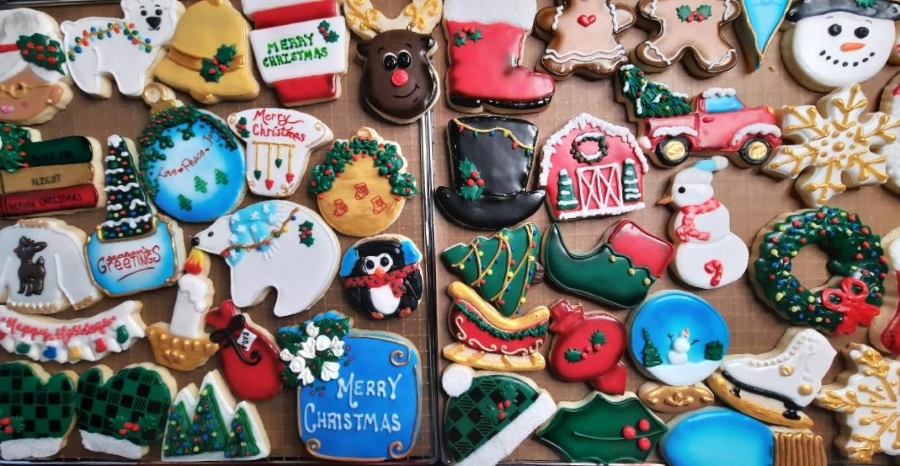 Business Sense: marketing yourself
Here are 3 ways to get your name in front of the public:

1. When cutting out cookies and you need to freeze the shapes, use plastic medicine cups. Place them in the corners of each baking sheet so you can stack the cookie sheets to save tons of room in your freezer! Just remember to remove them when you're ready to bake the cookies.

2. This is how I box cookies: I use the ¼ sheet cake boxes (14 x 10 x 4). As above, I use medicine cups on each layer with cardboard between the layers. This allows plenty of room for piped flowers and such so they don't get smooshed. With the 4" deep boxes I can usually get 3 dz cookies in just one box. This depends on the size and shapes of course.

3. Do you also make cakes? If you are like a lot of cookiers and myself, the answer is yes. I've found it makes ordering boxes easier, as it's just one size for the cookies and ¼ sheet cakes.
Quick Business Tips
1. If you are needing more business or just wanting to keep your name out there, you definitely want to be making short videos of you decorating your cookies. People LOVE videos. Just don't make them very long.

2. If you have even a small list of customers, at least a month before a holiday, send them a text or message saying you are now taking orders for 'x' holiday coming up and that you are offering the notification to your existing customers before you fill up your schedule. This will make them feel special and that you appreciate their business. Place a date on the message when you will go public with the announcement.

3. Do you have a sign with your business name in your yard or on the front of your house? This is a great and free promotion for you. Just make sure the letters are big enough and you use an easy-to-read font so cars can read it as they go by. You can place flyers or business cards on your sign in a waterproof container too!

May your Christmas be filled with peace and love. See you next year.

Merry Christmas!!!

***Join me on Ko-fi. It's a place where artists go to grow. I would love to have you support me! Thanks ever so much. Support Me!

"Winter days are shorter, but they tend to sparkle more."-Pepper Blair.