All about edible cookie images 
Edible cookie images are a fantastic addition to your sugar cookie decorating techniques.

This page consists of the following (and more) Q&A, video tutorials, and examples.
Should I get an edible image copier?

Can I use a regular copier?
Where do I purchase one?
How much do they cost?
Do you have to maintain them?
How to make professional cookies with edible images?
How do you attach the image to a cookie?
Edible cookie image Q & A
1. Should I get one for the expansion of cookie decorating ideas? Can I just get a copier and buy the cartridges separately?
Here's the thing about edible image copiers, you will have to use them at least once a week. If nothing else, run a regular sheet of paper through it with a color copy.
Why?
The 'ink' over time can go over the print head, therefore drying and clogging it. I accidentally left mine set for about 4 weeks. It took so long to get it off the print head.
I didn't let the printhead (the caddy that holds the cartridges) air dry long enough after soaking it. It cost me my copier!
That was an expensive mistake.
If you are making enough sugar cookies to use weekly, then yes, I would get one.
If you aren't, then you can still get one and just run the cleaner through it and remove the cartridges in between times.
Why should you get an edible image printer?
-huge time-saver
-allows you to take on more orders
-makes perfect business cards or photos on sugar cookies
-makes your business more professional
2. Can I use a regular copier?
In short, yes. BUT…
…make sure it's new and has never been used with regular ink.
3. Where can I buy a complete setup?
I purchased the Platinum Entry Level System through Icing Images. I was incredibly happy with it. It served me well for a couple of years…till that dreadful day (mentioned above).
Icing Images is a super company. Their customer service is second to none.
There are other companies, of which I know nothing about their service or products. Once you hit on a company with outstanding service, why change?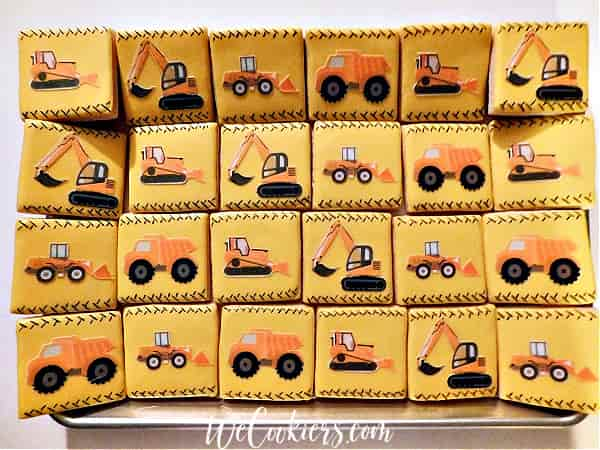 All copiers have risen drastically in price.

I looked into buying a copier through Canon, which is the brand that accommodates edible ink. This is the brand Icing Images sells.
I did not need the extra icing sheets and wafer paper, so I figured it was cheaper just to buy a regular copier through Canon.
I did not take into account that I still needed to purchase the edible ink cartridges.
All in all, it ended up costing about $30 less than getting the entire system through Icing Images, however, you get icing sheets, and wafer paper along with a guarantee through them (with other things).
Important…
Few copiers offer separate color cartridges. Again, you need this option. The multi-color single cartridge will NOT work.
Result…
It will save you a headache simply going through Icing Images. 
Receive a $10 discount when you buy through this affiliate link! It doesn't cost you any extra, pinky promise. I will simply receive a nominal commission.
This is the link for Icing Images Copiers for edible cookie images
It is a good deal considering the warranty and extras you get for free...PLUS the $10 off!

***By now you know that I will never post an affiliate link to anything that I do not personally buy, use, and love. No spammy junk here!
(Printing and cutting edible cookie images)
***The Canon PIXMA TR8620 is what I have, with 5 cartridges, if you are wondering.
(Applying edible cookie images)
This is the link to the one I have. (Not an affiliate link)
Canon copiers for edible cookie images are here.
*Edible images work great for holiday greetings such as Valentine's Day, Easter, etc.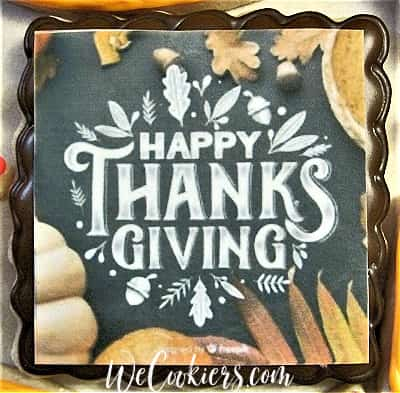 4. How much are they?
They are rather expensive (anywhere you go). With everything you need to start, Icing Images, at the time of writing this, has the complete system for $299 (add on about $30 for S&H).
5. Do you have to maintain them?
I pretty much answered this above. There's not much to maintain them. You just need to make sure to run a good color copy off on regular paper at least once a week That's it!
Don't worry, they are easy on using edible ink.
6. How do you attach it to the BEST royal icing or glaze you ever tasted?
Some people use piping gel. I simply use light corn syrup. Take the image with a paintbrush used just for decorating, and brush the syrup on the backside, lightly but make sure it is completely covered. Place on the properly flooded cookies after the royal icing is dry.
Important:
Take every precaution NOT to get any syrup, piping gel, or water on the front. You'll either get a very glossy splotch or an ugly smear.
Once placed on the cookie, some people like to turn the cookie over on its front and let them dry like that overnight. They say it helps so the edges don't curl up.
I have never had a problem with the edges curling up. I'm not sure why some have that problem. Maybe the royal icing recipe? Maybe the brand of icing sheets? Humidity? Using piping gel instead?
7. Can edible cookie images be placed in the fridge?
I also make cakes and regularly place cakes with the images in the fridge. It does not hurt them at all, nor do they curl up. One customer kept forgetting to pick it up and it sat in the fridge for 4 days. I let it come to room temperature before picking it up and it still was just fine.
You should never place decorated sugar cookies in the fridge though. Refrigerators run at 66% humidity and it'll wreak havoc on the cookies.
8. How long will the edible cookie images last on cookies?
They last a good long while. In my experience, up to a week. 
9. Can you freeze edible cookie images on a cookie?
You certainly can! I made an extra large 2-cookie set for presales at Christmas. Knowing I would be swamped, I premade oodles of them and placed them, completely done, in heat-sealed bags. This cookie was in the freezer for 6 weeks. The edible cookie image looked the same as when it came off the copier.
Cookie after being frozen with an edible image

Yes, this edible image cookie can be scanned If you are on a tablet/laptop, try it with your phone now!
Edible cookie images…making professional cookies with edible images
How do you make professional cookies with edible images? First the right cookie with the right royal icing recipe!
How about adding these to help create a more finished look:
Here's a link to a public-domain clip art site.
Using edible images can be a speedy way to do PYO cookies. Using any of these methods for the cookie palette would work great.
Here is the link again to Icing Images:
(You don't have to take up the entire cookie with an edible cookie image. Small logos can make a great impact!)
Shop Edible Printing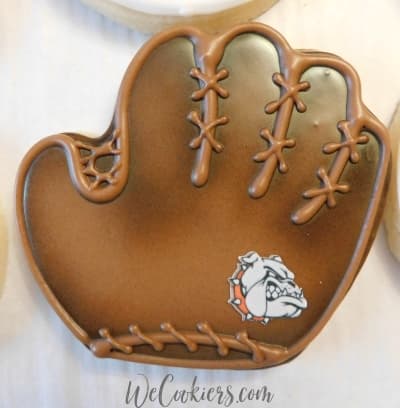 Edible cookie images…a few other things to mention:
1. Any icing sheets and wafer paper will dry out. Always make sure they are sealed well when you are not using them.
2. Wafer paper, is made from potato starch (rice paper is from rice). Wafer paper is good for making little roses or adding look-a-like lace, butterflies, etc. It's good for images that stand off the cookie since it's stiffer than icing sheets.
3. Icing sheets are best for clear pictures like photos, business cards, or anything you need accurate or small lettering on.
I think that pretty much sums it up.
Questions? Want to show off a work of art? Just pop in a photo and tell us about it.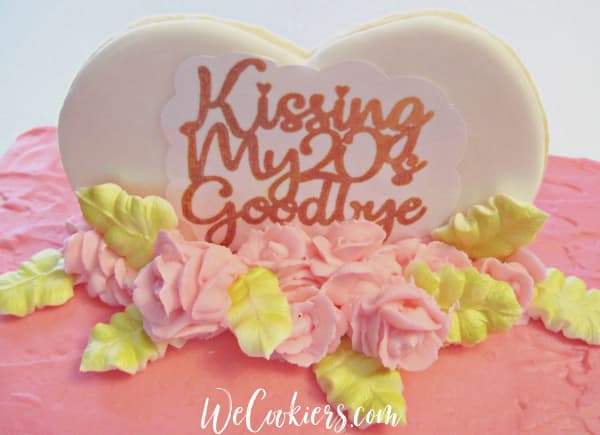 Giant cookie used as a cake topper with an edible image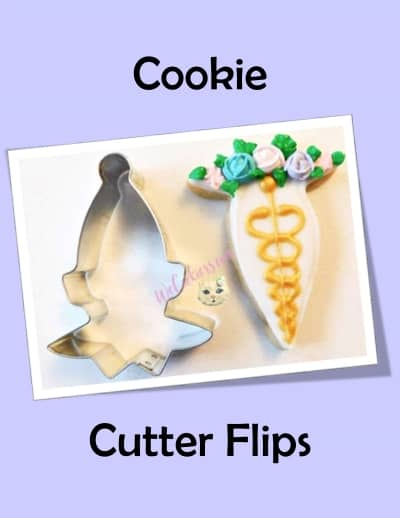 Cookie Cutter Flips link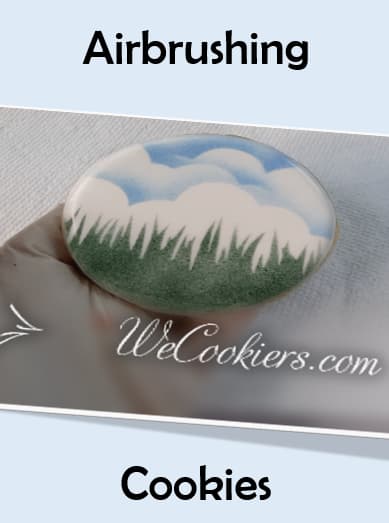 Airbrushing Cookies page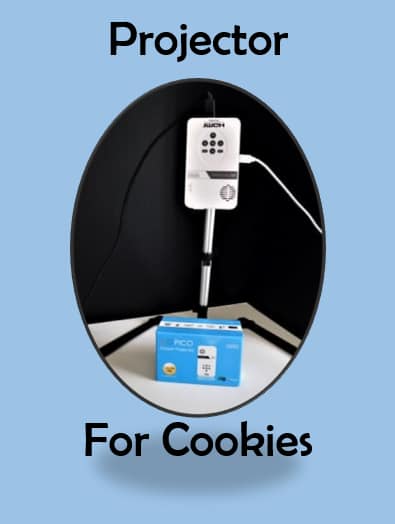 Projector for Cookies page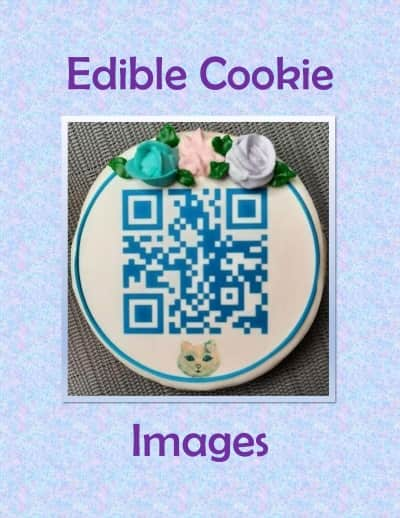 Edible Cookie Images page
Cookies on a Stick link