Projector for Cookies
What projector for cookies should you use? There's no cut-and-dry answer. Everyone has their own opinion. I can only tell you what I have used for 4 years and have been delighted with.
I use the PICO projector for decorating sugar cookies, like this set: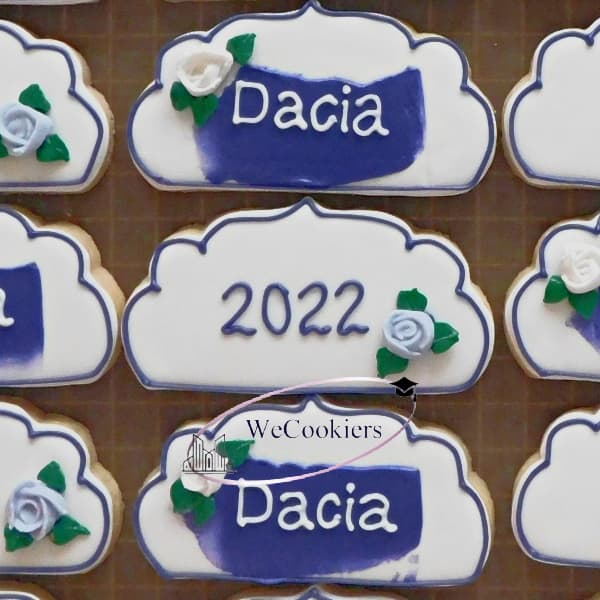 The PICO projector: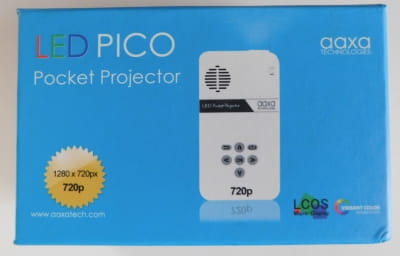 The PICO comes well-packaged in a sturdy box.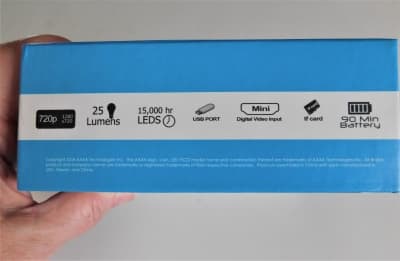 Image showing the ports the PICO has.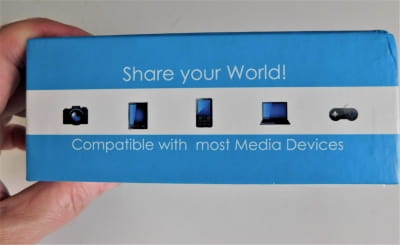 Image showing the compatible media devices for the PICO.
Here is a picture of my set up...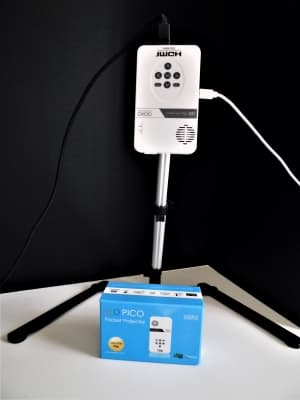 This is what the stand and Pico look like.
These trolley car cookies were made by using my Pico, as you'll see at the beginning...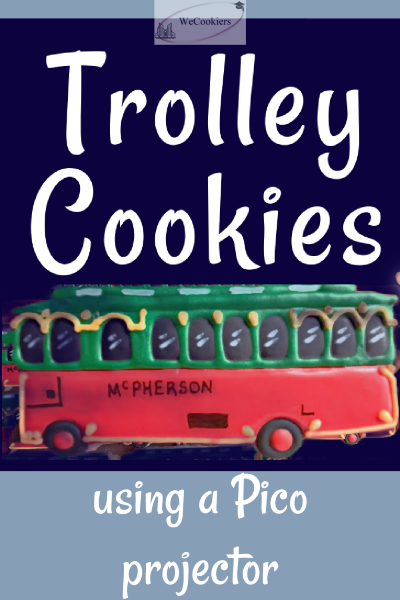 About the PICO projector for cookies
I bought mine through Amazon.
By the way...
I am proud to offer you affiliate links. Why? Because when you see one, that means I stand behind that product. I bought it, I love it, and I use it regularly in my own sugar cookie business. 
By this, you can be assured there will not be any spammy material/products on this site. 
As an Amazon associate, I earn from qualifying purchases. This means no cost to you but I may receive a small commission when you click on the link and make a purchase.
Update:
I had used the mount stand, as shown in my photo above since I bought my Pico. However, I switched to a gooseneck mount. It's made my life so much easier.
The mount stand takes up table space and is awkward to move around. The gooseneck just stays where I have it, hovering over my workstation. You can bend and twist it in any way you choose. Just know that it is stiff.
I have included both here so you can read about them and take your pick. Either works great for a cell phone too if you do any video work with your sugar cookies.
Table Mount: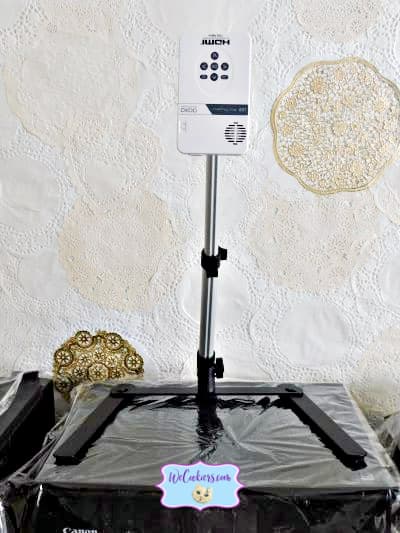 Gooseneck Mount: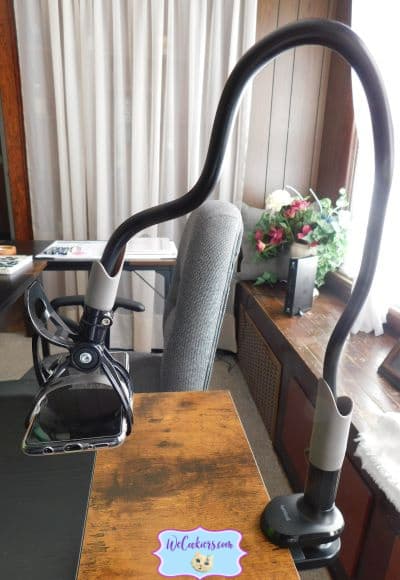 Here is a video on how to set up your pico. Anita is so good at explaining it. It's not difficult at all, it's just that when something is new to you, you sometimes like to be shown. 

*Note, in the video she says it's for Apple products, but it's not just Apple. I have used it with a Toshiba laptop and an HP laptop. Both work great with the PICO projector for cookies.
Pros and Cons: PICO Projector for Cookies
Pros:
display lighting is quite good
small, about the size of a cell phone (thicker)
projects very clear detail
life is 15,000 hours
rechargeable battery
mini digital video port, usb, sd and tf ports
built-in speaker
can go up to a huge projection on a wall and still be clear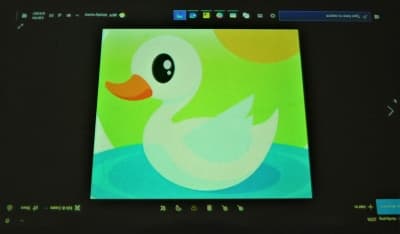 This is the projection on the table top in the daytime. No light was on and it was quite light in the room. This image also shows the detail.
***Do you find this baby swan as adorable as I do? Wondering where to get free images that are also public domain? 
 This website is the answer for you!
Cons:
need to purchase a mini HDMI cord separately (inexpensive though)
speaker isn't great, tinny sounding (there is a headphone area and an AV port though)
a bit pricey (as any projector is)
For me, the pros far out-weigh the cons.
Be creative and think outside the box! With a projector, you can even make royal icing transfers without using transfer sheets. Make sure to grab your 2-page download of Royal Icing Tips. This will ensure nothing goes wrong when using royal icing or glaze.
Show me how to use the PICO projector for cookies!
This is so simple. Once the projector is mounted, charged, and hooked to your phone, tablet, or laptop, just hold the on/off button down until the light turns green.
Go through and find the media device you are using with the arrows on the top of the PICO. With my computer, I only had to do this the first time.
Once your delicious sugar cookie (these two links will open in a new window for you so you don't lose your place: the best cookie recipe here) is iced with that mouth-watering royal icing, (superior royal icing recipe here, or if you need to use a glaze recipe, it's here) line it up under the projector.
The video above goes through this.
I usually use a #1S to #1 round/writing tip for thin letters and outlining real thick letters with consistency being between 10 and 12 seconds.
Not sure what 10 and 12-second consistency means? Refer to the page Royal Icing Flooding for understanding how thick or thin your royal icing should be.
I'll be uploading a video tutorial as soon as possible. Who doesn't love cookie videos?!
In the meantime, here are examples of some of my cookies where I've used the PICO coupled with the other game-changer, my airbrush system (very inexpensive PLUS you get 3, not 1, and much more included).
There's no end to sugar cookie decorating ideas!
---
Side note:
Have you dreamed of having your own website that produces a monthly income with no limit?
What company do I go with for this website?
I am pleased (and honored) to reveal that I use Solo Build It (SBI!). I could write a book about why I am pleased with them. Every day I am grateful for what they have given me.
Get your business grounded now and start your new life! Check them out yourself, here. See you on the other side in the forums:
I will earn a commission if you purchase this incredible 'one-stop-shop' business and website builder. 
https://tools.sitesell.com/Jeanita.html
---
Now back to using a projector for cookies...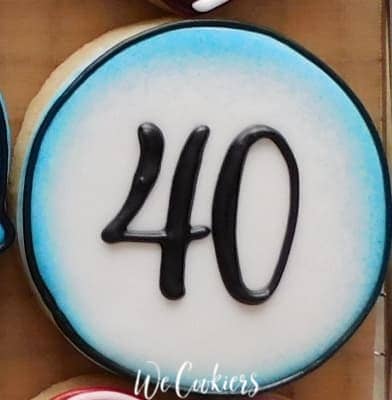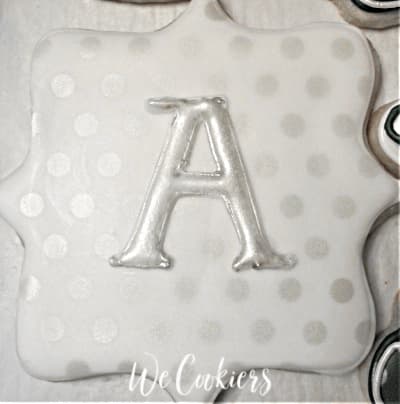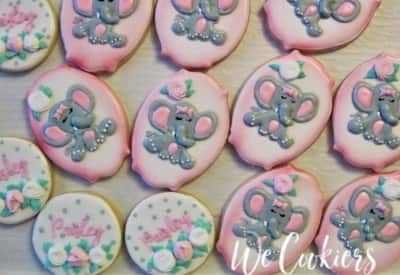 Having equipment, like this projector for cookies, will enhance your sugar cookie business. It will enable you to charge more while at the same time showing professionalism. It will totally up your game.
Questions or just want to share your beauties with everyone? Drop them in the box below and include the story behind them!
Have you heard of dafont.com yet? This site gives you thousands of fonts for FREE! Careful though...
...be sure to check the licensing to make sure you are legal to use them for commercial use.
You now know about the PICO as one of the choices as a projector for cookies.
Next to learn about is Edible Cookie Images.
Top of Projector for Cookies
Do you have the perfect/best sugar cookie recipe and superior royal icing recipe? Click on these images for them and to learn more about sugar cookies.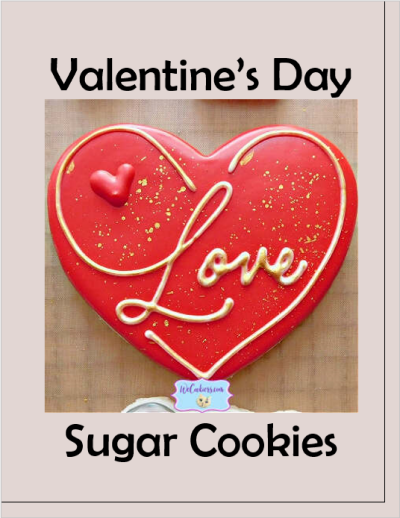 Valentine's Day Sugar Cookies link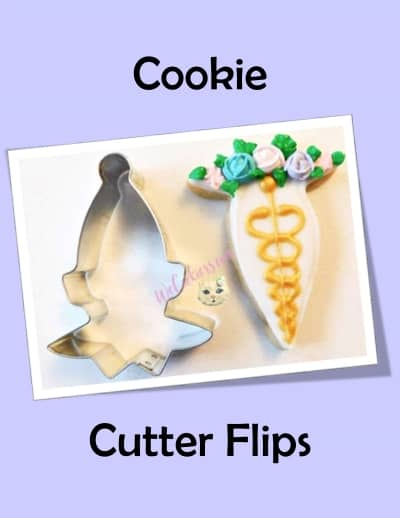 Cookie Cutter Flips link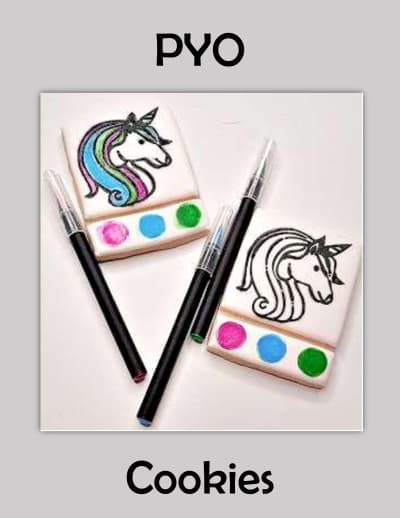 PYO Cookies link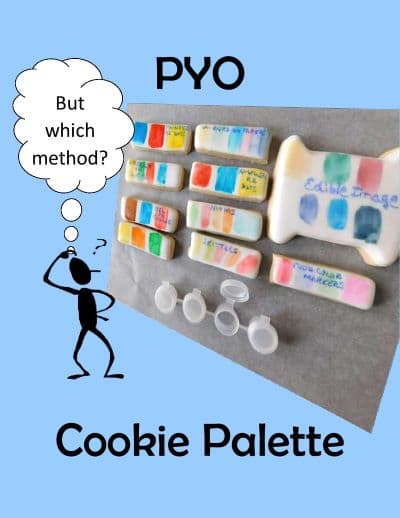 Paint Your Own Cookie Palette link
Cookies on a Stick link