Happy Fall!


For the love of autumn...
Who doesn't crave cooler temps riding on the tail of a hot summer?
I can't wait to share with you the new 4 piece cutter set I got from KaleidaCuts (cozy fall set). Just crazy about these cutters!
Today's Highlights
1. newest site page 2. fall cookie cutter flips 3. fall themed cookie inspiration 4. business sense 5. quick business tips
Newest Site Page
Do you have an airbrush system yet? If you are looking into getting one, this page shows you what I purchased almost 4 years ago with pros and cons. I couldn't be happier with it.

If you are new to airbrushing, this page will get you started and may answer a lot of your questions.

Be sure to check out all the tutorial videos I made for you! Go here to Airbrushing Cookies
Cookie Cutter Flips
Here's some Fall flips. Though all are my own decorating, I can only take credit for thinking up the pilgrim for the scarecrow.

-snowman = 3 pumpkins

-upside down margarita glass with bottom cut off = rake with leaves (if you have a beaker cutter, that would work great too)

-pilgrim cutter = cute scarecrow

(if you have an email with just html, you will not be able to see the photos).
Fall Sugar Cookie Inspiration
How about some inspo for fall decorated sugar cookies?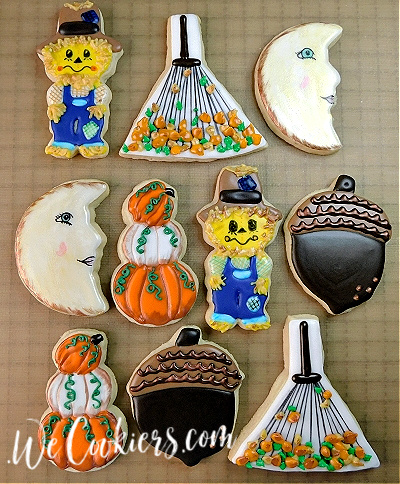 Here is the finished set of fall cookies from KaleidaCuts cutters. This is one of those sets that are VERY time-consuming. It took me 6 hours to decorate just a dozen. The detail in these just kept going on and on.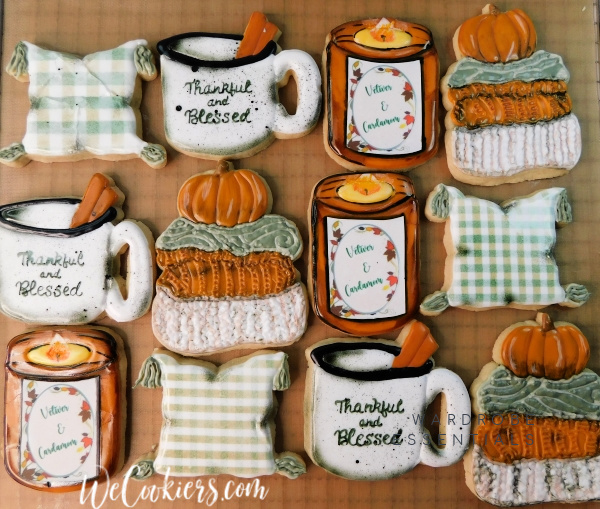 Business Sense: marketing yourself
Here are 4 ways to get your name in front of the public:

1. I've mentioned before leaving your business card in stores, libraries, etc.

Let's go a step further. How about buying some flash drives and putting photos of your beautiful art on them with your contact information.

You could put on a slide in it saying: 'Thank you for viewing. If you enjoyed this, please support me by leaving this flash drive in a place where someone else can view it.'

Place them wherever people are. They are sure to pick those up! I wouldn't necessarily put your label on them. Get their curiosity worked up.

2. I always keep extra cookies in the freezer. When a potential customer inquires, I ask all their questions and offer them a free cookie so they can try them.

Some people get cold feet not knowing anything about you. I have found many cookiers do not offer this. Your potential customer will be delighted with you!

Also, be sure to tell them if you are a pet-free/smoke-free home. This is certainly a selling point for them.

3. Get on your library's list to teach a cookie decorating class. They let you charge per seat, yet will not charge you...win-win!
Quick Business Tips
1. Utilize the signature part of your email with your name, bi-line, logo, and links to your website/blog, and all your social medias.

2. Add a spin to your business. What is something you specialize in or specialize with decorating that other cookiers do not. This will get you noticed.

3. Develop a moniker/sales handle. You'll need something short, memorable and dynamic. They will automatically think of you when the moniker is used.

***Join me on Ko-fi. It's a place where artists go to grow. I would love to have you support me! Thanks ever so much. Support Me! Until next time.

Have a blessed Autumn!

When the autumn leaves

glow in their maturity,

nature is at peace.

-Haiku by Pepper Blair

*

*

*