Airbrushing cookies...
Airbrushing cookies is quite easy, as you see. Let's talk about the airbrush system next.
The first step in airbrushing cookies (I like to deem it art-brushing) is deciding on the airbrush system.
Ah, decisions, decisions.
After scouring reviews on so many brands, it can be quite daunting and can seem even more confusing.
I've only had one system since I began airbrushing sugar cookies (and cakes). It has served me so well. Never a glitch. I highly recommend the PointZero Airbrush Decorating Kit.
Several years ago I bought mine for $130. Guess what? The prices have come down!
It comes with THREE airbrushes and 12 bottles of Chefmaster food colors to get you started. For the most part, I do prefer Amerimist airbrush colors by Americolor due to their vibrancy. However, Chefmaster is a close second.
Included are both single AND dual-action styluses. Let's not forget the compressor, hose, jars, handpiece, etc.  
As an Amazon Associate, I earn from qualifying purchases. This means no cost to you but I may receive a small commission when you click on the link and make a purchase.
Here is what I purchased...
I am proud to offer you affiliate links. Why? Because when you see one, that means I stand behind that product. I bought it, I love it, and I use it regularly in my own sugar cookie business. 
By this, you can be assured there will not be any spammy material/products on this site. 
Airbrushing cookies: Step 2, respirator mask…
It's important to wear a respirator mask while airbrushing sugar cookies. You may not think it necessary, but your lungs will thank you over time. The respirator and the filters are quite inexpensive too. Take a look at how much is in the filter. Can you imagine breathing all that sticky gunk in through your lungs? That's just the right side, too.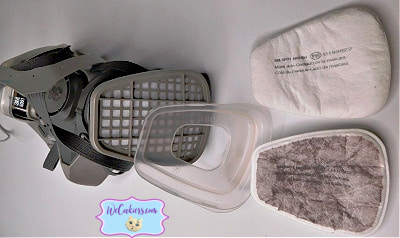 These are the filters I order for the 3M 6001 respirator, in a 6 count box: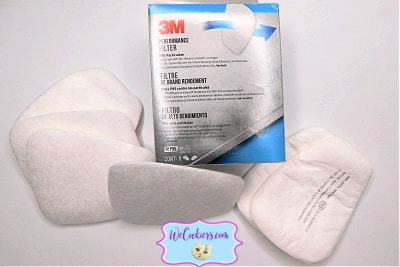 Filters for the 3M 6001 respirator
This is the respirator I bought four years ago. I'm very pleased with it.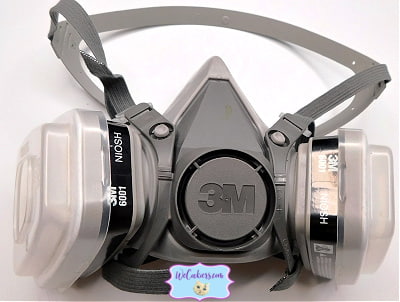 (Again: As an Amazon Associate, I earn from qualifying purchases. This means no cost to you but I may receive a small commission when you click on the link and make a purchase.)
Here the image link to what I purchased, the 3M 6001 respirator for airbrushing sugar cookies:

Onto sugar cookie decorating ideas with an airbrush...
Airbrushing cookies: Step 3 Perimeter shading…
We can now begin the exciting trek of learning to airbrush cookies, YAY!
You naturally need some delicious baked cookies that have been iced with the superior sugar cookie icing and allowed to dry. If you are a glaze icing person, here is a link to a super recipe!
You now have your artist palette to begin airbrushing.
Place the cookie on a paper towel that is on a turntable, if you want one.
Hold the airbrush at a slant.
---
Sidebar
I use two sizes of turntables for cookie-ing:
an actual cookie turntable (about 4") under the cookie while decorating
a larger (about 8") one for airbrushing
The larger one I bought at Dollar Tree was just a cheapy.
This way, I can place a paper towel over it and able to turn it nicely when airbrushing around the edges of the cookie.
---
Test the spray by pressing the lever down over a paper towel to get the feel of it. When you are comfortable with the pressure, move over the cookie and go around the shape.
Make a second or third swipe if you want a darker color.

That's it.
Airbrushing cookies with stencils…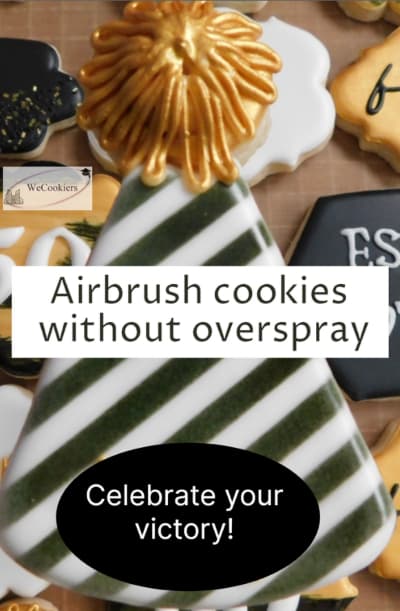 Stencils are also easy. Let's do some.
First, though, you need this incredibly easy tip.
Get some silkscreen material. Preferably 110 mesh. You will want to place this on the stencil in your holder to prevent that over-sprayed look. Believe me, this is a game-changer. Works like a charm!
You can get the silkscreen on Amazon.
By the way, you can make wonderful displays of airbrushed cookies with cookie bouquets.
Below, the bunny is a royal icing transfer.
You can certainly use a cookie projector like mine and physically pipe the design, but airbrushing makes it so fast.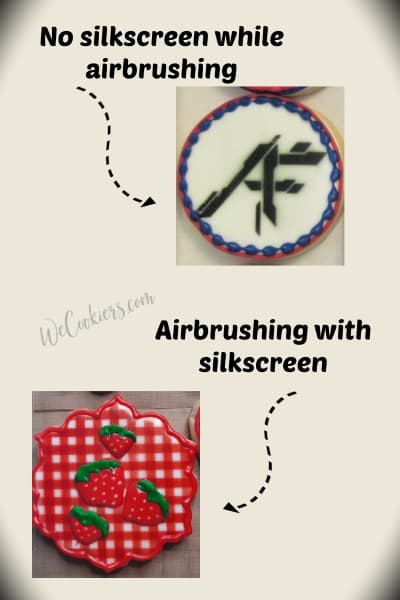 Be sure to use a 110 silkscreen mesh for airbrushing!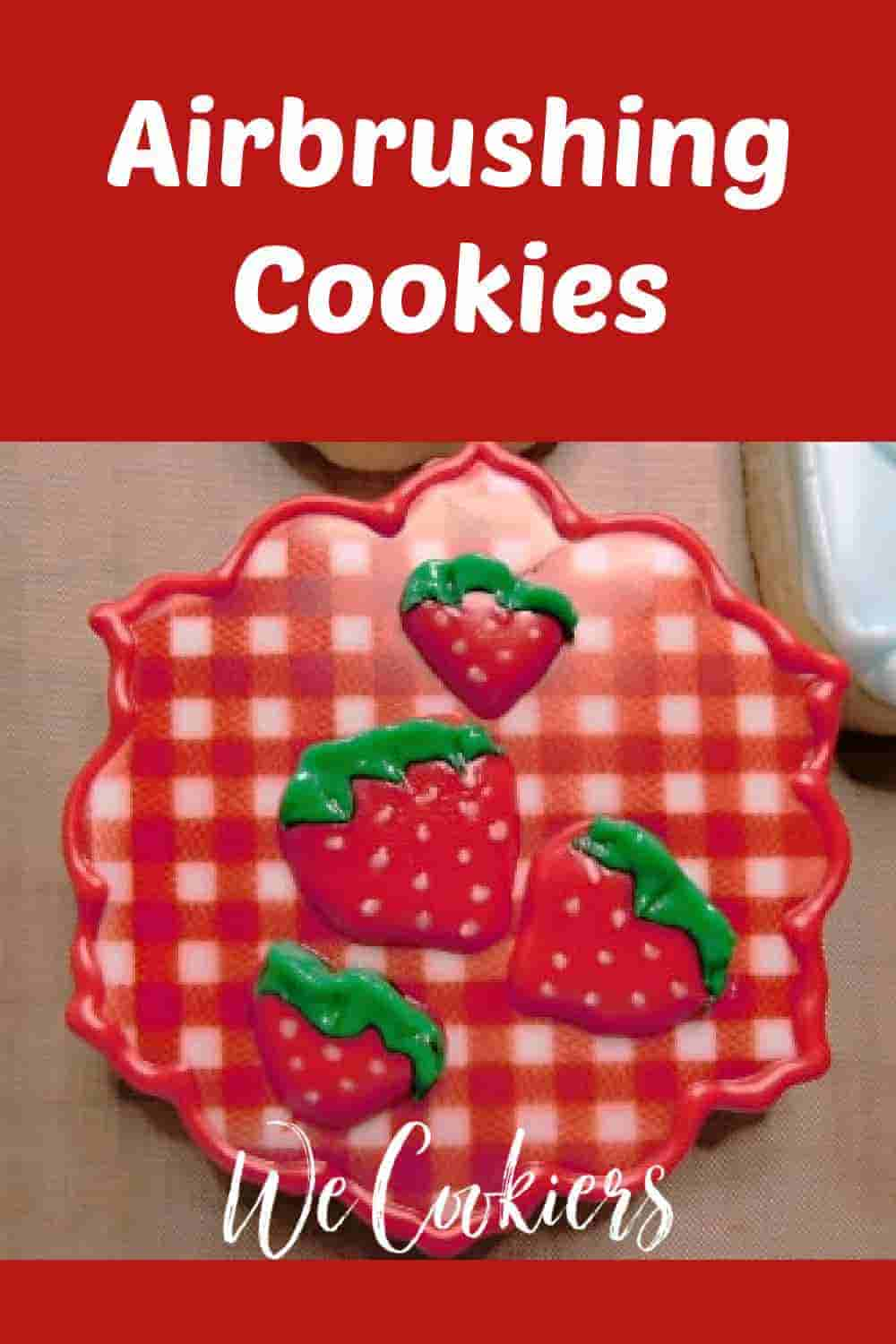 As a side note, I discussed why you shouldn't use airbrushing to paint your own cookies here: PYO Cookies.
Okay. Ready for stenciling?
Fill your cup on the handpiece with the color.
Now, unlike the perimeter shading, hold the handpiece as straight up as you can without letting the color spill out. Again, get a feel of the pressure by spraying on the paper towel then edge onto the stencil set up. Spray the stencil, filling in the areas.
Always go light. If you want a deeper/darker color, spray again after it's dry. Keep spraying and leave time for it to dry for as dark as you wish. The color will dry surprisingly fast between sprays.
Lift the stencil off.
Ta-dah!
Amazing huh? Great job! How addicting is this?
Airbrushing cookies with overlapping colors
Here is another way of airbrushing. Rainbows, fish, clouds, and grass, you get the idea.
Rainbows are great because instead of spraying out 7 colors, you only need 3. The primary colors of red, yellow, and blue. You won't even need to rinse out your airbrush in between switching colors.
If you are spraying multiple colors, start with the lightest color to the darkest colors. After each color, all you need to do is spray out what's left in the cup (or if some can be poured back into the bottle, do so) then add the next color without rinsing the cup out.
An important link you will want to bookmark is disassembling the airbrush to clean and reassemble. Here's that link: Cleaning Your Airbrush
What about airbrushing paint-your-own cookie stencils? Certainly doable and looks great. But…
…a little problem is when the painting begins on the sugar cookie, the lines start disappearing and getting the black ink in the picture. Troubling to those who want it to look nice and frustrating for kiddos. What's the answer?
The best way of making PYO (paint-your-own) cookies, is stenciling a gray color of royal icing or just white on white instead--without airbrushing. No fading. No bleeding. No frustration. Professional.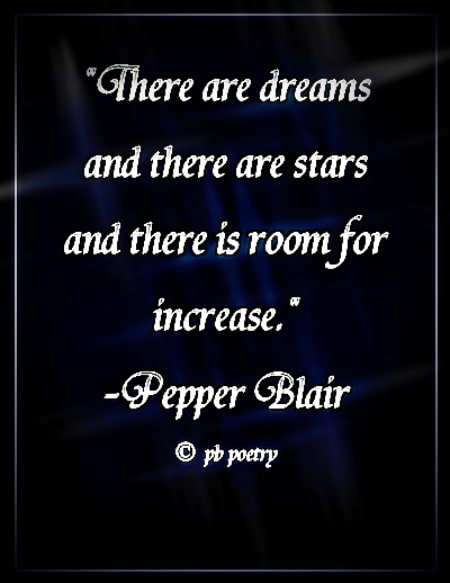 "There are dreams and there are stars and there is room for increase." -Pepper Blair
Another cookie decorating technique is airbrushing portraits on cookies. Intriguing? I'll upload a video on that as soon as I can.
Has this page helped you? If you have learned something, please consider sharing this page. I do appreciate it and it helps me so much. Thank you!
Top of Airbrushing Cookies 
Did I cover everything for you? Any questions or comments? Just pop them into this comment box and I'll promptly answer!

Click over to these popular pages on WeCookiers: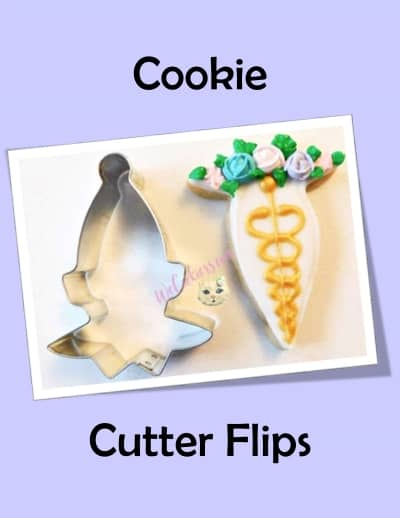 Cookie Cutter Flips link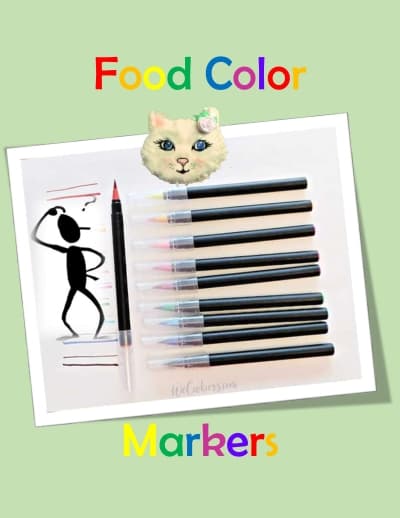 Food Color Markers link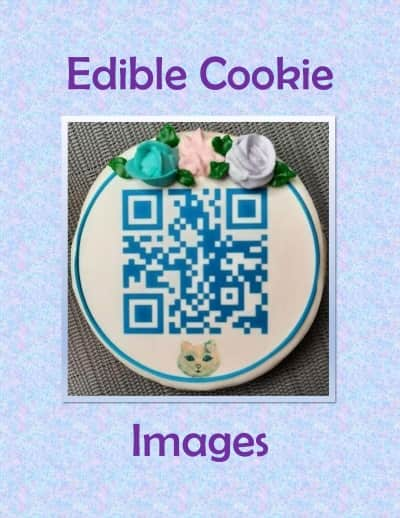 Edible Cookie Images link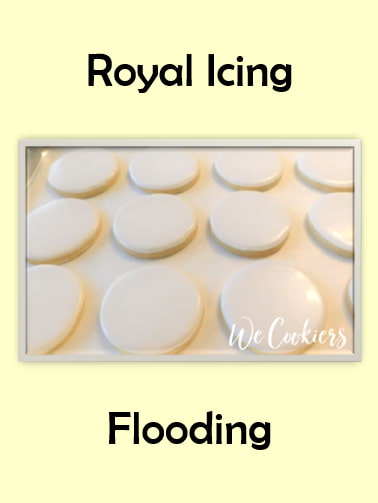 Royal Icing Flooding Link