Ants? They Love These Cookies!
I am so excited about this issue. As a cookier, I LOVE being creative. Coupling that with the marketer in me…BAM!
Have you heard of teddy bear picnic parties in the park? Nothing new, but I just learned about them. Not that what you read about it has anything to do with cookie-ing though.
I decided to merge the two to celebrate both July 9th (National Sugar Cookie Day, United States) and July 10th (Teddy Bear Picnic Day). Sound fun?
As WeCookiers, we just HAVE to acknowledge National Sugar Cookie Day. After all, they are what allow us to make others happy. Don't you just love that?
Get your customers hyped by offering cookies like these. People LOVE cute cookies.
Today's Highlights
1. newest site pages 2. teddy bear picnic cookies, cutter flips 3. teddy bear picnic cookie inspo 4. business sense 5. quick business tips
Newest Site Pages
1. Sugar Cookie Glaze Recipe—

Though most of us use royal icing, some choose or need to have a glaze icing. I tested this recipe and it holds a close second to royal icing. It's durable, shippable, delicious, etc. Read about it and get the free download here:

Sugar Cookie Glaze Icing In case you missed the last issue, here are the 2 new pages prior:

PYO Cookies

PYO Cookie Palette

---
NEW! I added commenting at WeCookiers.com. I would love to have you utilize this tool. Show me your masterpieces with the story behind them or ask any questions to cookie-ing!
---
Teddy Bear Picnic Party Cookie Cutter Flips
I tried creating some unusual, interesting and, of course, cute, flips for you. I think I succeeded. The first 2 are flips, the last is simply a new slant on an apple. Enjoy!

1. pie slice (with crust cut off) to sandwich

2. pie slice (with crust cut off) to swiss cheese

3. whole apple to eaten apple with ants!

(Sorry, if you have an email with just HTML, you will not be able to see the photos).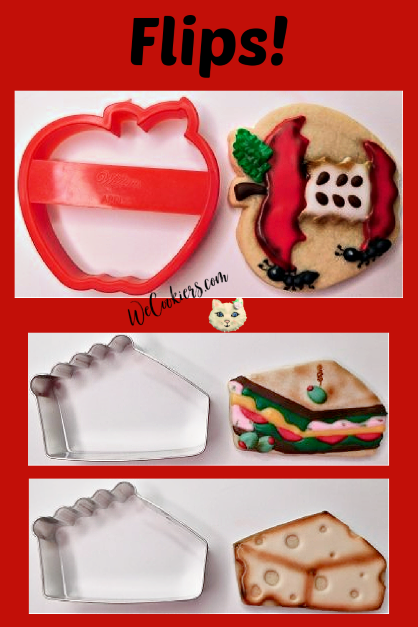 Teddy Bear Picnic Party Theme Cookie Inspo
Business Sense: marketing yourself
1. Going along with the theme of this issue, host a community Teddy Bear Picnic in the park day. Get other businesses involved to be sponsors and set up booths.

2. Make a big deal of National Sugar Cookie Day to your customers. This tells them that you keep on top of what's going on. Makeup however many dozen you think you think you'll have time for or will sell and do a pop-up or Facebook sale.

3. Just last Friday I was called by one of Kansas's top news stations to come and be a guest to bake and decorate cookies for their Independence Day cooking show. Quite an honor that totally took me by surprise! Yes, I'm from Kansas.

How about instead of you waiting for them to reach out to you, you reach out to them. Let them be aware of your artistic abilities. Send them photos and or videos of your work. News stations are always looking to keep their spots filled.
Quick Business Tips
1. Did you know the basic rule of thumb to charge for a cookie is $3 per inch? If you have a 3" cookie, it should go for $3, a 4" cookie should be $4 and so on. Keep in mind this would be for your basic cookies. The cost increases for more colors, airbrushing, etc.

2. When you give a quote for sugar cookies, after you give the total amount, also include the per serving amount. For instance, say "Your total order for 4 dozen is $180.00 Their jaw drops. Then you include "…that's $3.75 a cookie". Two reasons you want to do this…

• It gives them a clearer view • The last amount you give them kind of sticks in their mind and makes it more reasonable to them

3. It's been a little difficult with pricing this year, with inflation. I raised my prices at the first of the year, which is normal. I've since had to raise them again as all retail places have.

This is always a stressful thing. We think, well, that'll be the end of my business.

I just want you to know that when I took a fairly large hike, my tips completely stopped. It was kind of a downer, yet I still got what I asked. In about a month the tips started rolling in again. It just takes a little time for people to readjust their thinking. So don't be afraid to take the plunge!

Pepper Blair's quote: ""Those who succeed at a God-given gift are both privileged and heaven blest."

That wraps it up for this month. Great seeing all the new subscribers! I look forward to seeing you succeed!

Blessings,

Pepper Blair on Pinterest