Sugar Cookie Glaze Recipe
Sugar cookie glaze recipe. Convenient and dependable. Pinky promise.
This sugar cookie glaze recipe works. 
Years ago when I started sugar cookie decorating, I began with glaze. I didn't have much luck with the sugar cookie glaze recipe I used back then. I had quite a few problems. Color bleed, too thin of glaze, opaque instead of white, etc.
My first time using glaze icing:
This is what happens when you use the wrong icing
Fast forward years later.
I never went back to glaze after I finally got together the perfect sugar cookie icing recipe. I love it and, more importantly, so do my customers.
However, I strive to give you well-rounded information on this site, with no questions left. I don't know if that's possible, but I try!
I decided to find a sugar cookie glaze recipe that aids those who, for various reasons, cannot or wish not to use royal icing.
Great news for you! If you are needing a sugar cookie glaze recipe that works and tastes good, here it is! Oh, happy days are here again.
After testing some recipes for you, I landed on this one, I realized if I had to switch to a sugar cookie glaze recipe, I would use this one. So I got something out of the deal instead of just writing this page. If a customer requests glaze, I have a good recipe I can rely on now.
If you need a glaze recipe for these reasons:
allergies to eggs
the local government does not allow it under cottage rules
simply prefer without egg whites or meringue powder.
you are vegan
...you now have the recipe below.
Sugar cookie glaze recipe and free download
Here is the recipe. Underneath is a link that you can download for free to print it off.
Very simple.
Sugar Cookie Glaze Recipe
yields: (the standard per cookie is a generous 1 oz) This recipe gives enough to ice about 3 DZ, 3" cookies. If you have a lot of cookies, go ahead and double everything at the start.
½ cup milk (some use water)
½ cup light corn syrup
2 tablespoons flavoring
2-pound bag  + 2 cups of quality confectioner's (powdered) sugar, like C&H or Dominos. Cheaper brands often add extra cornstarch. That will make your colors bleed.
40 drops (about ½ teaspoon) of white food color gel (this also helps to prevent color bleed)
Download the sugar cookie glaze recipe for free by clicking on this image: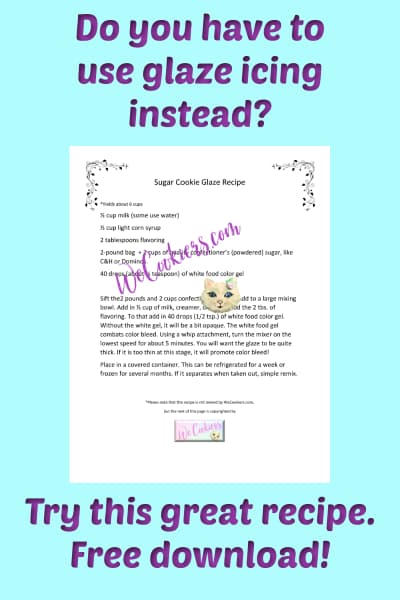 What to expect with this sugar cookie glaze recipe…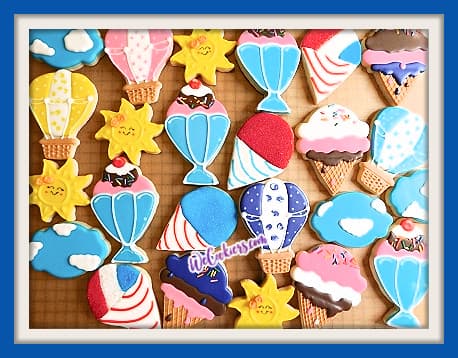 Sugar cookie glaze recipe: no color bleed or fading and soft to the bite yet stackable and shippable.
Here's a breakdown of the different things you might wonder about this recipe:
     As long as you make sure it dries completely and use the tips in this free download on the Royal Icing Tips page, you shouldn't need to worry about color bleeding.
I've been using this recipe faithfully for 2 weeks in a great many orders, in mid to high humidity and this sugar cookie glaze recipe stands up great and compares closely to my royal icing. 
*Please note, I do use a dehydrator (the one I use is on this page, a must-read) as I do with royal icing.
     The key (as above) is making sure you give it plenty of time to dry thoroughly (up to 3 days sometimes).
I am very impressed with the way it hardens. It is well-crusted, and soft to the bite, just like my royal icing recipe.
vibrant/deep colors using food gel
     I have found that the colors are good. This does greatly depend on the brand of the gel food colors and the cornstarch used. I use Americolor gels and C&H.
     The glaze does taste good. Especially if you are adding a quality extract. If no extract is used in the recipe, it's going to just taste sweet.
     It incorporates colors well. No big complaints here. I've used royal icing for so many years that I am used to how it feels. The glaze, due to using 1/2 cup of light corn syrup is heavy and relatively sticky compared to the fluffiness of RI.
ease of thickening with powdered sugar
     I still find it harder to thicken for piping flowers or words. I have seen over the internet that this is the biggest struggle with a sugar cookie glaze recipe.
fading colors after a couple of days
     Again, if you make sure they are good and dry before adding a different color, there shouldn't be any problems here.
I have found no fading even after 3 days. Again, I use a dehydrator. I believe using them helps combat fading and color bleed with glaze OR royal icing.
food color markers work well (see my comparison of different markers by following that link)
     Yep! No problems whatsoever:
airbrushing also does wonderful on this sugar cookie glaze recipe:
edible images are no different with this glaze than with royal icing:
Other notes you probably need to know:
The glaze is stored the same way as royal icing. If water is used instead of milk or cream, obviously the glaze shelf-life is longer.
After freezing, if you see it separated, simply mix it gently to not cause air bubbles.
For me, glaze takes longer to dry completely. I'm talking for up to 3 days, especially if it's humid! Just make sure they are good and dry before placing them in the freezer or splotching could occur. Also, they need to be dry if you plan on packaging them. If they aren't, they could stick to the bag and cause the color to bleed.
As with any cookies, the best way to package them if you are shipping is to stand them on their sides, not flat.
Certainly, you can treat glazed cookies just like royal icing once it has dried well. Stenciling and watercoloring, etc. can easily be used.
Sugar cookie glaze recipe, why it's safe to leave decorated cookies on the counter
Have you ever wondered why on earth it's okay for glaze royal icing, or buttercream frosting to set out on decorated cookies when it has milk in it? Seems strange, right? I'll give you a brief mini-lesson on that strange thing called crenation.
What is that?!
Crenation (I'm paraphrasing from this link):
Because of its density, sugar takes moisture from milk and extracts fluid from bacteria. Therefore, the bacteria dies, triggering osmosis. You see microbes can only survive with adequate moisture. Sugar acts as a vacuum and sucks that moisture out. Bye-bye bacteria!
 Tell me what you think! Do you use glaze or royal icing? What do you like best about sugar cookie glaze icing? We are curious to see photo/s of your works of art in the glaze. Tell us about the picture/s you post below here. Please do not post anything copyrighted or trademarked as it is illegal. Thank you for understanding.
Top of Sugar Cookie Glaze Recipe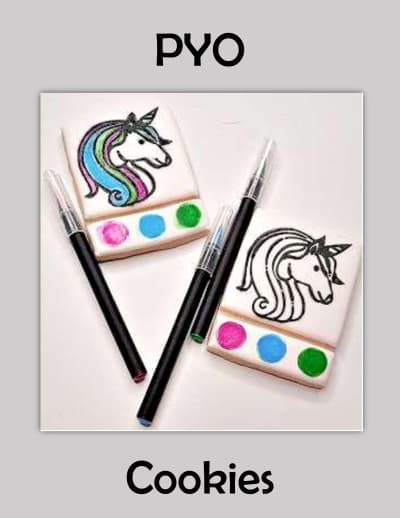 PYO Cookies link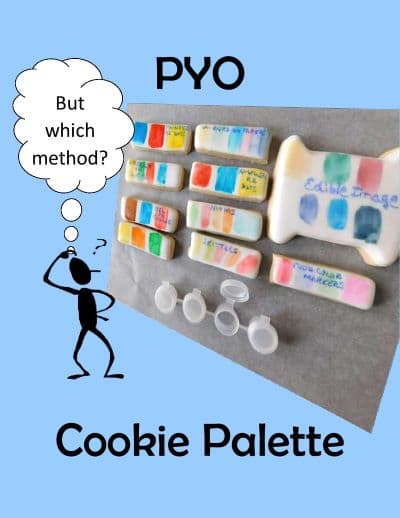 PYO Cookie Palette link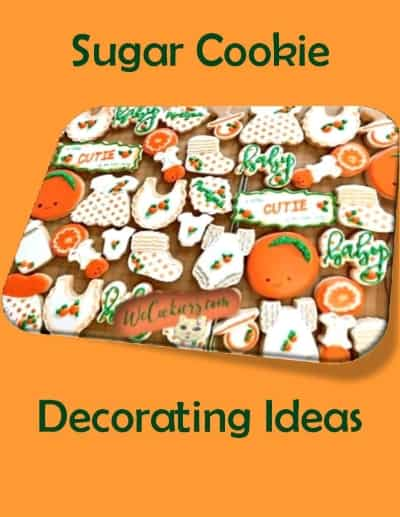 Sugar Cookie Decorating Ideas link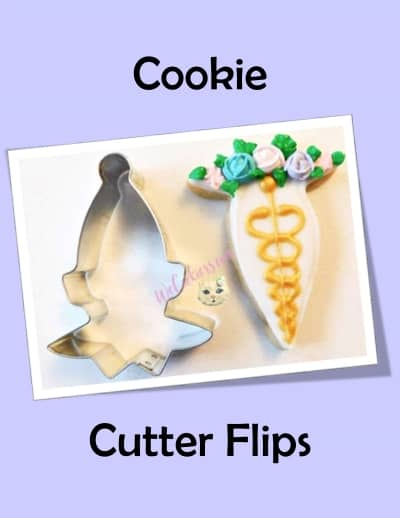 Cookie Cutter Flips link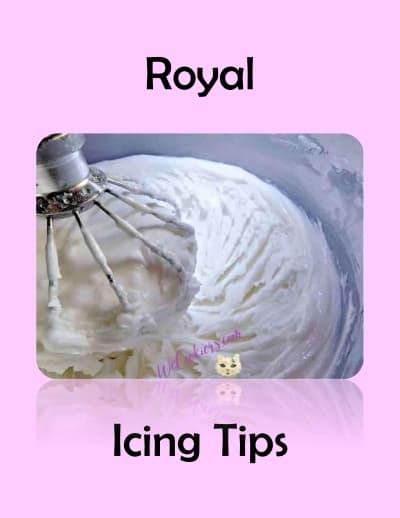 Royal Icing Tips link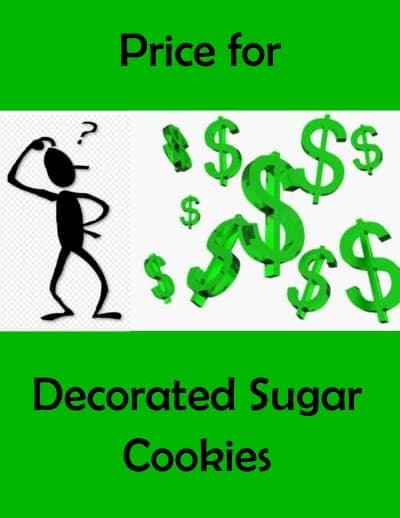 Price for Decorated Sugar Cookies link