10 PYO cookie palette ideas. Which is the winner? Curious? Watch video!

PYO Cookie Palette.
These are among the many cookie decorating techniques.
This page offers an in-depth look at 10 ways to make a PYO cookie palette. I'll show you the successes and failures of each as I place them 'under the microscope' to see which is the best and/or worst.
Scroll down the page if you want to go right to the video.
10 ways to make a PYO cookie palette:
Near the bottom of the page, you can see a clear picture of all these side by side.

- Skittles
- M&Ms
- pipe and airbrush royal icing dots
- airbrush dots on cookies with stencil
- paint royal icing dots
- use gel to paint dots on cookies
-use a program like Microsoft Word
-paint pods
This page covers 10 ways, but the 11th method would be:
- order pre-made store color palettes
Get your delicious cookies baked the easy and right way first.
*Here's a link back to PYO Cookies if you missed it.
About each of the compared PYO cookie palettes…
1. Skittles, easy, fast, no cleanup. However, you can see they did do some color bleeding in the royal icing after 2 days.


2. M&Ms are easy, fast, and no cleanup too. Just flood your cookie and place the candies in the wet flood icing. Let them dry. Done. Note the green, brown, and orange color bled as well after 2 days.


3. Airbrushing royal icing dots is easy, and pretty fast, but has some cleanup. Pipe royal icing dots, let dry overnight, and airbrush them the next day. Another method is placing them in a dehydrator (like this one-scroll halfway down that page) for an hour and let set for 4 hours to make sure they are dry.
4. Another easy way for your PYO cookie palette with airbrushing is simply using a stencil with circles. This is much faster than airbrushing piped dots. Fast. Some cleanup.

5. Painting royal icing dots is the same as airbrushing. With these though, you paint the royal icing dots with food color gel mixed with either Vodka, Ever-Clear, or Lemon Juice (don't worry, the alcohol evaporates). You then paint the color on the dots. A little tedious and cleanup is needed. Time-consuming as well.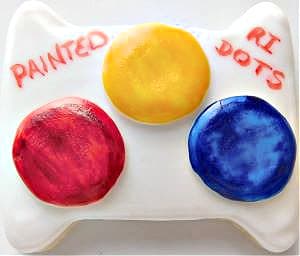 6. Using food color gel to paint the dots on a flooded and dried cookie is another way.
Painting the color on the sugar cookies is easy, fast, cheap, and does not much cleanup.
There is one caveat, however. The gel food color on a cookie is pretty concentrated. It will not taste good and also leaves the mouth stained.
I am an Americolor person myself. I love their bright and rich colors. This is not an affiliate link, but I purchase all of mine from Country Kitchen Sweet Art. The benefit of ordering through them is the shipping is $6.99 to free! Not to mention they are a super company.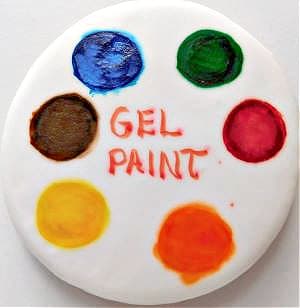 7. I came up with the idea of coloring a palette with food color markers. Easy, no mess.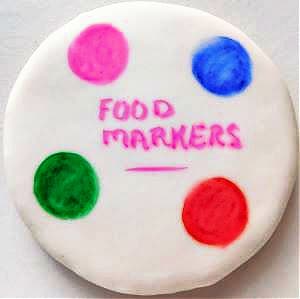 8. Using an edible copier to make a PYO cookie palette is easy if you have a Cricut or Silhouette, or the like.
Simply go into the design program, make a rectangle and add however many circles you want for a palette. Change the circle colors to your preference. You will want to aim to get the deepest colors though. If you choose lighter colors, you won't be able to see them very well after painting the cookie.
Connect the shapes with the attachment tool in the program, then make them.
If you are including these in a customer's order, always put your business name on the palette before printing. Branding is super important.
After you have the PYO cookie palette in the program, it is fast, easy, and has no cleanup.
9. Use a program like Microsoft Word. If you are familiar with Word, setting up a cookie palette is similar. Once it is set up, you'll always have it. You can also make various color palettes.
How is this edible though? All you need to do is copy off the palette into an edible printer on white cardstock paper.
Why would you want to use Word instead of a design program? At least in the Cricut Design Space, they have a few colors to choose from that are vibrant/deep. Word is limitless since you can use hex numbers.
Brand those babies! Remember to place your cookie business logo on the palettes for extra exposure to your customers. Not to mention, it's much more professional. 
Read more about branding to grow your business here at Talkroute. I'm not a member, I just found the article helpful in stressing the importance of branding.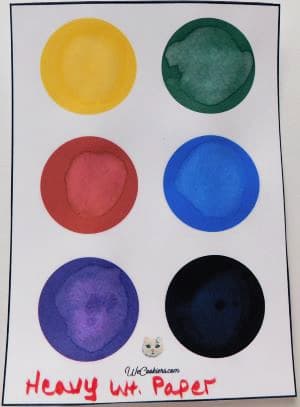 10. Paint pots/pods are a good alternative and are what I've used for a good while now. You can find the empty pods on Amazon. I provided a link under the Amazon affiliate notification in bold below.
I take a syringe and fill them with the gel color mixture (not full-strength gel).
They are super because you can clip the line anywhere between the pods. They come in strings of 6 and if you wanted to offer 3 colors, well you just doubled the amount from 240 pots to 480--that's significant savings!
As an Amazon Associate, I earn from qualifying purchases. This means no cost to you but I may receive a small commission when you click on the link below and make a purchase. 
I am proud to offer you affiliate links.
Why?
When you see one, that means I stand behind that product. I bought it, I love it, and I use it regularly in my own sugar cookie business. 
Because of this, you can be assured that there will be no spammy material/products on this site. 
11. This is not in the video or above, but it is another way. Sorry, I've never bought them so I couldn't speak about them.
Premade cookie palettes. This goes without saying. No cleanup, no mess, fast, easy.
The con about these is they are expensive when you take into account shipping. For just a dozen you'll find they run over $12. with shipping. That's a LOT to add to a cookie order.

PYO cookie palette comparison results in photos
1. Skittles
2. M &  M's

3. Piping and airbrushing royal icing dots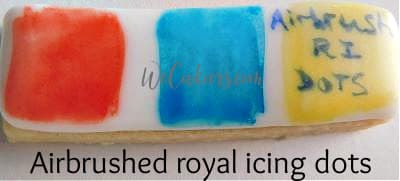 4. Airbrushing circles on cookies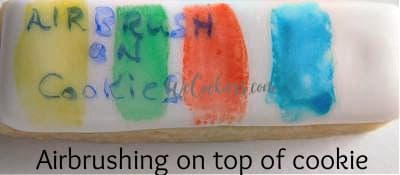 5. Painting the piped royal icing dots by hand with a gel mixture


6. Painting the gel mixture right onto the cookie

7. Food color markers

8. Using an edible copier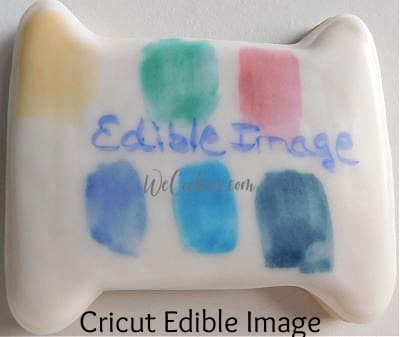 9. Microsoft Word on heavyweight paper or cardstock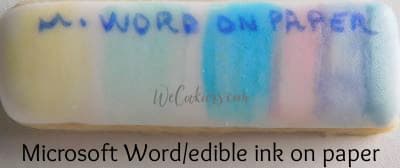 10. Paint pods. Sorry, I forgot to add this in the video and take pictures, but it turns out the very same as the other 2 methods of using the gel mixture.
(Here is a bunch of inspiration for cookie ideas)
Here are the final results, side-by-side.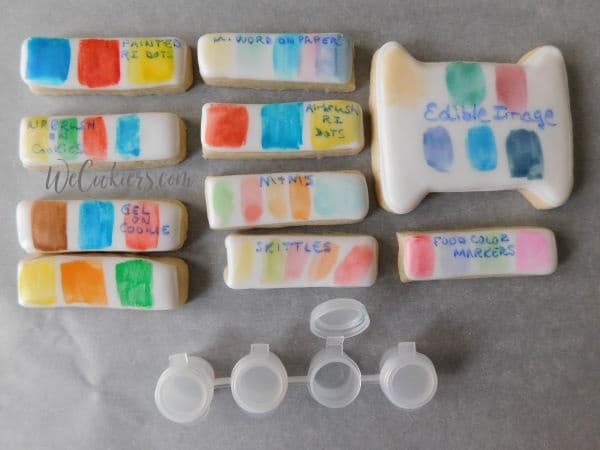 Keep in mind, that PYO cookies are simply a form of water-coloring since you will be using water. This form, no matter the medium you use, will not be deep and dark colors, though a few of them are darker than others.
I hope this has helped you decide which PYO cookie palette to use.
Top of PYO Cookie Palette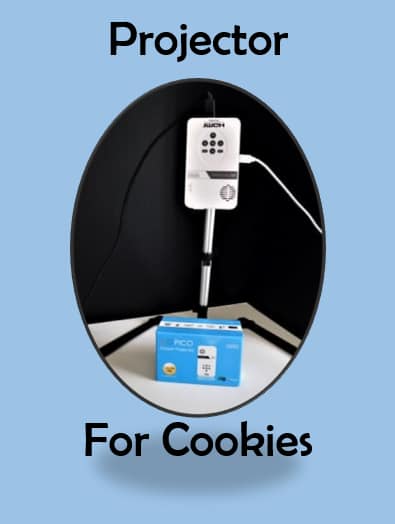 Projector for Cookies link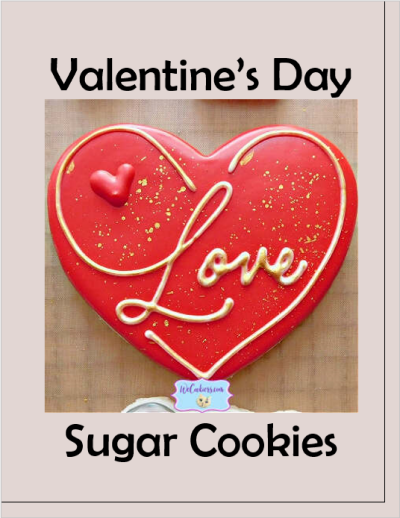 Valentine's Day Sugar Cookies link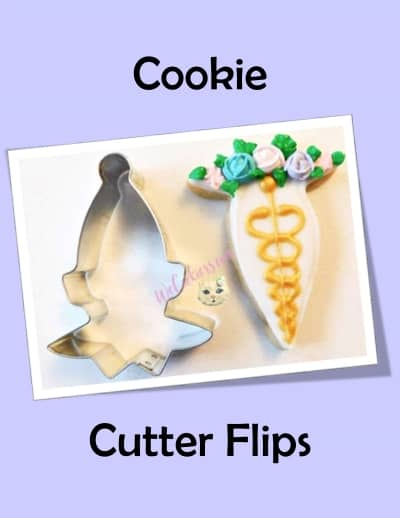 Cookie Cutter Flips link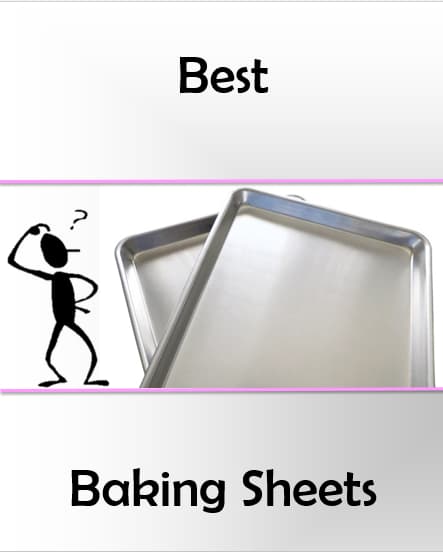 Best Baking Sheets link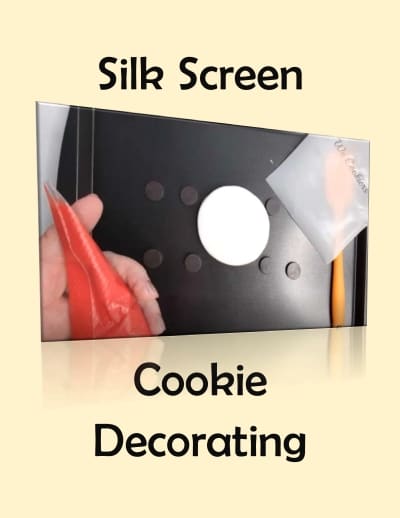 Silk Screen Cookie Stencils link
Cookie on a Stick link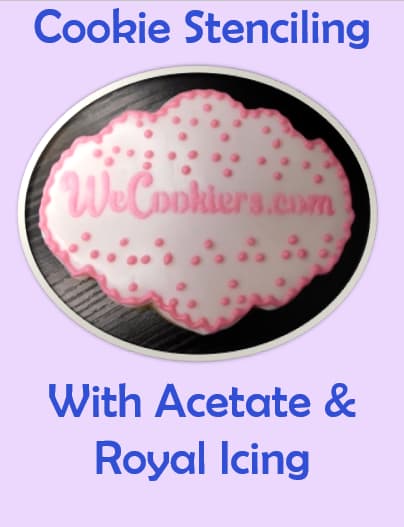 Cookie Stenciling With Acetate and Royal Icing link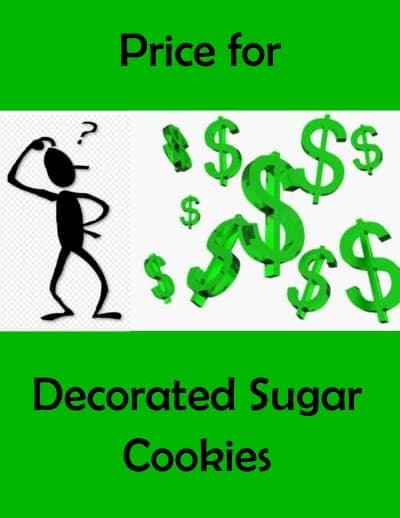 Price for Decorated Sugar Cookies link