If you're lucky enough...
...okay, not all of us are Irish. But you can still be lucky enough!
For the newer artists who are starting to market their business, we cookiers usually market at least one month in advance.
So even though this is February's newsletter, we have to jump ahead to the next month. That is why you saw Valentines last month and will see St. Patrick's this month.
It keeps you on the cookie cutting edge!
Today's Highlights
1. newest site pages 2. St. Patrick's cookie cutter flips 3. St. Patrick's theme cookie inspo 4. business sense 5. quick business tips
Newest Site Pages
1. Silk Screen Cookie Decorating

Do you know what silkscreen cookie stencils are? Have you been thinking you would like to try them?

This page consists of questions most asked and the answers.

There's also a free video tutorial on everything you need to know.

Be sure to share it if you find it helpful…many thanks!

Here's the link:

2. Silk Screen Cookie Stencils

I thought I would go ahead and write a page on making the silk screen cookie stencils since we are on the subject.

This should complete everything you need to know on creating them, the prices of the items needed, and links where I purchase them.

There's also video tutorials I've done for you.

Here's that link for this page: Silk Screen Cookie Stencils .
St. Patrick's cookie cutter flips
-brew pot to pot of gold
-Frosty the snowman's hat to Leprechaun hat
-elf shoe to Leprechaun boot (cut notch for the heel)
-pilgrim hat to Leprechaun hat
(if you have an email with just html, you will not be able to see the photos).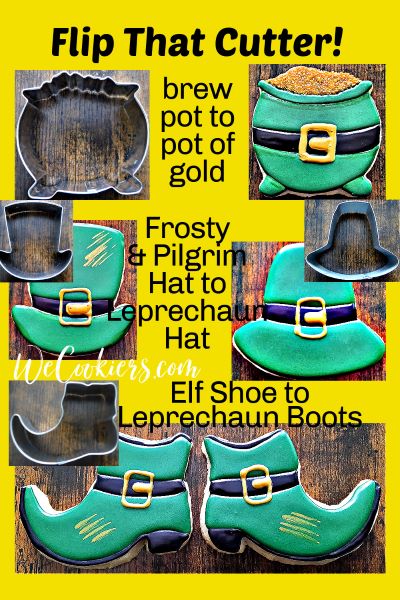 St. Patrick's theme cookie inspo
.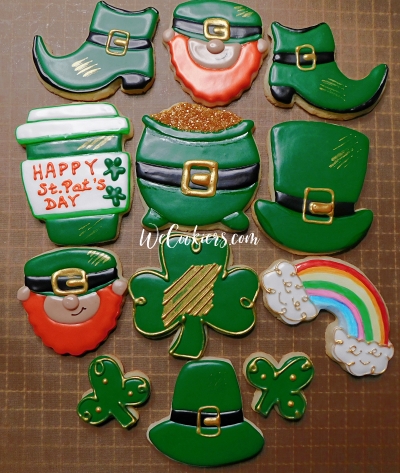 Business Sense: marketing yourself
1. When using social media, the worst thing to do is 'sell, sell, sell' yourself.

You need to be engaged with other posts and become someone who is a regular face there.

2. Also when using social medias, warm up the algorithms of that platform for 5-10 minutes first (this means commenting and liking others' posts), then make your post on your page/profile. This little trick gives you a better chance that you'll be seen.

3. Have you considered hosting an open house in your home? This is a great way to build awareness for your business. You will want to spread the word around a couple of weeks in advance. Make sure you make enough cookies too!
Quick Business Tips
1. Do you have a planner? I'm sure you do for your business. But what about for your personal life? I keep two. One for both. I find by having a personal itinerary that it helps me stay on schedule and I don't get so overwhelmed.

2. When you have customers to come for their orders, do you say they can come on a certain day at a specified time or do you say they will be ready after such and such time.

You will find your day will go much better to say I have 'a 10 am., 2pm or 4 pm pick up time available' (or whatever is convenient FOR YOU).

3.Throw your own product party. Have a friend or family member host a party showcasing your cookies.

Naturally have some there they can see and eat and they can order from your pictures or brochure.

These do work, especially around the minor holidays like St. Patrick's day, Valentine's Day, Mother and Father's day.

Support Me! ***Join me on Ko-fi. It's a place where artists go to grow. I would love to have you support me! Thanks ever so much. .

May the road rise up to meet you.

May the wind be always at your back.

May the sun shine warm upon your face,

The rains fall soft upon your fields,

And, until we meet again,

May God hold you in the palm of His hand.

Happy early St. Patrick's Day!!!

.

"Mountaintops have snow so we can better see our prints." Pepper Blair on Pinterest