Silk Screen Cookie Decorating
Silk screen cookie decorating for the beginner
Silk screen cookie decorating gives you but another form of sugar cookie decorating techniques. We have already covered stenciling cookies on these pages:
-with royal icing using an acetate/plastic stencil

This page covers:
1. Using a silk screen stencil for mass production
2. these questions:
-what is silk screening on cookies?
-is the silk screen stencil reusable?
-do you wash the silk screen before applying the HTV?
-do you use a stencil holder?
-can you airbrush with silk screen stencils?
-what's the consistency of royal icing?
*Click here to learn how to make your own silk screen cookie stencils.
After you have the best sugar cookies cut, baked on the best baking sheets, cooled, and the icing is dry, you are ready to start silk screening like a pro.
For silk screen cookie decorating, acetate, or plastic, stencils are usually less expensive to purchase.
Why?
Silk screen stencils take more products and can be very time-consuming with weeding, pressing, washing, and cutting them down manually. It's not uncommon for them to take a good hour or more before they are ready to use, depending on the image.

I'm not a big you-tuber, but I use the platform to enable me to have my videos hosted there to be able to load up to this WeCookiers site.
If you would like to see all the videos I've done, you can see them here: WeCookier's on YouTube.

Using a silk screen stencil for mass production
If you have dozens of the same cookie to do, you can make it go much quicker and more precisely with this 'mass production' technique. This is not my idea. I saw it on YouTube.
You will need these supplies…
-clipboard
-clear cookie bag
-rubber pad or shelf liner for under clipboard so it doesn't slide
-silkscreen stencil (make your own)

-royal icing or glaze
- wet sponge in a paper towel (some cookiers use it, I do not)

-a delicious iced cookie that has dried overnight for 12 hours
-flexible scraper or spatula
Plastic and silk screen cookie decorating can be interchangeable. For instance, both can make great stenciled PYO (paint-your-own cookies).
*Keep in mind that airbrushed PYO cookies look good, but when it comes to functionality for the 'artist', the lines fade and bleed. So you will want to stick with either the royal icing piped lines, a plastic stencil, or the silk screen method.
As with any of the sugar cookie decorating ideas, these work well with cookies on a stick too.
Silk screen cooking decorating: Question and Answer

Supplies you will need for silk screening cookies
1.)    Q: What is silk screening on cookies?
A: Silk screening cookies use a one-piece silk screen stencil.
An image or words ready to cut from your cutting machine (I have the Cricut Explore Air 2). After cutting, it's weeded and then placed on a piece of silk screen. It's then heat pressed between Teflon sheets.
2.)    Q: Is the silkscreen stencil reusable?
A: You bet!
3.)    Do you wash the mesh before applying the heat transfer paper (HTV)?
A: I do not wash the mesh before making the stencil. I do wash it after it is made though.
4.)    Do you use a stencil holder?
A: You can use a stencil holder. I choose to use a clipboard. Everyone has their way and what works best for them. The frame of a stencil holder tends to get in my way.
5.)    Can you airbrush with silk screen cookie stencils?
A: You sure can! You will need to make an additional pass or two with the airbrush for good coverage on the cookies is all.
6.)    What consistency of royal icing is used?
A: The royal icing will be thinner than that used for the acetate/plastic stencils because it needs to be able to go through the mesh (silkscreen) of the stencil. If you get a nice little curl with your spatula that wants to sink in, you've got it!
I aim for around a 10-second consistency.

Silk screen cookie decorating tips
1.       Make sure to have a rubber pad or shelf liner under the clipboard to prevent moving around.
2.       Unlike the acetate stencils when used with royal icing, you will need to scrape the royal icing off the silk screen stencil well, keeping it as clean as possible after each cookie.
3.       The same thing applies again: consistency of the royal icing will make your cookies a success or failure. Silkscreen cookie decorating royal icing uses a bit thicker than flood consistency. When you have it in your bowl, the curl will disappear in about 10 seconds.
If there are more questions you would like included on this page of Silk Screen Cookie Decorating, please let me know by popping them in this comment box. I'm always happy to answer your questions.
If you need encouragement with your business, go right ahead and post that too. I will do everything I can to get your mind focused again on this journey of cookie-ing that we love!
Click on these links for plenty of great inspiration and learning: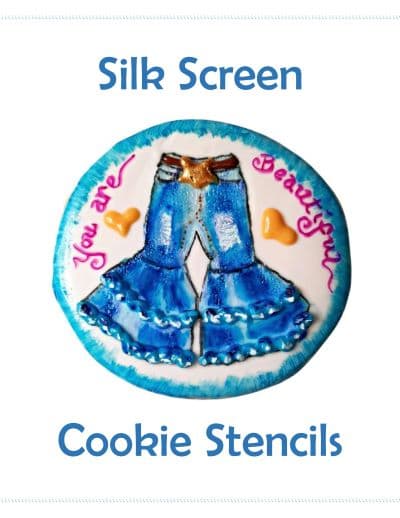 Silk Screen Cookie Stencils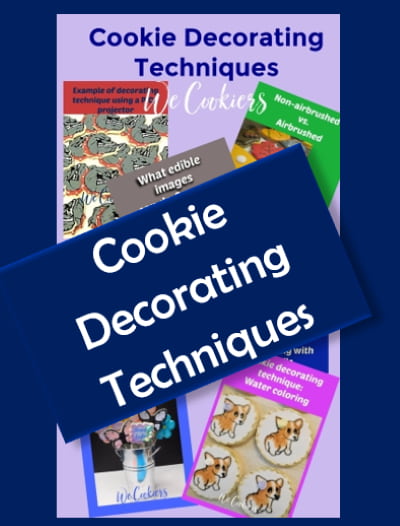 Cookie Decorating Techniques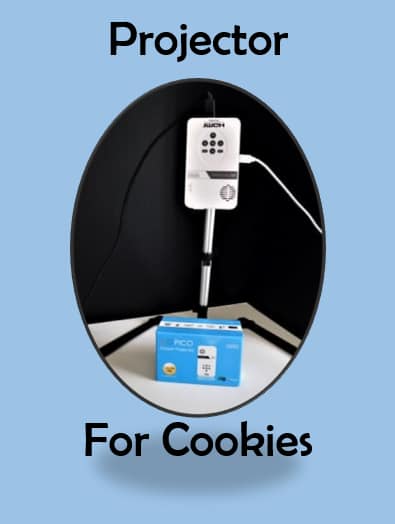 Projector For Cookies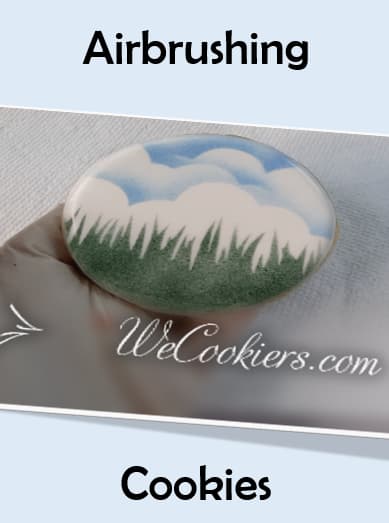 Airbrushing Cookies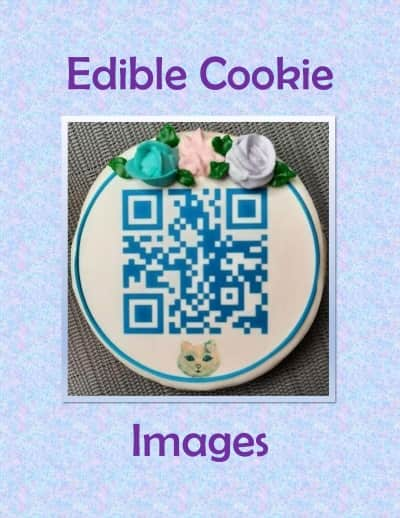 Edible Cookie Images