Spring and all things new…
A warm hello to you!
It seems like the 'form a habit in 21 days' is old hat. Now they say 'It can take anywhere from 18 to 254 days for a person to form a new habit and an average of 66 days for a new behavior to become automatic' (healthline.com).
But hey, don't let that get you down! If you really really want your sugar cookie business to succeed, you have to have that good ole stick-to-itiveness. Learning to say no to things that blur your vision for goals and a written business plan will keep you on track!
How about a challenge? I encourage you to take one way to market yourself everyday this month. Faithfully posting on social media? Emailing prior customers? Taking 15 minutes each day to focus on your goals?
Whatever that something is, do it! This is for you!
In the meantime…
Today's Highlights
1. newest site pages 2. wedding cookie cutter flips 3. wedding theme cookie inspo 4. business sense 5. quick business tips
Newest Site Pages
Another 3 pages have been added to WeCookiers with videos. YAY!

1.Food Color Markers

On this page, I give a 7-brand food color markers comparison. Also, you'll want to watch a couple of short videos on this page.

2.Price for Decorated Sugar Cookies

Are you struggling coming up with a price for your decorated sugar cookies? It's a big important question! You'll find out exactly how to do the math to get your answer. I've included a video that will help…ALSO a free downloadable worksheet for you.

.

Price for Decorated Sugar Cookies .

3.PYO Cookie Palette

It may not look it, but I've been working on this page and video for nearly 2 weeks! It's very involved.

Here I size up 10 methods of making your own cookie palettes. How well does each method fair? Watch the video then take a look at all the photos. Near the end of the page is a final photo to see the differences clearly. You be the judge!

.

PYO Cookie Palette and Comparisons .
Wedding Cookie Cutter Flips
1. upside down popcorn to wedding veil

2. school bus to "Just Married" car

3. coffee mug on its side to wedding camera

(if you have an email with just html, you will not be able to see the photos).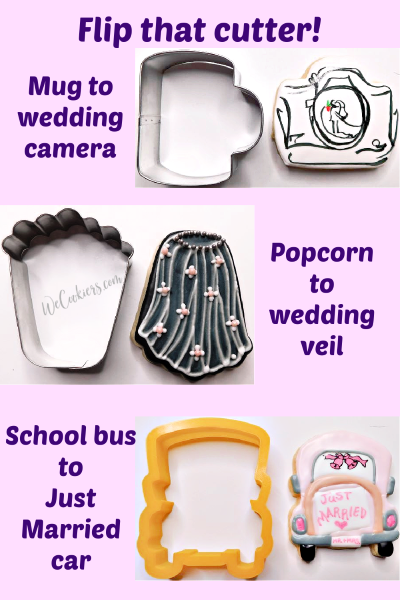 More Wedding Theme Cookie Inspo
.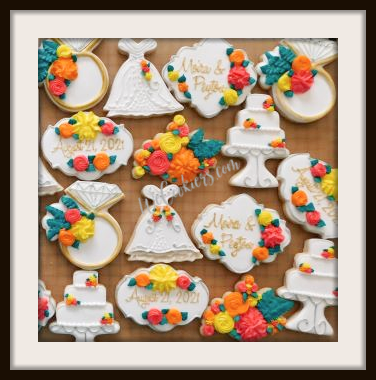 Business Sense: marketing yourself
1. Want your logo/business name to wow your customers on your cookie boxes?

I saw this neat idea on Pinterest: You can order a custom made embosser, like from someone on Etsy and an embosser starter kit on Amazon with the heat gun for around $38. Stamp the box, apply the powder, then heat gun it. It's a very clever idea.

So much less expensive than ordering boxes with your business logo already printed!

2. Ever thought of dressing up your business cards? How about taking a paper punch or corner punch to them? Why have them look like everyone else's?

3. Speaking of business cards…Have you thought about making scratch-offs on your cards? This will really get your customers involved. You can include a percent off, gifts, reminder dates, anything!
Quick Business Tips
1.Did you mess up on an order? Maybe get a color/s wrong and the customer was mad? Yes, you admitted it but the customer was still angry even after giving a refund.

No one was put on this earth to be perfect. Every single cookie has or will make some kind of mistake on an order. I've been there and feel your pain. Just know you are not alone.

Where do you go from here? Exactly. Just keep going. Don't let one slip trip you up. Yes, it's earth-shattering in the moment. Know that in just a day or two it will fizzle out.

You may or may not get that customer back…and you probably wouldn't want them with their attitude anyway. There will always be more customers though. Keep looking up, for your benefit, for your business.

If you need help working your feelings out, feel free to

contact me. I take care of my WeCookiers and am always on your side!

2.Do you wonder how to succeed with your cookie business? The key answer is to KNOW YOUR MARKET.

Know not only who your market is, but what they want.

This is where trends come in. If everyone on the internet is doing something on cookies, you can bet you need to be doing the same…or even better.

You don't need to exactly copy it, but take the idea and run your own creativity through it.

That's not to say that you yourself can't do something the takes the world by storm. I've no doubt your creativeness can make something go viral, so do it! But keep your customers happy by them knowing you are on the cutting edge.

3.A good cookie artist is able to cause their customers to be inspired. If you do custom orders, always be thinking for your customer. Offer them out-of-the-box ideas. It'll get their creative juices flowing too. They'll love you for that!

In closing…

...go out there and move mountains. Make your dreams come true. No one will do it for you. Tighten that business belt and show the world what you're made of. In this next month you will be surprised how far you have come by simply taking baby steps.

See you in about 4 weeks!

.

Pepper Quote: "Dreams begin with revelation and they end in grace." Pepper Blair on Pinterest