My new way to spread joy...
My favorite time of year is almost here, full of Jesus, family, friends, fireside, memories, and giving.
Speaking of giving, scroll down for your Christmas present from me. I think you will like it! This is only for you. It is not offered to the public. Thank you for all of your support. I wouldn't have WeCookiers if it were not for you.
No matter how hectic the season can unfortunately be, I become so excited to give gifts. Keeping reading to get yours!
While thinking of something special and different for you this month, I was thinking how nice it would be to send you a real Christmas card. So I slid into the notion of making Christmas card cookies to inspire your customers to give them as gifts.
Not your typical cookies, but extra large ones, maybe even 2 in a festive gift box.
Below is a couple I did as examples for my presales to customers on WeCookier's Facebook business page. I had a jolly good time being creative and it began putting me in the Christmas spirit, especially since today was our first snowfall of the year!
---
Have you been over to WeCookier's.com recently? If so, odds are you have seen a few changes. One of them is I now have affiliate links.

I am not an affiliate 'marketer' per sey. I will only share with you products I personally believe in and use in my own daily sugar cookie business.

If the products help me, then I want to share them with you. I will never get spammy with ads all over the site. As you have come to trust me, I respect you in return. I want you to succeed in this world of cookie-ing as I have.

Yes, I MAY get paid a very small commission if you click on the link and make a purchase. This simply helps to make all the great information and endless hours writing and videoing for WeCookiers.com available for free to you.

Thank you for your continued support. You're the best!

With that aside…
---
Today's Highlights
1. newest page at WeCookiers.com 2. your question, my answer 3. Christmas cookie cutter flips 4. Christmas cookie inspo photo 5. business sense 6. quick business tips
Newest Pages at WeCookiers.com
Royal Icing Transfer Sheets

Last time, my page on the royal icing transfers themselves went live on WeCookiers.com. It told all there was to know about transfers.

This page shows a wonderful hack I came up with to save those fragile transfers from breaking so easily. I also did a video for you. There's other great information too!

Click this link: Royal Icing Transfer Sheets

This was the page before, if you missed it:

Royal Icing Transfers
Your Questions, My Answer
Q: What are the best baking sheets to use?


A: I find the best ones are some of the least expensive commercial ones.

The ones I favorite were rated some of the best baking sheets for 2022 on these attributes:

Durability 5/5; Heating Ability 5/5; Ease of Cleaning 5/5; Quality of Finish 5/5

If you would like a comparison of some name brands to these babies, visit my page here... Best Baking Sheets
---
Cookie Cutter Flips
We all love flips! Here are some easy ones:

valentine arrow- North Pole sign

eucalyptus leaf- mistletoe

monkey head- snowman

Click the image to be taken to the Cookie Cutter Flips page.

(Sorry, if you have an email with just HTML, you will not be able to see the photos).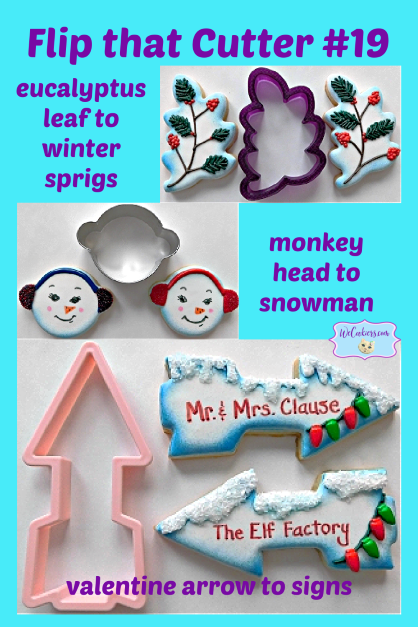 Christmas Card Sugar Cookies, Inspo
Here are the Christmas Card cookies I'm selling this year. The cookies are roughly 5" and placed in a heat-sealed bag with a pretty gift box and tissue paper.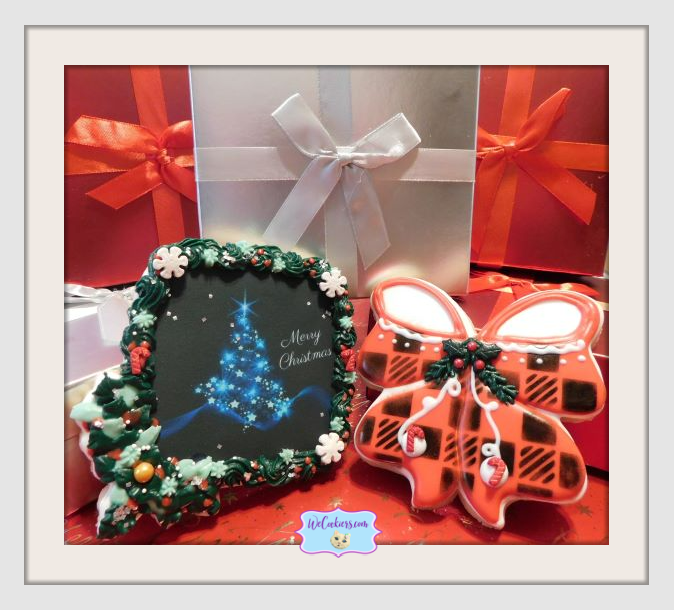 Business Sense: marketing yourself
1. I've said it before. It's always worth repeating. Think of something big and different, and your business will have the spotlight. It doesn't always have to cost loads of money either. For instance...

If you are lucky enough to have snow on the ground, get your family busy and build a ginormous snowwoman in your front yard...or better yet, in the park! Dress her/him in the attire of a baker with it holding a sign of your business name/logo. Maybe even get a bunch of kids together to do this.

2. I've always wanted to do this, yet never took the time. I know, shame on me.

A person sits in a box or some kind of partition. It is painted on the front to push a button for a free Christmas present. You hand a wrapped gift through a hole when the button is pushed. Of course, you would want your business name and info that everyone could see, including on the gift.

3. How about giving to the elderly or handicapped this year? How?

Gather a team of volunteers from your community. Instead of singing carols, go decorate the outside of their homes for Christmas. As you go, you will have collected signatures on a card from all who volunteer, gifting it (maybe even with a gift card inside) to them.

If you decide to do this, make sure to go back after the holidays and take the decorations down for them. You can even reuse the decorations for the next year.
Quick Business Tips
1. I'm a conservative by nature. I hate spending money unnecessarily. When I run across something that will save me time...and money...I'll think about it for a while then finally jump on it!

I've heard about them for some time now but took the plunge. Thermal printers save time because they print soooo fast. They save money because there is no ink to buy.

How do they print? There's a chemical reaction that takes place as the printer head slightly warms it. It's that simple. All you need are thermal labels and stickers.

I can't believe I waited so long to get one. I ended up with the iDPRT SP410 Thermal Shipping Label Printer

No, you don't have to use only the 4 x 6 shipping labels. Any size and shape works, fanfold or on a roll!

I use mine for shipping labels, yes, but I use it so much now for ingredient labels and label prompts to my customers to leave a review on Facebook, etc. I even use them to print off barcodes and QR codes. Priceless!

2. This tip is on the same topic. Where do you get your thermal labels? UPS gives 6,000 (a 60-pound box) of free blank, 4 x 6 sticky labels for...FREE, and FREE shipping! There are also other free products they'll send.

Please note, that they are free, but you do have to use the labels for mailing with them.

3. I do use tissue paper in my cookie boxes, but...during any holiday I snazzy it up a bit by placing holiday napkins, unfolded, under the cookies. You can get an array of prints. Walmart has them for any holiday for just 97 cents.
Short poem by Pepper Blair:

Blessed Chimney Smoke

This is some blessed chimney smoke
Now rising to the sky,
To where the heavens are aglow
With stars and lunar light...

To where the heavens are ashine
In silver and in gold.
A winter's eve has more than style;
It has a heart and soul.

Warm and beautiful wishes to you and your family this Christmas.
---

Pepper Blair on Pinterest