Best baking sheets

What are the best baking sheets to use?
Honestly, the best baking sheets for me are the simple and inexpensive Nordic Ware. These are found at Walmart. I use the Member's Mark brand at Sam's Club as well. I see no difference at all between these two brands. Both bake identically and feel and look the same.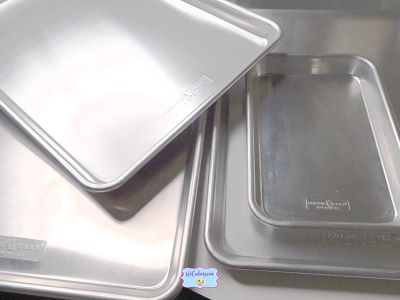 NordicWare baking sheets come in three sizes
They must be good sugar cookie sheets. They have tens of thousands of five-star reviews on Amazon alone!
Don't take my word for it though. See for yourself what the eight best baking sheets of 2022 are, I'm pleased to share: Best of 2022
These baking sheets are heavy-duty, commercial-grade aluminum. Therefore, they do not warp. They bake my sugar cookies evenly with no browning on the bottoms (such a pet peeve of mine).
If you are wondering if they will fit in your oven...
-full sheets measure 26" x 18" and fits at least 15 average-sized cookies
-1/2 sheets measure 18" x 13" and fit 12 average-sized cookies comfortably
So yes, your oven (if it's a full-size one) will hold either pan nicely.
As far as a bread rack, the 1/2 sheets work great for each shelf, 2 deep.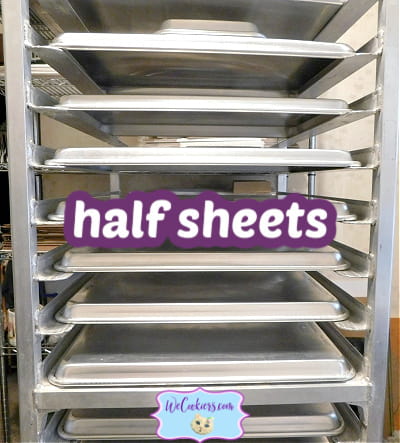 I store my pans upside down when not in use.
The full baking sheets do not fit well. The pans are a bit too narrow for the shelf braces and sideways are too long. However, I will use them like these when needed when I bake sugar cookies. (See how I save time and effort.)

I'm not saying that these are the very best baking sheets on the market, though perhaps they are. But for someone just starting a sugar cookie business, or a conservative (that's me 😊), I don't know why you would want anything else.
There is just one caveat, however.
I prefer to use parchment paper with these.
Not only does parchment allow for easy clean-up, but it also helps the cookies bake evenly, either of these pans can leave a minimal amount of aluminum residue on the washcloth when washing them. 

As long as the sugar cookies are protected from that, I'm okay with them with parchment between the pans and cookies.

Best baking sheets…a few of my experiences
As first a professional cake decorator, I bought Fat Daddio pans. I fell in love with them. I still won't consider using any other brand for my cakes.
Since I was so happy with them, I ordered a couple of the anodized Fat Daddio ones for my sugar cookies, thinking these would be the best baking sheets.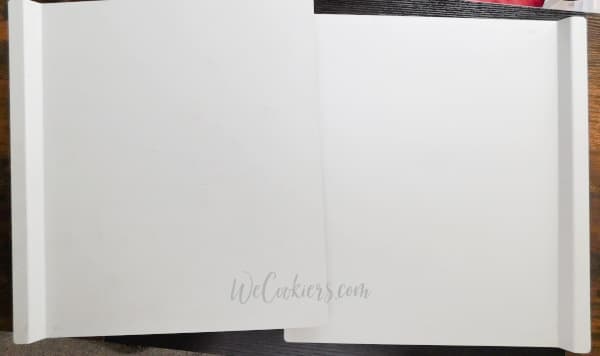 Fat Daddio baking anodized sheets
Heavy duty? Check.
Non-warping? Check.
Big? Check.
Why was I disappointed?
Because I was used to the cheaper pans that did not turn the bottoms of my baked sugar cookies brown.
No matter the tweaking on the oven temperature (I had a brand new oven then) and time baking the cookies, they left me with less than perfect results, including doughy middles at times.
If you have read in other places on my site, like How to Bake Sugar Cookies, then you see I do not use a cooling rack with the Nordic Ware pans. However, with the Fat Daddio pans, I did and still got the brown bottoms.
I also did not like that there are no sides except one side having the 'handle' part. Though this was my fault because I knew that but didn't think ahead. Actually that's the 'real' cookie sheets--those pans made with only one side.
The idea with no sides is two-fold. First they allow for air to flow more freely into the cookie. Second, they give room to get your spatula in under the cookie. If you have read How to Bake Sugar Cookies (link above), you'll see that part doesn't matter to me.
I invested $60 with shipping for the two baking sheets at the time, so I was not thrilled.
I tried another name brand for $30, Pampered Chef. It was quite small with no sides. I still was not happy. They are definitely not the size for a sugar cookie decorator with a business!
I tried another expensive brand for $40 a sheet but again, it left the cookies with a brown bottom (and not smooth on their bottoms).
Perhaps I'm just a fanatical perfectionist about it, lol!
At that point, I gave up. I now stick with my trusted Nordic Ware and Member's Mark which I've used for years. Why throw good money after bad? I just stick with what works...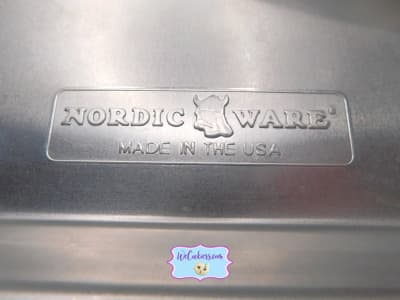 As an Amazon Associate, I earn from qualifying purchases. This means no cost to you but I may receive a small commission when you click on the link below and make a purchase. 
I am proud to offer you affiliate links.
Why?
When you see one, that means I stand behind that product. I bought it, I love it, and I use it regularly in my own sugar cookie business. 
Because of this, you can be assured that there will be no spammy material/products on this site. 
This image link a great price for a 2 pack of baking pans:
Will I ever switch from my best baking sheets?
I do see now that Fat Daddio has heavy-duty aluminum baking sheets with sides, ½ sheet size. These are not anodized (but neither are the store brands I bought).

What does anodized mean?
In simple terms, it means the pans have been put through a process to cover them so the aluminum does not corrode, making the pans very durable, therefore usually the cost is more.
They will need to be hand-washed as well. Anodized also means they are non-stick.
That's why I love to bake cakes and cupcakes in them!

I do think the company is very good. I'm willing to test those. I just placed an order for one through Michael's for $16.99 with $6.95 shipping. That's a  pretty decent price. I will write a professional review for you later.
It would be great to not see any aluminum residue when I wash them.
For right now though, the best baking sheets I have tried and used are the Walmart and Sam's store brands.
Hope that helps!
Now back to How to Make Professional Cookies
So tell us, what brand do you use and what makes them your favorite?
Top of Best Baking Sheets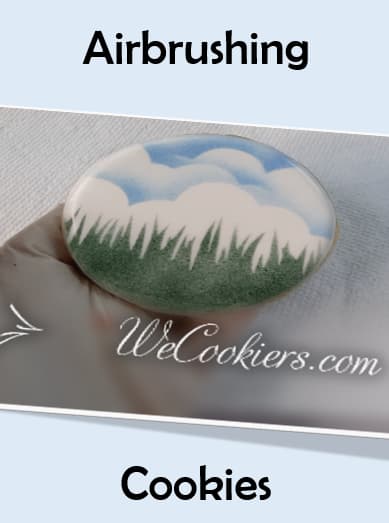 Airbrushing Cookies link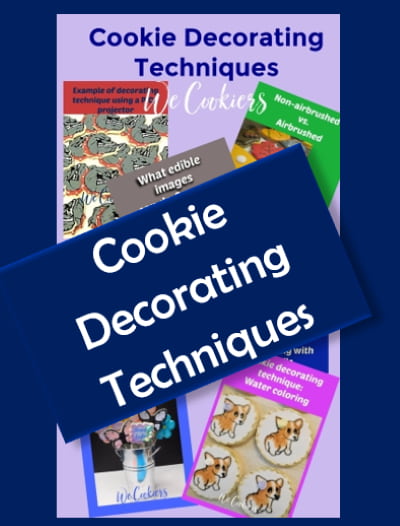 Cookie Decorating Techniques link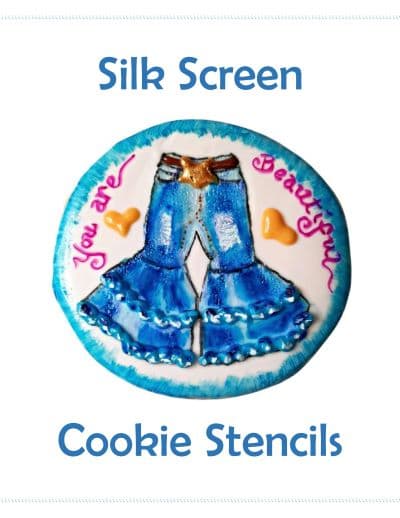 Silk Screen Cookie Stencils link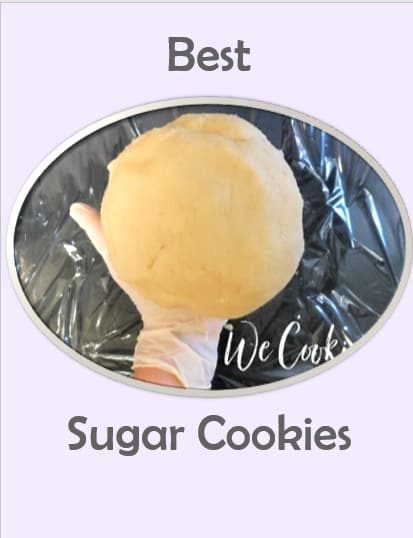 Best Sugar Cookies link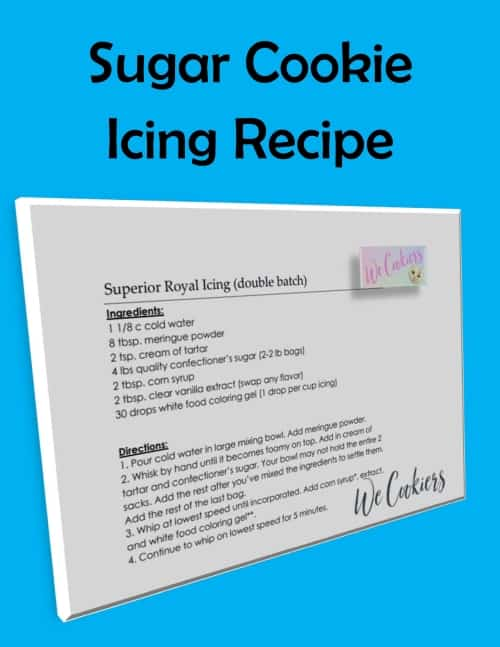 Sugar Cookie Icing Recipe link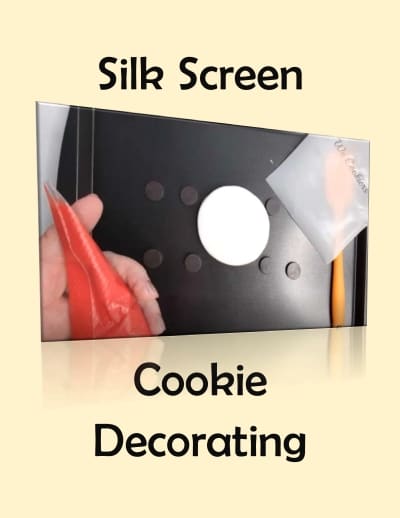 Silk Screen Cookie Decorating link