Coffee Craze!
Are you a java lover?
I'm no addict, but I do enjoy a hot cup in the morning, maybe more when it gets cold. However, I am partial to coffee-flavored products.
Recently, my husband joined my local WeCookier's business. He's been such a blessing!
He is not a baker and wanted something easy he could do himself as an add-on to the business. We decided cream cheese mints would be good for him.
I bought some coffee extract made with real coffee so he could mass produce the 'mints'. We market them as 'Coffee Drops' as an upsell to the decorated sugar cookies.
What does this have to do with decorated sugar cookies? Well, we now make crazy-good coffee cookies! Flavored with a full-bodied taste, blended with care (of course), we brew up decorated cookies in the java theme and add our 'Coffee Drops' when ordered.
---
Just so you know...

I have changed the sign-up page to receive The WeCookier's Express newsletter to state:

"you will receive The Express around the beginning of the month. Once in a while, I will also reach out to you to ask for your opinion, advice, or a newsworthy update..."
---
Today's Highlights
1. newest page at WeCookiers.com 2. your question, my answer 3. cookie cutter flips 4. crazy-good coffee sugar cookies, inspo 5. business sense 6. quick business tips
Newest Page at WeCookiers.com
Royal Icing Transfers

This page walks you through what are royal icing transfers, problems that could occur, how to make them, and where to buy them.

Click this link: Royal Icing Transfers This was the page before if you missed it ;) Cookies on a Stick page
Your Questions, My Answer
Q: What is your process to freeze UN-decorated cookies?

A: I let my cookies set out a few hours before placing them in the freezer. I find using those cheap plastic shoe-box containers at the dollar stores or Walmart work great.

I then place the cookies back-to-back (trying to use the same shapes together). I stack them as high as they will go. I do not use any wax or parchment paper. Just the cookies stacked. Arranging them as close together as possible, I fill the box. Depending on the shapes, I can get 8 dozen in them, larger cookies, usually 6 dozen. That's a great space-savor!

I almost always have at least 6-10 orders cut and in the freezer. Labeling the customer's name and theme on the box with masking tape is a great help!

To thaw, I take the containers out and let them set in the box, unopened, for a couple of hours.

Then they are ready to decorate.
---
Cookie Cutter Flips
I decided to not do actual flips this month. Instead, I'll show you some of my favorite designs for plaque cookies. I've been getting a lot of orders with 'do your own thing' for the customers.

So I'll share some of my photos of those cookies here:

Click the image to be taken to the Cookie Cutter Flips page.

(Sorry, if you have an email with just HTML, you will not be able to see the photos).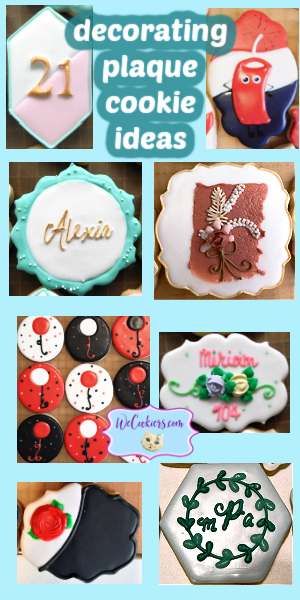 Crazy Good Coffee Sugar Cookies, Inspo
Business Sense: marketing yourself
1. Have you considered doing something wild to draw attention to your business? Take traditional marketing to a new level by creating a plan that shocks and/or wows the community. For instance...

If you know of someone who has a helicopter or small plane, have them drop a bunch of business cards or flyers over your community.

2. Do you have or know someone who has a drone? Ask them to do a video of your community's skyline or overhead view. Send it to your Chamber of Commerce or the City Department so they can post it and give your business credit.

3. Get together a cookie eating competition in your downtown area (or if you have a brick-and-mortar place that's even better). The one who eats the most cookies at one setting gets a prize.

You could even involve as many store merchants by sponsoring the event and donating one item or coupon so they also can share in the spotlight.
Quick Business Tips
1. I may have said this before, but I can't stress it enough. Your customers are not just customers. They are the life of your business. Make sure you go the extra mile for them. I try to make at least one extra special cookie as a thank you.

Many times I'll have extra cupcakes or 6" cakes (I'm a professional cake decorator too), that I'll gift them with, telling them I truly appreciate their loyalty. They love those kinds of things!

2. One of my orders this week was 100 cookies for a retirement party our city was giving. I've been in this business for over 10 years. After all that time, I found a shortcut.

Instead of taking my 6" cookie lazy susan, I placed my dehydrator rack on a 10" lazy susan. I didn't have to pick one cookie up to outline or flood. I couldn't believe how fast it went! I saved 45 minutes doing it that way. (Perhaps I'm a slow learner).

3. I realized another shortcut this week (where has my head been all these years?!) So...when I make my royal icing, this goes for glaze as well, when I first add the meringue powder to the water to whip, I used to take a whip utensil to whip it to foam. All the while, why I didn't just use my whip attachment from my stand mixer I'll never know! One less item to wash is always a good thing, lol.
---
I ordinarily try to keep the newsletters brief for you. By now you are used to seeing a highlighted piece of Pepper Blair's (approaching) 10,000 works. With the theme around coffee and the changing season, his poem fits beautifully.

(If you would like to read more of his poems and quotes, his Pinterest link is below)
Take care and see you next time!

Pepper Blair on Pinterest