Happy Early Thanksgiving!
Autumn is a
colorful thing…
like looking through
butterfly wings.
-Pepper Blair
Thanksgiving, such a beautiful holiday. For most it is relaxing, but for us cookiers, it's right in the midst of our busy holiday baking.
Naturally, this newsletter is dedicated to Thanksgiving sugar cookie decorating.
Today's Highlights
1. FREEBIES! 2. newest site page 3. Thanksgiving cookie cutter flips 4. Thanksgiving theme cookie set inspo 5. business sense 6. quick business tips
Freebies
Download a couple of Thanksgiving themed royal icing transfer sheets.

These will be for sale on wecookiers.com with all the rest before too long, but for you, because you became a wecookier, they are ready early and free! Turkey Royal Icing Transfer Sheet and Pumpkin Royal Icing Sheet
Newest Site Page
Do you have an Edible Image Copier? If you are a beginner, probably not. You might as well start getting information for the future. Because I'm pretty sure you'll want one!

This page gives many questions and answers, examples, and video tutorials. It's a little lengthy, but very informative.

The newest site page to WeCookiers.com... Edible Cookie Images

*

I'm working on the next site page now. It is about Cookie Stenciling and the different forms in video tutorials. Tune in because it'll be out before the next newsletter.

Have you seen the latest video tutorials on this page yet? Go here to Airbrushing Cookies
Thanksgiving Cookie Cutter Flips
Here's some Thanksgiving cutter flips. These are all my own original designs...so never seen before!

-pilgrim cutter to 'Thanks'

-cardinal cutter to ear of corn

-horseshoe to turkey wishbone

(if you have an email with just html, you will not be able to see the photos).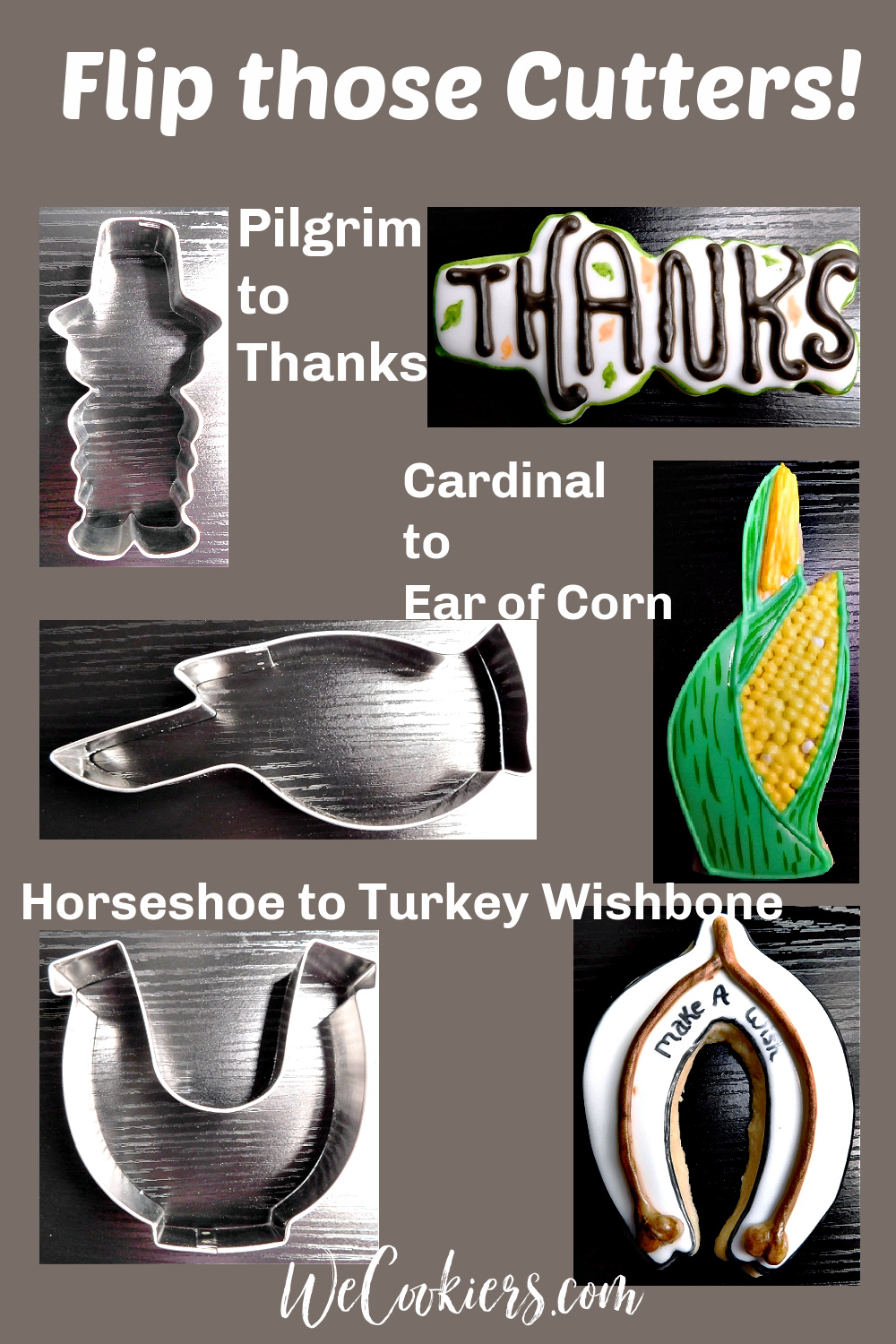 Thanksgiving Sugar Cookie Theme Set
Here's a little Thanksgiving themed cookie set.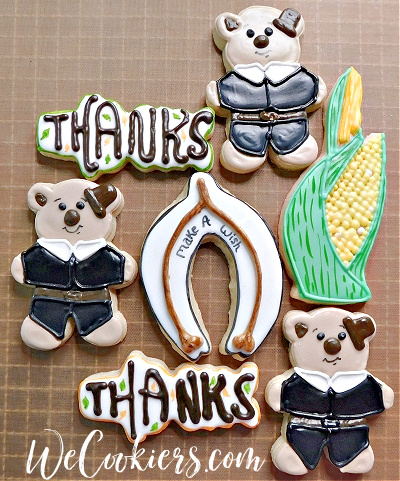 Business Sense: marketing yourself
Here are 3 ways to get your name in front of the public:

1. Once your artistic skills are established, put great detail in your decorating. You say 'but I don't have time or I couldn't take on as many orders'.Have you ever heard of 'work smarter not harder'? If you take the time to make each cookie the best possible, you can charge more for your mastery, therefore taking on less orders for less time.2. Do you have a pricing chart? Some customers want very basic cookies where others want them elaborate. I will be getting you a template you can download that will show tiers/levels of decorating.

3. How do you store your flour and sugar? I use those 5 gallon buckets from Walmart. They come with lids and are food safe.

HACK: Dollar General sells metal plant stands with casters for $6. You can glue them on the bottoms so they can easily be rolled and cleaned around.
Quick Business Tips
1. Make up several examples of cookies with your amazing decorating. Ask stores if you can display them for x amount of time.

This works good for places you frequent like beauty salons where they already know you. Your favorite donut shop is good too. Remember to leave your contact information with them.

2. Hold a give-away—people LOVE these. Make it a theme like Movie Night. Buy 2 tickets and decorate a dozen cookies with the theme. Do everything you can to promote the drawing (with your business name). Use facebook pages. Some local radio companies may even let you have a spot for free—worth checking on!

Drum it up 2 or 3 weeks in advance. Get the public involved and in a frenzy. After it's over, you can still promote your business as a follow up, highlighting your posts with a video of the winner holding your beautiful cookies.

3. Get a carwash going for the afternoon. Have friends and family help. The car washes can be offered for free or donations/fee. You will have a big sign with your business name/logo/ contact information. When the cars are washed, give them a gift bag with a cookie with your logo on it, business card, coupon, or whatever you please.

***Join me on Ko-fi. It's a place where artists go to grow. I would love to have you support me! Thanks ever so much. Support Me! I really hope you have a blessed Thanksgiving. It's always, with pleasure, to help you along your sugar decorating journey.

Pepper Blair on Pinterest