I'm so hoppy you're here!
YES! This is WeCookiers. I have changed my headers, logo, and site colors. Like the new changes? You'll see the difference in any of the links to the site in this email.
Ah, Easter. I think most of us are ready for the warmer temps and colorful outdoors.
What cookies are you doing for Easter? I'm pretty hooked on cookie platters anymore. Though I do love putting together special sets.
Have you heard of Semi-Sweet Designs? I just love Mike's cookie platters, and such great quality with templates. Okay, I confess. I just ordered $100 worth of platter cutters. Yeah, you know how addictive cutters are, lol!
I'm stoked to use the new Easter platter for some pre-sales. You'll find the platter/s below and the Easter inspiration ones.
Today's Highlights
1. newest page at WeCookiers.com 2. your question, my answer 3. cookie cutter flips 4. cookie inspo photo 5. business sense 6. quick business tips
Newest Pages at WeCookiers.com
I finally finished it!

Russian Piping Tips: This page covers (first and foremost the ones I'm giddy about) the MINI Nifty Nozzles, the large Russian piping tips, and the large Russian ball tips.

This page has tons of photos and a few videos. Russian Piping Tips

In case you missed the newest page before...

Piping Tips for Cookies:

This is a well-requested page that shows all of the main icing tips you need to decorate sugar cookies, along with what designs each on makes. I've also made a long-awaited video tutorial. You will see that on the page with a lot of pictures.

Click this link: Piping Tips for Cookies

Your Questions, My Answer
Q: I've been messaged 3 times this week with questions about how to make cookie stencils. I did write a page on this and made an extensive video tutorial.

It is difficult til it clicks. For the answer, here is the link to it all. I've even lined out exactly what you need and the links to get them. Hope that helps!

It's on this page: Silk Screen Cookie Stencils
Easter Cookie Cutter Flips
upside down cloud to egg scene

cookie stick/rectangle to easter egg scene

floral cutter to Easter egg, rabbit ears, and florals

Sorry, if you have an email with just HTML, you cannot see the photos.



(the image is a link to my Cookie Cutter Flips page)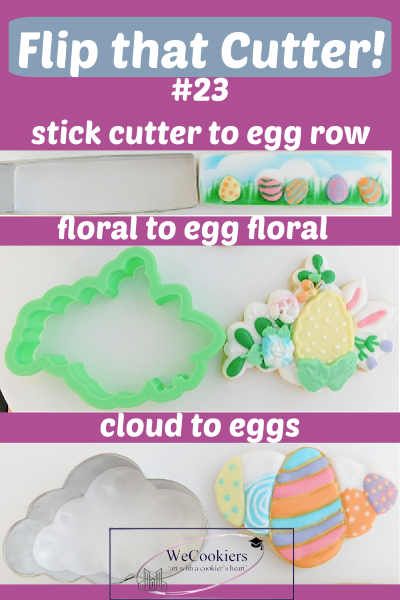 Easter Cookie Inspo
---
---
*These cookie cutter platters are from Semi Sweet Designs.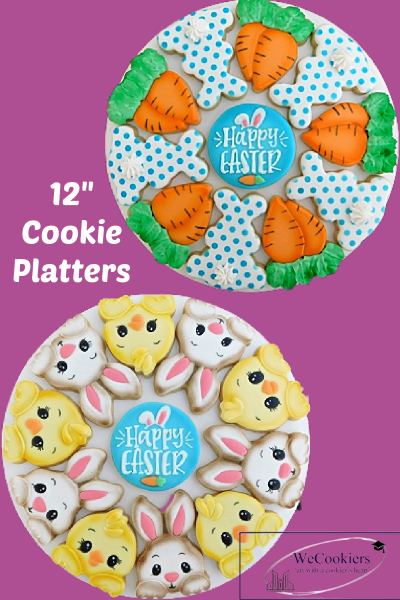 Business Sense: marketing yourself
1. Hang posters with tear-off tabs everywhere that birthday parties for kids are held. The tear off tab could just be a QR code (you know me by now that I'm big on QR codes!)

2. Pair with a coffee shop. You promote their coffee and they promote your cookies. Maybe cookies with the coffee shop's logo?

3. Get a list of daycares and/or preschools and take sample PYO cookies to them. They are always looking for ways to keep the kids busy. Maybe put the PYO set in a bag with a flyer explaining you also do blank cookies with icing in bags.



Quick Business Tips
1 We all desire to be organized. In the real world in a cookier's life, that doesn't always come to fruition. But doggone if we don't try!

As of January (except when I had a nasty 2-week illness), I have been quite good at taking Sunday evenings and my planner to make notes and lists of what I need to get done each day. It has helped tremendously.

2 Do you often go to bed with a cluttered work area, or house for that matter? Did you know scientifically that if you clean up you get these benefits: more focus, more energy, better sleep, and more productive. Makes me want to deep clean!

3 Here's a trick I've been doing for years. Once a month I make up 35-50 (double batch) cookie rounds and place them in the freezer. Each Monday I cut out all the cookie sets needed for that week. I freeze them on cookie sheets and stack the sheets in the freezer til I'm ready to bake them. Each Tuesday I make up all the colored icing and place the consistencies in icing bags. I usually bake the cut out cookies on this day. I take the rest of the week for decorating.

It really takes the 'burden' part out of my mind. For me, blocking out those times works wonderfully.

Have a beautiful Easter. May you and your family be blessed.
Nita

Haiku by Pepper Blair:

Listen to them sing!
Songbirds are another sweet
gift from nature's heart.

Pepper Blair on Pinterest