Russian piping tips: 3 types to catapult your decorating and sales

Russian piping tips, the MINIs? That's right, mini ones! They have been out for a while but seemingly have not gained much traction in the United States.
Topics on this page:
-showing each of the mini-tips
-an overview of the large Russian nozzles
-an overview of the Russian ball tips
-where you can get your own set of the minis
Watch how to pipe with them and the designs they make. I love them!
The ones I will be talking about in this section, for sugar cookie decorating (here is my delicious and best sugar cookie recipe), are the mini-Russian piping tips.
These mini-Russian piping tips, Nifty Nozzles, are rather difficult to find in the United States. Find the link where I purchased mine near the end of the page. Many cookiers do not know the minis even exist.
The very large ones are terrific for buttercream. Royal icing is too wet and heavy for them. They sink in before they can dry. 
When the mini ones came out, I HAD to have a set! These are great with royal icing. (Remember to get my Superior Royal Icing Recipe download here--works ideal for these mini tips).
The mini Russian piping tips are so perfect for decorating our sugar cookies. Say buh-bye to those big bulky tips we use for cupcakes and hello to the minis for sugar cookies...yay!
Did you know there are hundreds of regular nozzle gems? The original ones were created by a man from Russia who deemed them 'Nifty Nozzles'.
He partnered with a business in Europe, Sugar and Crumbs, to promote them outside of Russia. There are a great many look-a-likes around. But if it's the real Nifty Nozzle, it will have the name as well as the number on it. Many of the other brands do NOT have a number, which makes it a real pain.
The picture shows the mini Nifty Nozzle versus the large Russian piping tip in size
The Russian Piping Tips: showing each nozzle in the mini-set with their design

Tap for a larger gallery size image
Here is the breakdown of each tip with a photo example of their respective design with my Superior Royal Icing.
First, have your delicious sugar cookies baked on the perfect baking sheets (and know how to professionally bake them). Cool. Flood them like an expert. Let them dry overnight. Then get to decorating!
Here are the 13 mini Nifty Nozzles with their numbers:
1180.M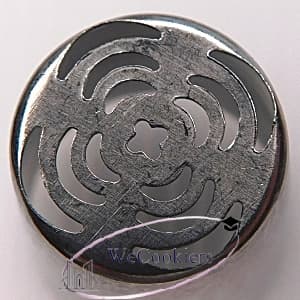 143.M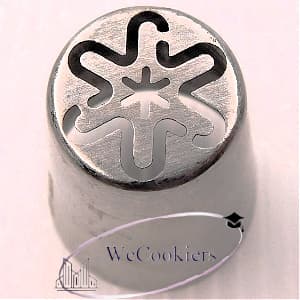 145.M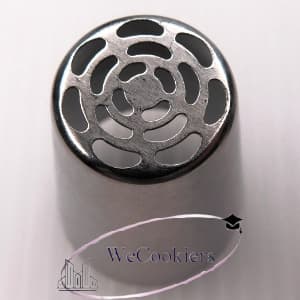 1510.M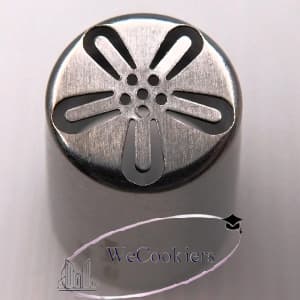 149.M
139.M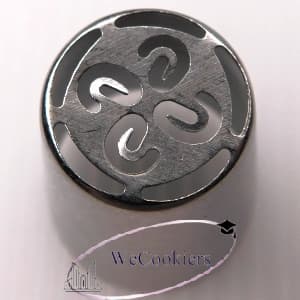 148.M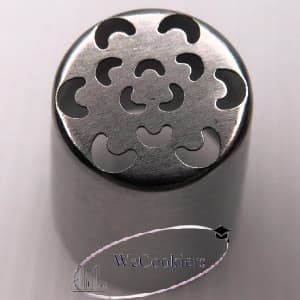 146.M
1050.M
110.M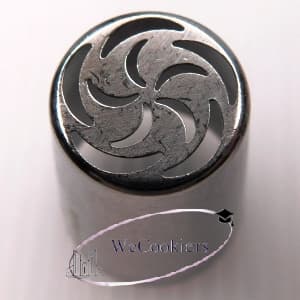 147.M
114.M
144.M
These are the tips with the flowers they make right under them. For the bottom flower, I added leaves so you could see the finished flower. Aren't they just lovely and delicate? Ugh, I'm in love!

Tap either of these images for a larger gallery images
Imagine these beauties for a Mother's Day cookie bouquet.
Russian piping tips: an overview of the large nozzles

These are the ones most decorators are familiar with. In the video, I will be working with dreamy American buttercream. Grab the free downloads: Best American Buttercream Frosting AND the Dreamy Chocolate American Buttercream.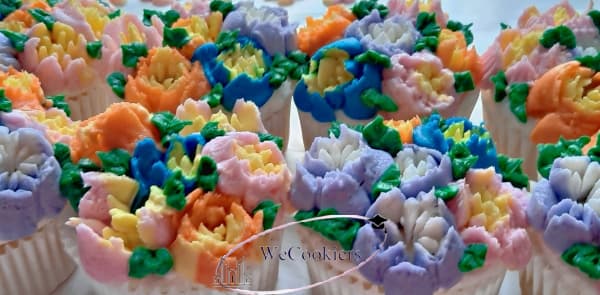 Tap for the larger gallery size image
*Please note: Swiss buttercream is a little too delicate (not stiff enough), for piping with the large Russian tips. I've not tried it with the mini tips. I assume since the mini tips work better being shorter flowers, it would probably work.
Some cookiers choose to decorate with buttercream frosting instead of royal icing or glaze icing for their cookies. You are also welcome to get my free download of a wonderful Glaze Icing as well!
Now that you're set with the buttercream frosting, royal icing, and glaze recipes, here is the detailed video tutorial. Again, I'm using Russian piping tips in the large/standard size with American buttercream in this section.
Here are some large Russian piping tips that I selected (out of hundreds out there), with the designs they make: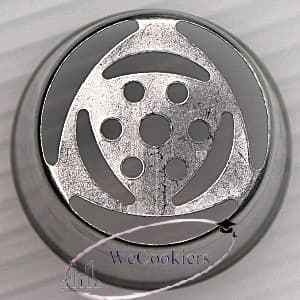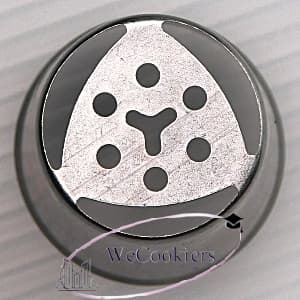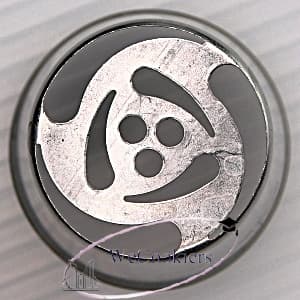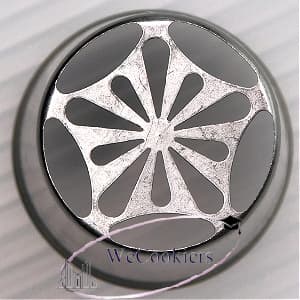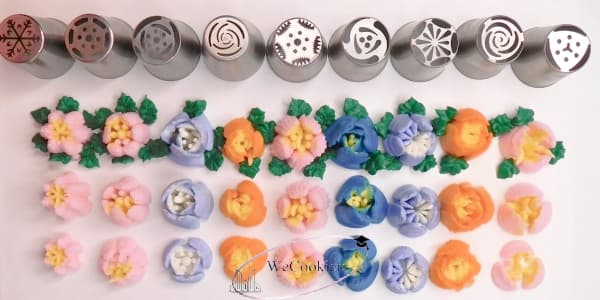 Tap for the larger gallery size image
Overview of the Russian ball tips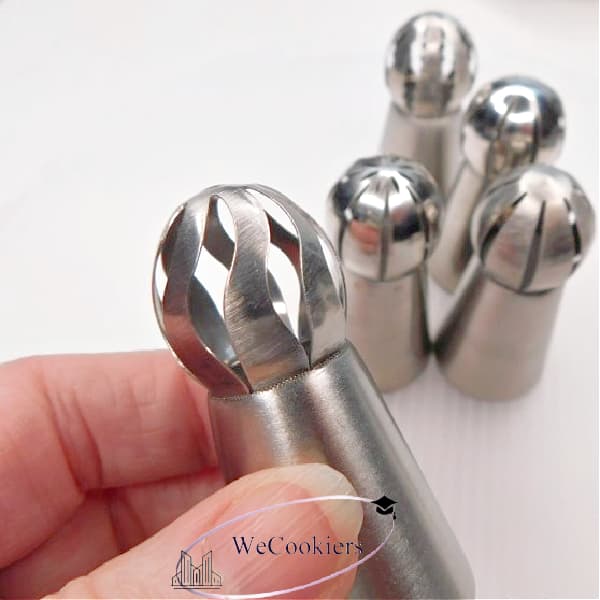 These are the ball tips I used with the flowers/ruffles they make. Watch the video to see how they are achieved.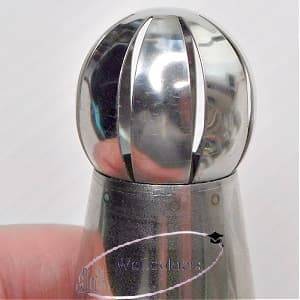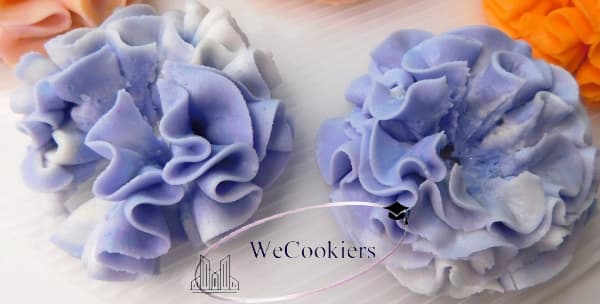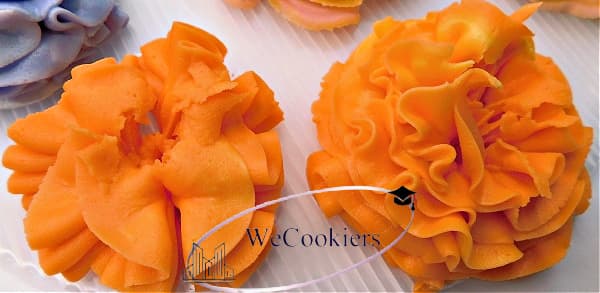 Russian piping tips: where do you get them?

The large piping tips can be bought through a number of online stores. I believe the very best bang for your buck would be on Amazon. For everything you get, it is an amazing set and super cost-effective! The image below takes you to this astonishing 150 pc set.
As an Amazon Associate, I earn from qualifying purchases. This means no cost to you but I may receive a small commission when you click on the link below and make a purchase. 
I am proud to offer you affiliate links.
Why?
When you see one, that means I stand behind that product. I bought it, I love it, and I use it regularly in my own sugar cookie business. 
Because of this, you can be assured that there will be no spammy material/products on this site. 
As far as using the Russian piping tips, the set of the 13 minis, there is only one place in the United States I see sells them. As often as I use their name on this site, you would think I was affiliated with them…but I'm NOT, I just love their products and shopping from them! Click this link if you want to check them out: countrykitchensweetart.com. 
I purchased the original Russian piping tips through Amazon some time ago. This is the company I purchased from and was quite pleased.
As you see, using Russian piping tips enables you to expand and make even more professional cookies for your customers. They will love them and think you spent hours piping flowers.
Here is my page on regular piping tips. It shows the 6 basic ones beginning cookie artists need for well-rounded decorating. I've also included lots of pictures and videos there. Just click on this thumbnail link: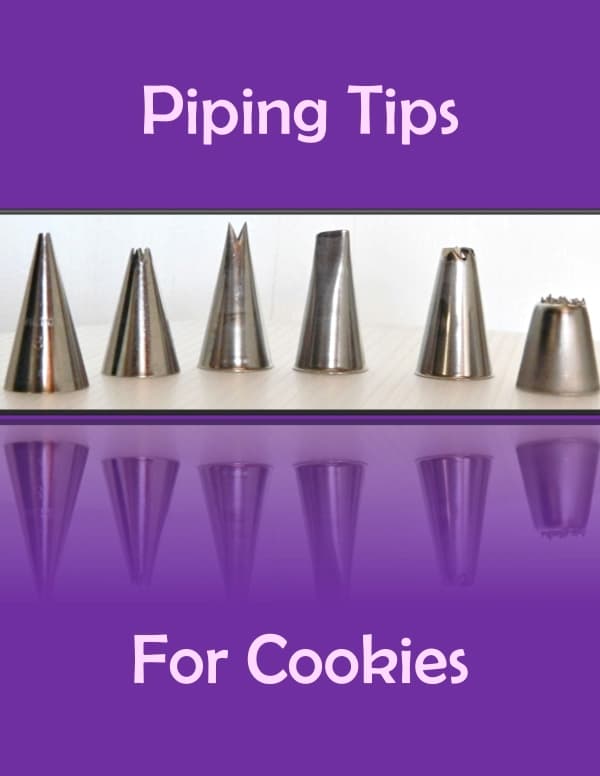 Piping Tips for Cookies link
That's it for this page. If you want to know what some of the most popular pages on the search engines are for WeCookiers, the image links are below.
Top of Russian Piping Tips