Never waste time again!
You asked for it. Here it is. 

Your free download and monthly periodical.
Here is a nice list of how to combine food gels to make those hard-to-find colors.
How do you make copper and other elusive colors without taking the time to scour the web?
You need it. You need it now!

It's such a time-waster to need a color that doesn't come in a bottle and have to try to find how to make it by looking online.
So how do you make copper sugar cookie icing? 
Copper—1 part golden yellow + 1 part brown + 1 part Christmas red
This handy free downloadable and printable file saves you time and shows some of the more uncommon colors such as:
rust
moss green
plum
raspberry (and many more)
Be a free member and an instant WeCookier now!
Important! If you have any problems trying to sign up, let me know through the Contact tab (just click the WeCookiers in the header). I'll promptly add you manually!

Expect items such as these as a free member. Receive the free coloring chart download and periodicals!
---
Just some words for inspiration:
'"If what is in the heart is felt, it also will be lived."-Pepper Blair
---
This handy free downloadable and printable file saves you time and shows some of the more uncommon colors such as:

copper
rust
moss green
plum
raspberry (and many more)
This cheat sheet, prepared in alphabetical order is a must. Print and hang it by your decorating station so it's there at a glance. 
It is written to easily understand. For example:  '2 parts blue + 4 parts pink'.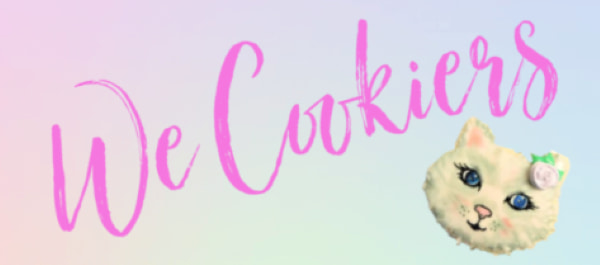 Be a free member...be a WeCookier today!
Why this free download and the periodicals?
You will receive this gift as my way of welcoming you as one of our WeCookiers.
By entering your email, you will also be given a wealth of information (and recurrent giveaways) in The WeCookiers Express periodicals, sent out near the first of each month. On special occasions, I may send out an extra one or give you a heads up on something in between the monthly send outs.
Only subscribers like you will be able to see special content in the periodicals that visitors on the site will not be privy to. I want to see you succeed.
Be a member today.
You will look forward to opening these periodicals. 
Why?
If you are interested at all in decorating sugar cookies and/or building a smooth and profitable sugar cookie business, this will be a great learning experience.
With the take-you-by-the-hand-from-A-Z style, you could call WeCookiers a university. I just might name it that down the track! Hmm, WeCookiers-U?
What will you gain?
First off, the first free download and periodicals mentioned above.
Here are items of interest that will be included in the coming issues:
·       periodic freebies and giveaways--Always open The WeCookiers Express to see if one is included (this could be a physical product or digital download)
·       Q & A to anything cookie-ing
·       cookie cutter flip ideas and decorating them
·       super ideas for marketing yourself and your business
·       latest decorating sugar cookie trends, what's gaining popularity
·       featured theme and how-to's
·       our featured WeCookier
That's just a list of the basics!
As this site and the periodicals evolve, many things will be added.
There likely will be polls or questions to give you the opportunity to share your views and ideas.

After all, WeCookiers is made for YOU.
My job is to earn your trust, assure you are satisfied, and keep moving you along to the top of the cookie-ing profession. That is my reward.
So join us now while it's free.
The WeCookiers Express will be coming down the track to your virtual local soon!

Expect items such as these when you join us as a free member...and receive your coloring chart.
Let your mind be at ease. Your email will only be used for the monthly periodical and never shared.
Did you see that GDPR notification at the top? That shows WeCookiers complies with the General Data Protection Regulation and the California Consumer Privacy Act, which protects you.
You also are free to change any information you provide or fully opt out from receiving The WeCookiers Express. That link will be provided at the bottom of each periodical you receive.
I can't wait to see you on the other side!