How to make professional cookies... the wecookiers way
If you are wondering how to make professional cookies, I have the answer for you!
There's no need to flip back and forth between different sites and YouTube videos. This site will be loaded with all the information you need. The All-In-One place.
Climb aboard We Cookiers Express train and let's go!


We Cookiers Express Newsletter sign up at bottom of page
In order to make professional cookies, we need to start with the basic beginning steps:

·         choose the right recipes
·         gather the ingredients
·         bake the sugar cookies the right way
·         learn to decorate the sugar cookies (from beginner to pro)
Bear with me on this. It's important not to miss any of these steps, no matter how insignificant they may seem.
Believe me, you absolutely need the right recipe, baked the right way with good decorating skills and a properly running business in order to be at 'pro' status.
How to make professional cookies…the recipes
The recipes are the most important 'ingredient' for successful and professional cookies.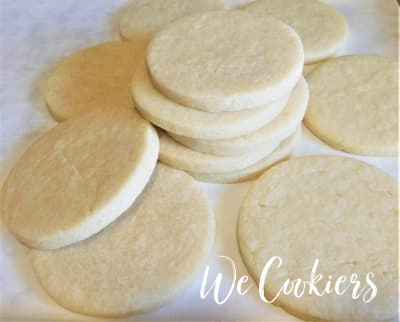 You are in luck! Here I will let you in on my absolute favorite…

·         glaze recipe
·         buttercream frosting recipe
Yes, there are differences to glaze, royal icing (re: sugar cookie icing), and buttercream frosting. All of which are used by different cookiers at different times.

Click this image to go to 'Best Sugar Cookie Recipe' page
About Glaze
When I started out cookieing, I went straight for the glaze as it was the cheapest and least amount of  ingredients.
Glaze for me was 'okay'. However, in my experience after using it an entire year, I found that it was…
·         susceptible to color-bleed
·         hard to manipulate
·         gel colors did not want to develop
·         colors were not as deep, bright, or rich
·         hard to achieve the right consistency, especially stiff
About Royal Icing (sugar cookie icing)
On my quest of how to make professional cookies, I switched to royal icing, which I was quite nervous about. I still continue hearing about how it is very temperamental to work with.
Perhaps I simply got lucky and ran across the right recipe, with a little adjustment on my part. Now, I wouldn't dream of using glaze. You'll be glad too!
This royal icing recipe is so amazing. It is…
Tip:
How to make professional cookies?
When possible, make royal icing at least 24 hours prior to using it. This allows air bubbles to rise and colors to develop fully.
·         stable

·         delicious
·         easy

·         fast
·         crusts fast
·         soft to the bite
·         not hard or crunchy
·         easy to use flavorings

·         very easy to manipulate
·         gel colors work fabulously well
It's sure to impress.
The flavor is amazing. It is easily interchangeable with various extracts. I've never had it fail me…not once.
One thing I love about it is it decreases the chances of color bleed (one color bleeding into another).
About Buttercream
How to make professional cookies isn't just for royal icing.
Buttercream adds something special to cookies. The flavor and texture is undeniably delicious.
Just keep in mind that you won't get the fine detail with buttercream as you would royal icing when decorating.
But mmmmm, does it ever taste great with this sugar cookie recipe.
Decide what kind of recipe you are going to go with.
Since royal icing is most synonymous with sugar cooking decorating, I will be centering on that medium.
Making your royal icing the day before is always best.
If you haven't already, prepare the bags with the right icing tips.
If it isn't prepared, a good time is while the cookies are chilling.
The Ultimate, Best, Most Delicious Sugar Cookie Recipe for Decorating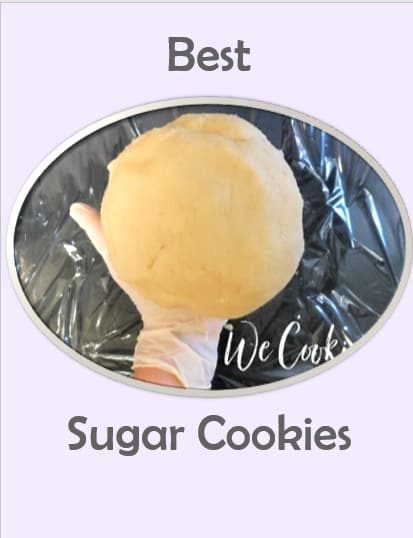 Best Sugar Cookie Recipe page
 

easy
quick

 

delicious
perfect for cut out sugar cookies
won't spread when baked
very soft
easily freeze dough for months
easily freeze baked cookies for months
bakes completely flat for decorating

makes customers happy
Honestly, you would have to look high and low to find a recipe that would top this one for sugar cookies.
Click on this image to take you to my Superior Sugar Cookie Icing recipe page.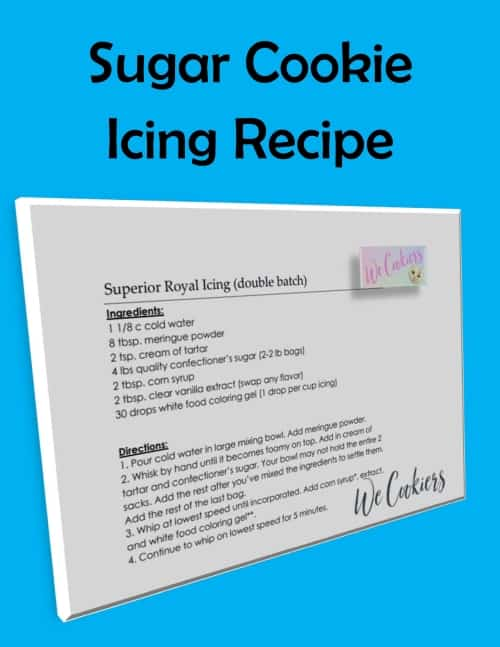 Sugar Cookie Icing Recipe page
If you would like to skip ahead and go to Royal Icing Flooding directions, click this link.
How to Make Professional Cookies…The Ingredients
Stay with me here…
To have your cookies be professional, you need the right ingredients. Right doesn't mean it has to be name brand and expensive though.
You just have to know what blend of brands work together.
I will tell you the exact brands I use for each recipe.
Once you have the ingredients, you need to get organized.
An organized and clean space makes for a happy cookie baker.
**********

Side Bar
If you are looking in the future of having your own sugar cookie business, at this point you will want to keep track on how much your products cost.
A nifty recipe calculator I use is called COOKKEEPBOOK. 

Landing page image on COOKKEEPBOOK
Example of sugar cookie recipe calculator
Great news! Its FREE. Do put the effort into it. It is a precision calculator for your expenses, therefore, knowing how much to charge your customers
It'll really put it into perspective if you already are not charging enough.
**********
How to Make Professional Cookies…The Baking
---
"The brightest tomorrows were lit yesterday."—Pepper Blair
---
So now we have the right recipes. We've figured out the right ingredients and how much this recipe will cost you.
It's getting into the fun part now, baking!
You will want to get everything set up and organized. It'll go much easier and smoother for you.
Do you have your baking sheets ready?
What baking sheets do I use? Honestly, I use the cheaper ones at Wal-Mart, Nordic Ware. You can pick them up for around $14 for the half sheets. They are pure aluminum but are also very heavy duty and will not warp. They also give even baking.
One caveat, you will want to use parchment paper with these. Not only does it allow for super easy clean up, but the pans leave an aluminum residue. As long as the cookies are protected from that, I'm okay with them.
I like the half sheet size because they fit the bread racks. The full sheets are too long to slide in the grooves. That's a good tip in case you are planning on expanding.

Now set out all of the measured ingredients.
Keep in mind you will need to set out the eggs, butter and cream cheese to room temperature first.
Are We Ready?
Okay…after you mix up the dough and let it chill for a bit, you are ready to roll, cut and bake.
Don't worry, I'll walk you through the mixing and chilling on the recipe page.
Some people need to turn their pans half way through baking if their oven doesn't bake evenly.
If you are aiming for thick and soft cookies, always underbake them slightly. They will continue to bake after you remove them from the oven.
Everyone has their own way of doing things. I personally take them out of the oven and place the pan on my bread rack without ever removing them to a cooling rack. They are never browned on the bottom either. It's one less step to take.
It may be because of the pans I use. This is just what works for me.
You never want to crowd your cookies.
Keep a space between them but also one pan at a time, in the center of the oven. You also never want to have your pans touching each other or the sides of the oven. This can make them bake uneven and could be hard on your oven.
Yay! You just baked your delicious cookies.
Let them cool.
Tips:
-even more tips on how to make professional cookies-
·         space the cookies out by about 2"
·         separate small cookies and large cookies on two pans
·         preheat oven to 350 degrees
·         you may need to turn your sheets half way through baking
·         slightly underbake cookies
·         one pan at a time in the center of the oven
For deep or dark colors, you will want to make the royal icing up the day before for the colors to develop. This also allows for the air bubbles to rise to the top.
My go to are gel food colors. For dark colors I like to use the concentrated powders.
My faves? Americolor food gel. These are great!
How To Make Professional Cookies…The Decorating
WooHoo! You've arrived at the most rewarding and fun part, at least for me.
How do you decorate those delicious shapes you've baked?
Consistency is everything.
Start by having a bag of royal icing with a #3 round tip. The icing should be about 12 to 15 second consistency. This will outline the cookie to form a dam to keep the flood consistency from going over the cookie when you fill it in.
Let the outline dry a minute or two before using the flooding icing, which should be 8 seconds.
Tip 1: do not get it too runny. If it is it…
      ·         will take longer to dry
 

has more of a chance of causing the colors to bleed

can cause those dreaded 'craters' or 'dents'  when icing is dried
Tip 2: To help dry the flood icing on the cookie faster, place it in your oven with the light on. This also enables the 2nd color to be applied quicker.
A small space heater will do the trick too.
Royal Icing LOVES heat!
**********
Side Bar
If you are looking ahead and wondering how to make professional cookies to sell as a business and are financially able, a dehydrator will be one of your best buddies when needing the icing surface to dry FAST for the next coat. Major time-saver!
**********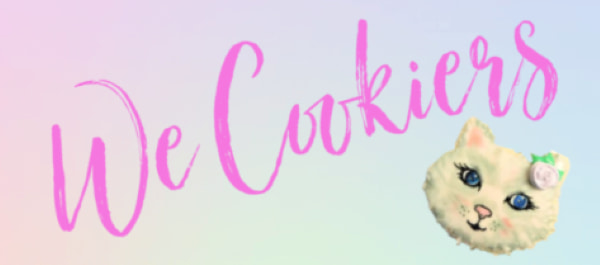 Follow We Cookiers on Pinterest by clicking on image above
Decorating Techniques
-Wet on Wet
This simply means adding colors side by side or on top of one another before they dry. 
After the drying of the flooded cookie, it's time to add your artistic flair.
-Piped Borders
You can do solid colors with the same or different colored piped boarders like these.
-Water Color 
A bit addictive. Using food color gel or powdered colors, mix with either water, lemon juice or alcohol like Ever Clear. I personally like the water, you see less brush marks this way.
-Airbrushing/Airbrushing with Stencils
Airbrushing is the bomb! It will take a nice looking cookie and turn it to a work of art. It really makes the cookies pop:
-Food Color Markers

Ugh, you do not want to live without these puppies. These make a huge difference in the outcome, giving ultra-sharp lines. It also gives the ability to write names and messages on the sugar cookies after the icing is dried on top.

This page has outlined everything on how to make professional cookies.
Please follow the links above or on the navigational bar to go deeper on these subjects.
Helping you is my top focus. If you have questions, feel free to contact me here. I will promptly return an answer.
How to make professional cookies via my favorite recipes: best sugar cookie recipe, best sugar cookie icing recipe and best sugar cookie frosting.
If you are wondering how to make professional cookies as a business, read here--(link coming soon)
Remember to sign up for the We Cookiers Express newsletter. There's lots of tips, techniques and business hacks so you won't get derailed!

We Cookiers Express cookie train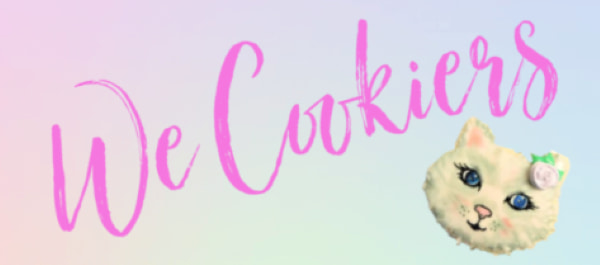 Follow We Cookiers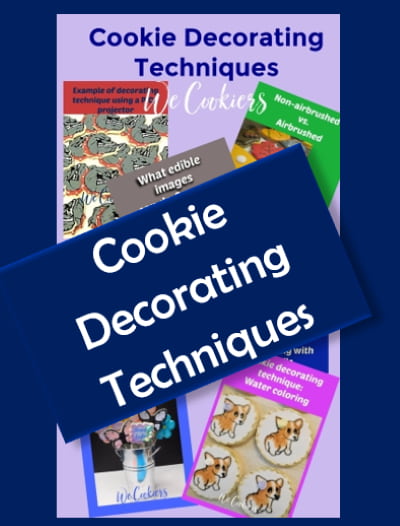 Cookie Decorating Techniques page
Sugar Cookie Home > Top of How To Make Professional Cookies > Best Sugar Cookie Recipe  >  Sugar Cookie Icing Recipe  >  Royal Icing Flooding