Where do dads store their dad jokes? In the dad-a-base.
Ha!
Welcome to June's periodical.
It's Dad's turn this month so we'll focus on decorated Father's Day cookies.Where would we be without our dads? They love, teach, and support us. We'll always hold a soft place in our hearts for them. Let's put him in the spotlight…
The month of June is also 'Entrepreneurs "Do it Yourself" Marketing Month'.
We as cookiers know that marketing is the backbone of our businesses. So take this month to focus on boosting your business's appearance and outreach in the public eye.
Also, improve on marketing plans from this last year. What can you do better? What can you add? Can you be more organized?
As always, you will find marketing ideas in the latter section of this and all my periodicals. The best part of my marketing tips? I try to provide ideas that cost you nothing to near nothing!
Today's Highlights
1. newest page at WeCookiers.com 2. your question, my answer 3. Father's Day cookie cutter flips 4. Father's Day cookie inspo photo 5. business sense 6. quick business tips
Newest Page at WeCookiers.com
Father's Day Cookie Ideas—see unique and different ideas for Father's Day cookies: Father's Day Cookie Ideas



There will still be many kinds of graduations going on through June, so in case you missed my last page, here it is: Graduation Sugar Cookies Link


Your Questions, My Answer
Q: I was recently on a Facebook cookie group. Someone who hadn't joined the decorating sugar cookie world yet was interested in beginning.

She posed the question about what were the main supplies to begin decorating. She didn't want to spend a lot of money only to find she didn't want to do it after all.

A: That is a great question. You do not need a whole bunch of expensive supplies, fortunately. Here is my list of suggestions:

First and foremost, the right recipes:

Best ever sugar cookies for decorating: Best Sugar Cookie Recipe

My Supreme Royal Icing, get it here: Supreme Royal Icing

After those, here is the main supply list:

1. Toothpicks (for popping bubbles in icing)

2. Icing bags

3. 6 main decorating tips (refer to the link just below)

4. Couplers for the tips

5. Basic cookie cutters

You can always graduate up and buy more supplies as money allows.

These are the 6 main piping tips you'll want: Piping Tips for Cookies
Father's Day Cookie Cutter Flips
Click on this video image to watch the tutorial for these flips:

-upside-down beaker cutter to a lawn and sprinkler scene

-forward facing school bus to old classic car

-present cutter to man's dress shirt with tie

Sorry, if you have an email with just HTML, you cannot see the photos.



(the image is a link to my Cookie Cutter Flips page)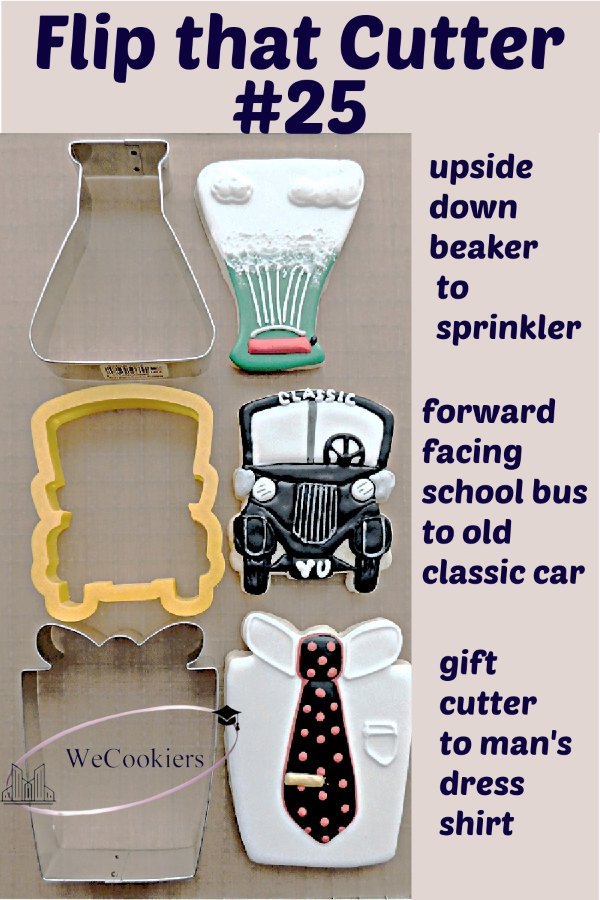 Father's Day Cookie Inspo
These Father's Day cookies were made from just 2 colors, green and white. All the details were done with edible food color markers.

These are my FAVORITE (sorry, didn't mean to shout) food markers here: My Favorite Food Color Markers!
Business Sense: marketing yourself
1. Introduce yourself to your local Chamber of Commerce. Gifting them a nice set of chamber-themed cookies, of course.

*Keep in mind, you always want to write a receipt for your to put with your tax information, for what that item would normally sell for. Write 'business gift' on that receipt. The reason for this is at tax time you can write it off.

2. Are you promoting your cookie business? Don't!

What?

That's right. You want to promote your EXPERTISE in the field, not a business name. Put it out there that you are a professional. Educate them that you are not a cookie person, you are an expert cookie artist.

At first, you may feel like you are speaking out of turn. But what you speak becomes real. When you act out how you want to be, it becomes real and solidifies it.

*a little warning: if you are at the very beginning of cookie decorating, make sure you are good at what you do. You'll know it when your customers compliment you and give you rave reviews. 3. Set up a tea party for free. Limit the seating to however many you would like. This party will be to give a little talk about what you do, giving ideas for gifting cookies, services you offer, like parties or classes, and telling them why you are an authority in this field. Offer tea, cookies, and prizes. When they leave, give them a little gift bag including your business card, info, prices, etc. They'll love it! I may write a page on this very idea.

Quick Business Tips
1. Want more reviews on your FB page? When an order is picked up and you know the function of the customer is over, send them a private message that says something like this:

"Hi ______. I like to check back with my customers to make sure everything went well. If you have time and would like to, I would love your honest recommendation or review on my business page here ________. Thank you so much again!"

2. Do you do cookie parties? If so, I like to place a large printed-off copy of the cookie/cookies and place them in those acrylic photo stands from the dollar store. I place them around the table/s. This helps those who are visual learners. 3. You know those large clear bowl covers you get in a pack at the dollar store? I like to keep them on my mixing bowls so they remain dust-free.

With that final note…

"There is no greater courage than that of conviction."-Pepper Blair

Make your June shine!

Blessings,