Fathers Day cookie ideas dads will flip over

Fathers Day cookie ideas are here! If you are struggling with fresh and new ideas, for you or your customers, these decorated sugar cookie ideas with royal icing are sure to please.
Is dad the outdoors type? The golfer? Or is he the classy white-collar guy?
There's an inspiration cookie below for each.
This page consists of:
-Fathers Day cookie ideas
-Fathers Day cookie-cutter flip ideas
-Fathers Day big cookie gift sets
-Fathers Day pizookies (not sure what a Pizookie is? Keep scrolling!)
Not sure how to price your decorated sugar cookies? As always, I have you covered. Visit this page for a free download to figure out your worth: Price for Decorated Sugar Cookies
Fathers Day cookie ideas…have you thought about these?

---
Sidenote:
In case you have not visited WeCookiers.com before, you will want to view these pages to get you on the right foot before delving into the decorating:
-Best Sugar Cookie Recipe (free)
-my Superior Royal Icing recipe (free)
-Best Baking Sheets-- You just may be surprised at how great these cheap ones are.
-How to Bake Sugar Cookies--You may think this is yawn yawn. But I've provided tips and tricks to make it easier while saving you time.
-How to Make Professional Cookies--Lots of tips here as well.
---
What I love about the art of sugar cookie decorating is that there is no limit to the creativity one can express on a cookie. Like the techniques I provide on this page: Cookie Decorating Techniques.
Here are some Fathers Day cookie ideas you can incorporate:
-edible food color markers
This set was created with only white and green royal icing. All the details were completely done with edible food markers.
To get a thorough rundown of my favorite inexpensive markers up against other brands, with the pros and cons, click here on the page I wrote: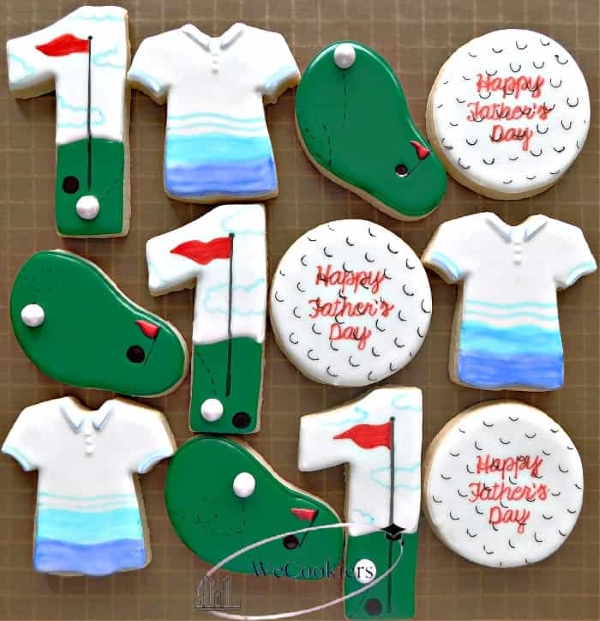 -edible images

This next picture was actually an edible image on a full sheet cake I created. But adding an edible image on a cookie that shows Dad with his favorite hobby would be a true hit!
*If you have questions and have been on the fence about edible image printers. This page answers lots of questions and may help you decide if you are ready for one: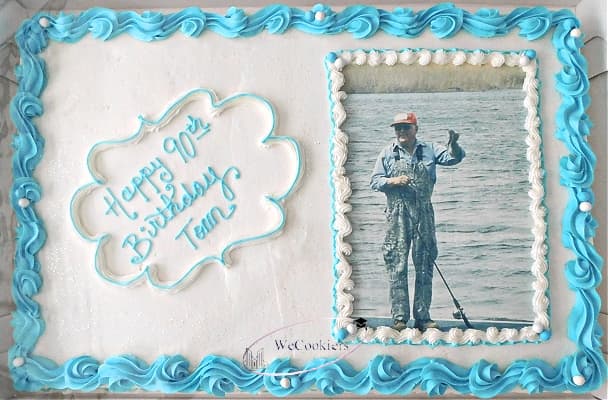 -water-coloring an image
-cookie bouquet (cookies on a stick) of Dad's favorite things to do, or incorporate edible images for this!
-airbrushing with stencils
There are loads of stencils you can get for more Fathers Day cookie ideas. Airbrushing adds so much depth and catapults your creations to new levels.
I've answered your questions about airbrushing and have provided a link to taking apart to deep clean your airbrush. See my airbrushing page here: Airbrushing Cookies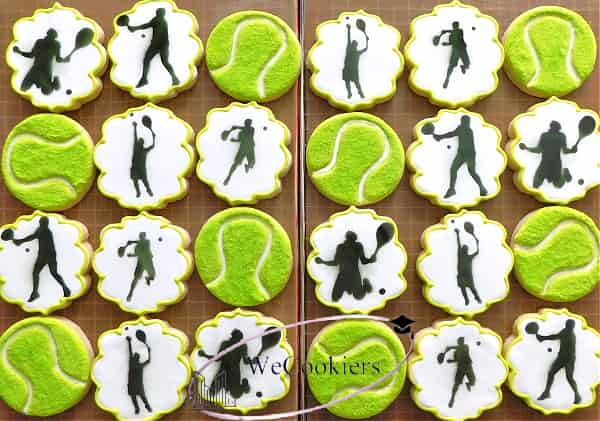 Fathers Day cookie ideas…flipping for fun

Who doesn't flip over cookie-cutter flips? These are the ones I created for Fathers Day cookie ideas. I thought creating one with a sprinkler would be unique. We always see mowers for Dad. But to me, mowing is work. Why not have Dad relax with his sprinkler after the mow?!
I wrote a page on cookie cutter flips. It explains different terms for changing the original use of a cookie cutter into something else. Interested in making your own cutters in a pinch? See that here as well ---> Cookie Cutter Flips
Most of the flips you see on WeCookiers are my own ideas. If you would like to see more, each month I write a cookie business periodical and provide at least 3 new cookie-cutter flips. If you would like to be inspired and build your business, be sure to join us as a free member here: 
Fathers Day cookie ideas…do you have a 'Reel Cool Dad'?

I enjoy creating large 2-3 cookie gift sets for special occasions. I'll probably never be rich because I love shopping on Etsy for unique cookie cutters, lol!
Mike's Cookie Cutters on Etsy is terrific. Top-notch quality, and uniqueness, and the shipping is ridiculously fast, usually within a week. I can't say enough good about that shop!
I purchased this unique cookie cutter set from there. The community where I live supports fishing. I thought they would be a hit this year. This is my finished set: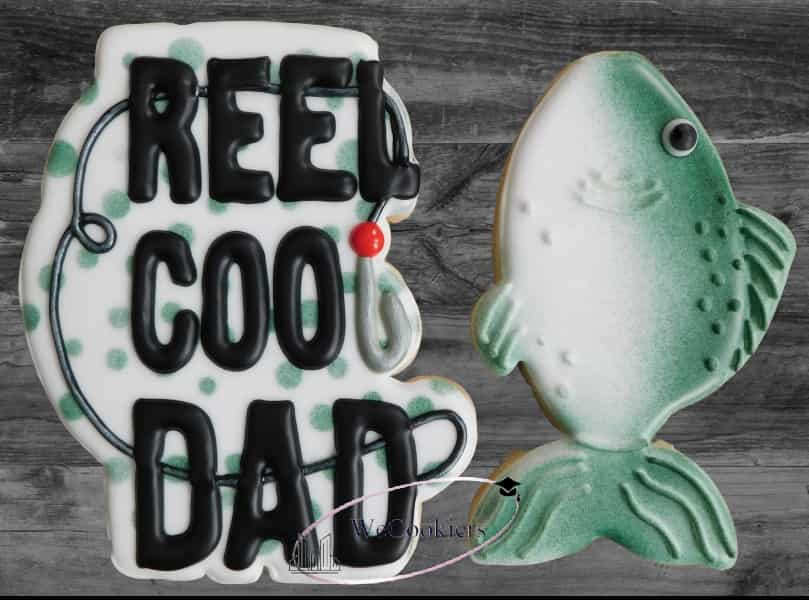 When I do the cookie-cutter flips for the monthly periodicals, I end up selling the set on my business FB page on sale. My customers love that. Since this month's flips were large cookies, I'll be selling them as a large 3-piece cookie set too.
Fathers Day cookie ideas…the pizookie!

Real pizookies are made for two people. It is cooked in a cast iron pan on the stovetop. Ice cream is put on top to melt. Ugh, I'm making myself hungry!
For a much easier selling process though, many just do a shortcut to bake them in the oven.
Pizookies can be an excellent choice for Fathers Day cookies. You can make them from any cookie dough Like Dad's favorite. I've never had a recipe fail in making them.
How about making a pizookie look like a pizza as Fathers Day cookie ideas? DOUBLE WIN!
(My own pizookie pizza photo and video coming soon...with my favorite chocolate chip cookie recipe for pizookies).
I buy my pizookie containers through The Webstaurant Store online. Shipping is rather hefty though. However…
I just finished speaking with a representative from the Webstaurant Store. I asked if shipping is free to businesses. I also asked if I could share her response here. She permitted me to do so…
"Shipping is usually lower to commercial or business addresses but not always free. You can calculate shipping fees in your cart by adding the items to your cart, entering your zip code, and clicking "Calculate." If an item has free shipping, we will have a "Free Shipping" flag near the price of the item. Many of our products also ship free with our Plus subscription..."
This is not an affiliate link, but if you are interested, here is a link to the trays you bake in AND give to the customer (hence 'Take and Bake'):
Webstaurant containers with lids
The ones I bought through them were 14" with the lids being sold separately. Now they sell 15" pans and do NOT have corresponding lids at all. The only choice now is the 13" sold WITH lids. It's a great price at $1.20 per set. It's just the shipping that nabs you.

I can also share that the quality is superb. I really do like these containers. Pop in the oven, cool, and they can be ready!
If you are looking for a soft cookie, one trick is to make sure the oven is set at 375 degrees. Hot and bake quick does the trick. The longer they stay in the oven, the more heat will dry them. As with my sugar cookie recipe, underbaking also is key for soft cookies. Don't worry, they continue to bake a little after being taken from the oven. 
Get all the tips and tricks I have for you for baking cookies and saving time here: How to Bake Sugar Cookies
Have you been over to Six Sisters? I love their website. They give different recipes for pizookies. Here is their link:
Hopefully, this page has sparked some creative Fathers Day cookie ideas for you. Remember to pay it forward by sharing if you saw value in it...I appreciate it!
Top of Fathers Day Cookie Ideas
Have you visited these valuable pages yet? They are my highest ranking ones on Google: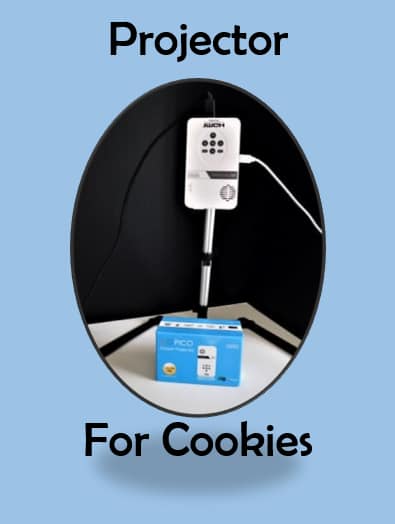 Projector for Cookies link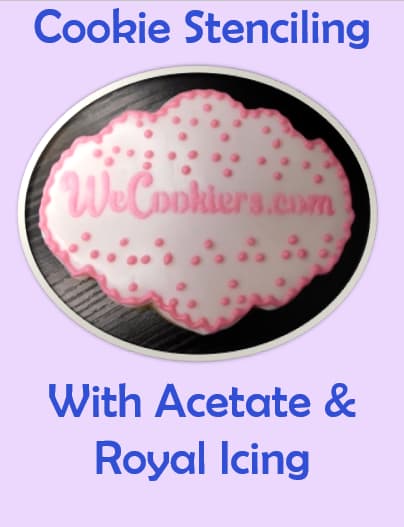 Cookie Stenciling link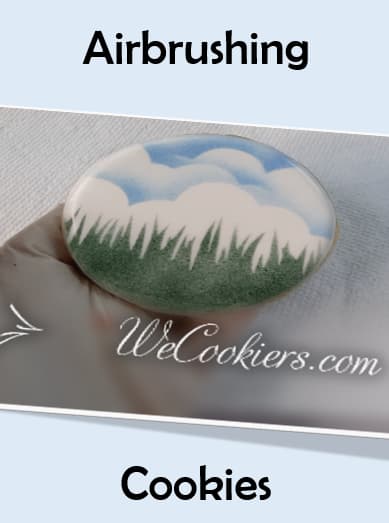 Airbrushing Cookies link