Best Buttercream Frosting
Best buttercream frosting for sugar cookies

What is the best buttercream frosting for sugar cookies?
Since you asked...
I'll share with you 2 recipes on this page:
vanilla (or add your own flavoring instead of vanilla)
dreamy chocolate
Both of these recipes are lightly crusting and make the best buttercream frosting.
Keep in mind if you are using these buttercream frosting recipes, you won't be able to get the fine detail as you would with royal icing when decorating sugar cookies.
In case you are wondering, you won't be able to cover the cookie with buttercream then add the detail with royal icing. The butter from the frosting will soak into the royal icing and make it splotch and cause color-bleed.
Although, I have used royal icing on top of buttercream cakes to make a water scene. But it was only for overnight as the cake would be used the next day.
As I said on How to Make Professional Cookies, 'The flavor and texture are undeniably delicious' with sugar cookies.

Best buttercream frosting...vanilla recipe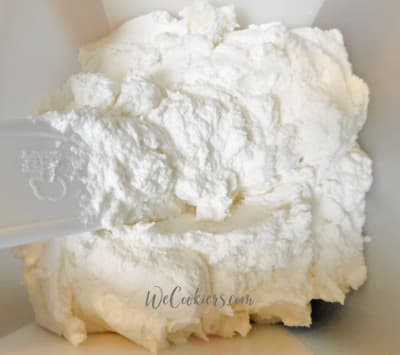 Here is the best buttercream frosting recipe for vanilla, or any flavor you prefer.
Click this image to download the recipe!
The half-batch measurements are on the download page.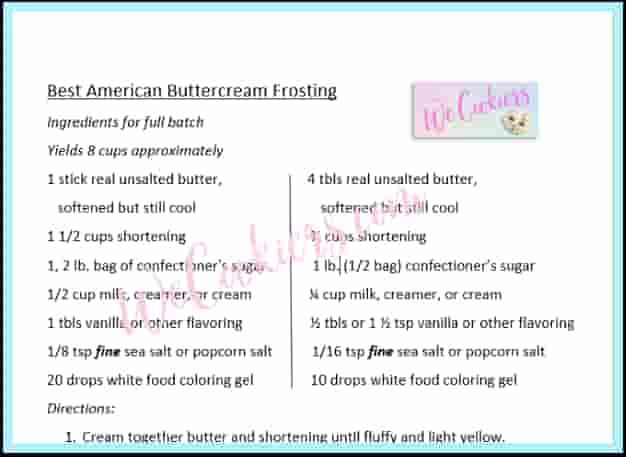 Click image to download your free recipe!
Best Buttercream Frosting, Vanilla
Ingredients for Full Batch
1 stick REAL unsalted butter, softened but still cool

1 1/2 cups brand shortening
1, 2 lb bag of confectioner's sugar, any brand
1/2 cup milk, creamer, or cream
1 tbs vanilla or a flavor you prefer
1/8 tsp fine-granulated sea salt, or popcorn salt, this helps cut the sweetness
20 drops of white food coloring gel, this makes that real white professional look

**Please note, depending on the brand you use of confectioner's sugar it can vary how much milk or cream or creamer to use. Different brands of confectioner's sugar add more cornstarch to the bag than others. I just use Great Value from Walmart and use just over 1/2 cup.
**Another note, I love using coffee creamer in buttercream frosting for cookies. It creates some fantastic flavors! Some decorators use just hot water for the liquid. Though the texture is great, it lacks the richness in flavor that customers have come to love.
Directions for the best buttercream frosting:
Cream together butter and shortening until fluffy and light yellow.
Scrape sides.
Add confectioner's sugar, milk, creamer, or cream, flavoring, and fine salt.
Turn the mixer on low until the confectioner's sugar is fairly incorporated.
Turn on medium-high using the paddle attachment for 7 minutes.
Place in an airtight container.
Leftovers can be frozen easily for up to 6-8 months. In this recipe for the best buttercream frosting, vanilla can be halved.
The full batch makes about 8 cups.
**This is my version of American buttercream.
If you would like to see Chef Alan Tetreault, of Global Sugar Art, make his version of American buttercream, here is his video. I don't find it necessary to do all the steps he does. Just an added choice for you.
He is a wonderful teacher and I enjoyed watching him when I started making professional cakes.

Best buttercream frosting...dreamy chocolate recipe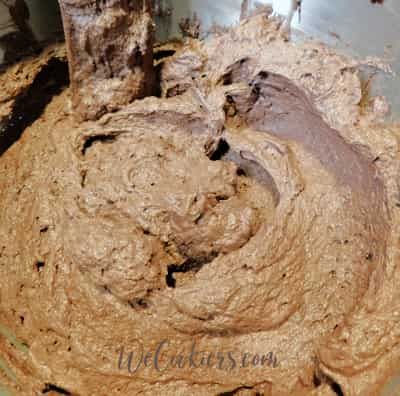 Click on the image to download this velvety American chocolate buttercream recipe.
For a half batch, go to the download page.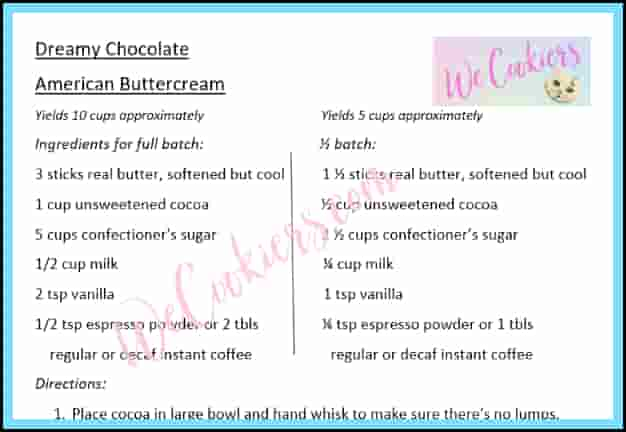 Click image to download your free American chocolate buttercream for free!
Best Buttercream Frosting, Dreamy Chocolate
Ingredients for a full batch
3 sticks of real butter
1 cup unsweetened cocoa
5 cups confectioner's sugar
1/2 cup milk
2 tsp vanilla
1/2 tsp espresso powder OR 2 tbs instant coffee, or instant decaffeinated

Coffee? Yep. Coffee!. Either espresso or instant coffee enhances the flavor of the chocolate exponentially.
**Espresso can be costly, so 2 tbs instant coffee can easily be substituted.
Some wonder if caffeine can be an issue for little kids. My reply is simply all the sugar in the frosting by far outweighs the caffeine. If you are concerned, just add instant decaffeinated coffee. It does the same for the frosting.
Directions for the best buttercream frosting, dreamy chocolate
Place cocoa in a large bowl and hand whisk to make sure there are no lumps.
With the paddle attachment, cream together butter and cocoa.
Alternate adding 1 cup confectioner's sugar and then 2 tbs milk.
After they are added completely, turn the mixer on high for one minute.
Add vanilla and espresso or instant coffee. Combine well.
Beat for an additional 3 minutes on medium-high.
I would love to continue bringing you valuable information and videos. Please consider sharing this page as well as liking and subscribing to WeCookier's YouTube channel here. Thanks so much!
If you have any questions about the Best Buttercream Frosting recipes, feel free to contact me through the contact tab.
Here's the link back to How to Make Professional Cookies

Top of Best Buttercream Frosting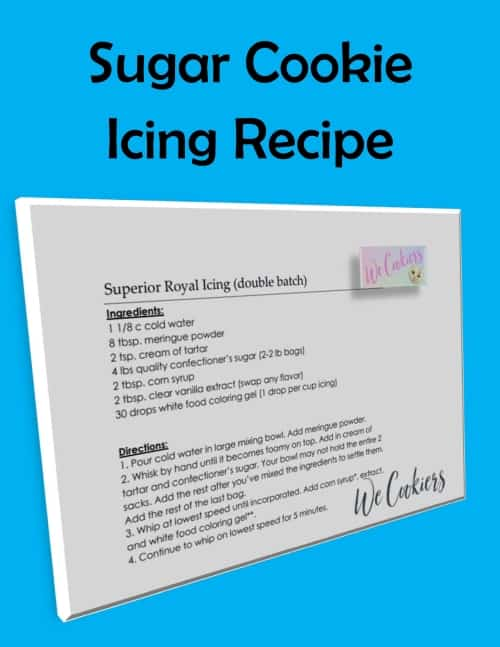 Sugar Cookie Icing Recipe link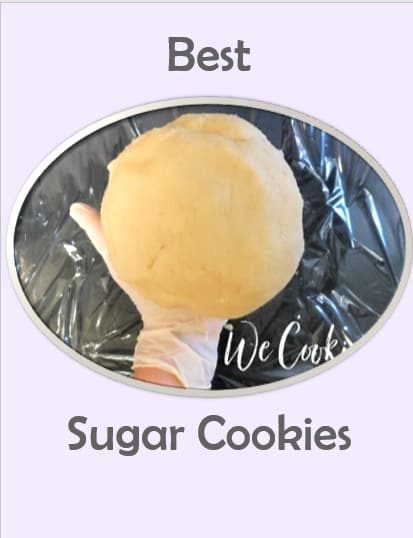 Best Sugar Cookies link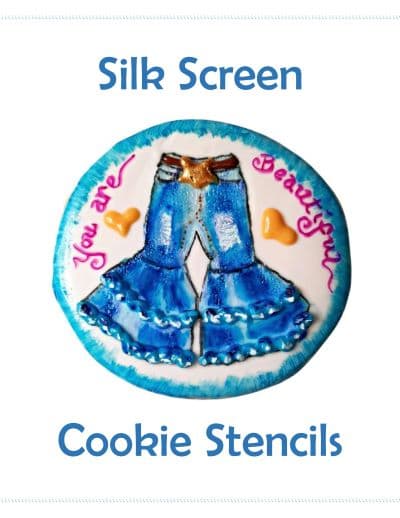 Silk Screen Cookie Stencils link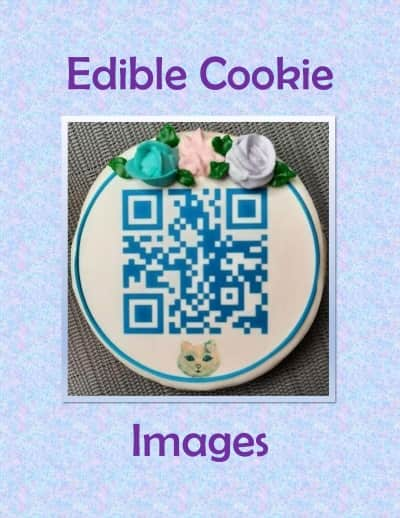 Edible Cookie Images link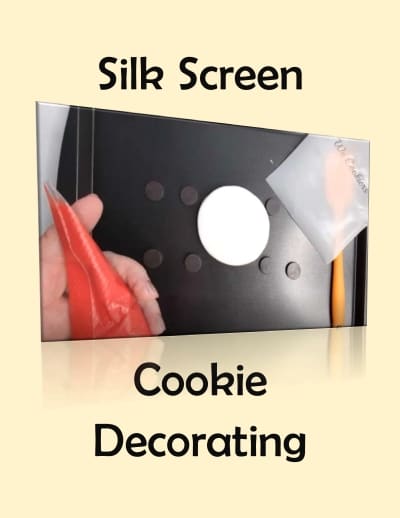 Silk Screen Cookie Decorating link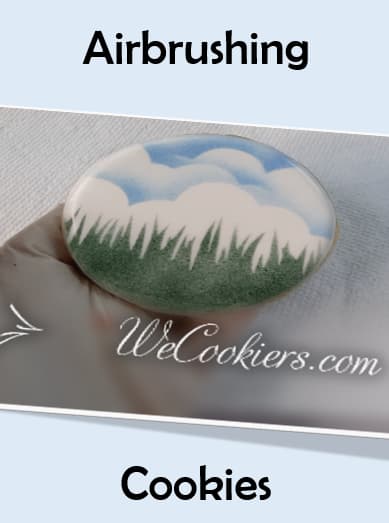 Airbrushing Cookies link