6 sugar cookie decorating ideas that will give endless inspiration
Sugar cookie decorating ideas do not necessarily come at will. That's why us cookier's need inspiration, sometimes a lot of it!
This page gives you 7 sugar cookie decorating ideas that you can build on…
If it's not a link, the page will be added soon. Thank you for your patience!
3. cute sugar cookies decorated
4. simple decorated sugar cookies
5. sugar cookie designs
6. unique sugar cookies
7. using royal icing transfer sheets
After your delightful works of art are made, you'll need to know how to price for decorated sugar cookies. 
If you have not grabbed my free 2-page download on Royal Icing Tips (hacks), you'll want to do that. It's invaluable!
Let's discuss the 6 sugar cookie decorating ideas
1. Cookie Cutter Flips. Fun. Creative. Satisfying. Need I say more? We all love browsing the endless ways we can reuse cookie cutters for more than their intended shape.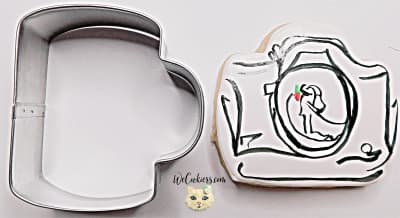 Coffee mug flipped to be a wedding camera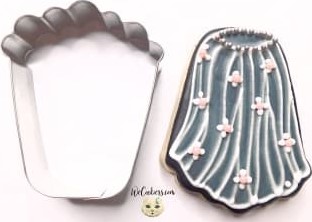 Popcorn cutter turned into a wedding veil
By joining the WeCookier's Express newsletter, you will get first-see inspiration of the many ways I flip those cutters (and oh so much more). Perhaps I'm on a mission to be the Queen Cookie Cutter Flip, lol. I do find it addicting.
Flipping cutters give great ideas. Couple that with morphing and you're really on a role!
Click image to sign up for free!
2. Cookie decorating videos. Enjoyable. Relaxing. Zzzzz. As a cookier, we can't get enough of these videos.
Cookie video tutorials give us the motivation to keep getting better as we gather ideas.
As you peruse these videos I made for you, I hope they aspire you to new sugar cookie decorating ideas as well as how to make professional cookies. Link to WeCookier's YouTube Channel, remember to like and subscribe. It continues helping me to help you...for free. Thanks so much!
3. Who doesn't love cute sugar cookies decorated? Sweet. Charming. Precious.
I find baby shower cookies to be some of my favorites. Especially when my customer says 'this is the theme, run with it'. Aren't those the greatest customers?
Cuties baby shower theme
This page is sure to inspire the genius in you.
The great thing about these cookies is you don't have to have certain shapes. The right sugar cookie icing recipe, (or a great glaze recipe) of course, comes first. Basic shapes are usually the best so you're not constricted.
With this list of Sugar Cookie Decorating Techniques, the ideas are never-ending.
4. Simple Decorated Sugar Cookies. Simple does not have to mean humdrum. Often, the less complex the cookies, the sweeter or more beautiful they are.
A unicorn icing transfer from the WeCookier's collection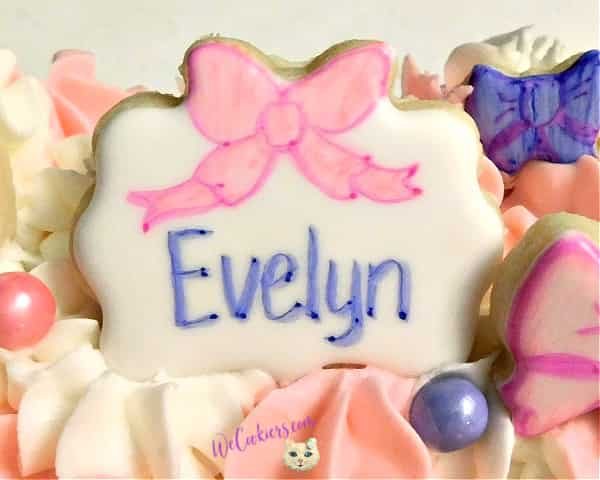 Sugar cookie with food markers
I'm so used to decorating sugar cookies, that I get so involved it's hard to stop. I often forget simple is sweet.
5. Sugar Cookie Designs.  Even trying to think of the simplest designs can cause our minds to freeze. Are Google images and Pinterest your best friends too?
*Click here to go to Royal Icing Flooding. This page gives you many tips and hacks to make sure your cookies turn out perfect with no color bleed.
Sometimes just having a design pattern on a cookie is all it needs.
Food color markers will come in perfect for patterns of design. That link will take you to a page where I compare 7 brands of edible markers to see which ones work best.
At a loss for designs? Have you checked out sites like Shutterstock?
Please be careful not to copy the images. I'm suggesting sites like this to only gain inspiration from. There is, of course, the option to purchase with a license.
6. Unique Sugar Cookies. Interesting. Compelling.
I love unique sugar cookie decorating ideas. I could spend hours looking through unique cookies. Some cookie artist's talent is beyond words.
These 2 crosses are made with plastic suncatchers bought at Walmart. I impressed the image into the cutout shapes before being baked. Then decorated with colors the customer chose for a baptism.
This is a photo of a display at Walmart I took. It shows all their suncatchers. They are .88 each.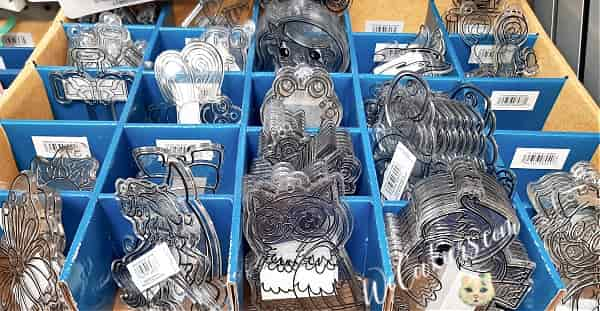 More sugar cookie decorating ideas 
Trying to think of unique cookies to decorate?
One tip is to be ever-mindful of things in life around you. For instance, as I changed my physical calendar on the first of the month, I saw a gorgeous photo of a flower I want to emulate. Fingers crossed.
If something positive or funny hits the news, immediately try to capture the theme with a cookie to post on your social media.
If you are at a store in the sewing or clothing department, look at the print. Love it? Can you put something like it on a sugar cookie?
How about a very popular article of clothing, like boots or a blouse? If you love it, snap a picture of it and put it in your swipe file.
By the way, if you don't know what a swipe file is, it's a fast go-to running list of ideas. Everyone needs a swipe file!
Have you thought about these sugar cookie decorating ideas?
1. Skip right over to Picsvg. This amazing and super easy online tool is free! You can't go wrong with anything. It's all done for you. I love this tool.
Once you upload a photo or image, it populates the SVG for you. You can tweak it a little here and there if you want. Then just download and you're ready.
What do you do with the resulting SVG? 
If you have a cutting machine like a Cricut, you can easily make a stencil.
You can also use it with a projector to trace it on a sugar cookie.
It can really 'wow' a customer by getting something so personalized, like an engaged couple on wedding cookies or a birthday or anniversary of someone. Pretty slick huh?
2. I'm sure you've heard of cookie platters. Yes, the set of cookie cutters can be quite expensive. But if you just have a candy corn or pie shape cutter, you can easily make a scene with one cutter!
It's your turn! What are some of your favorite decorating ideas? Leave the answer and a favorite photo if you have one! (Please, do NOT add anything copyrighted or trademarked such as character or NFL cookies ;) Thanks!)

As this site will be a never-ending site, meaning I'll always be adding new pages, I try to add to different lists, ideas, tips, etc. on already published pages as I think of them. So keep checking back!
Top of Sugar Cookie Decorating Ideas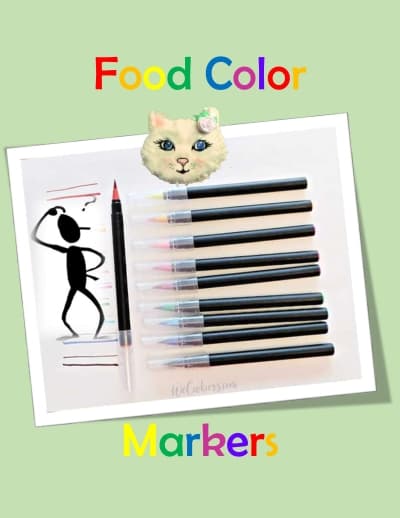 Food Color Markers link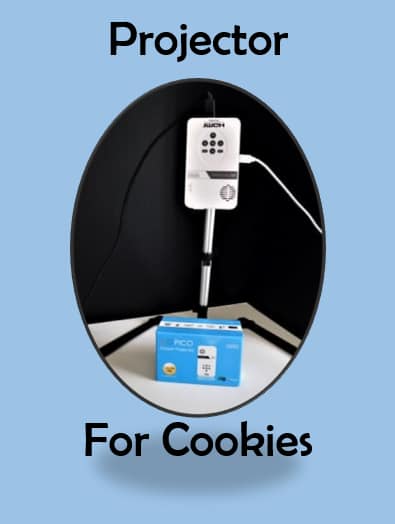 Projector for Cookies link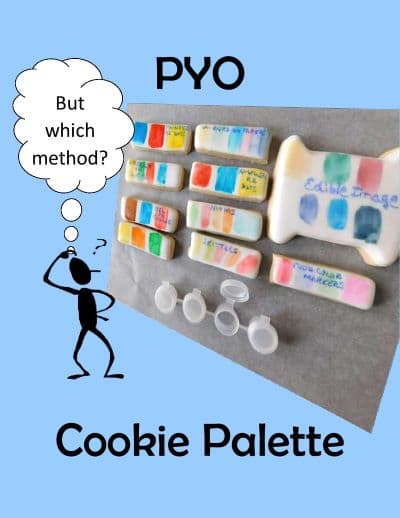 PYO Cookie Palette link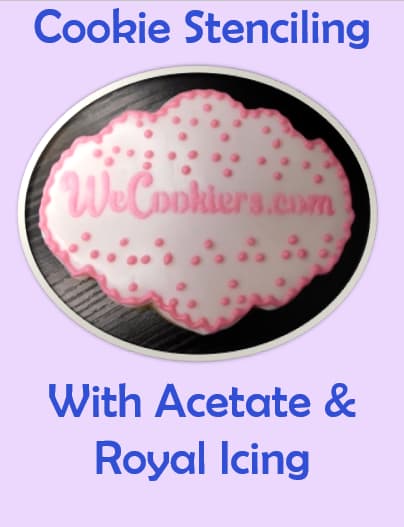 Cookie Stenciling link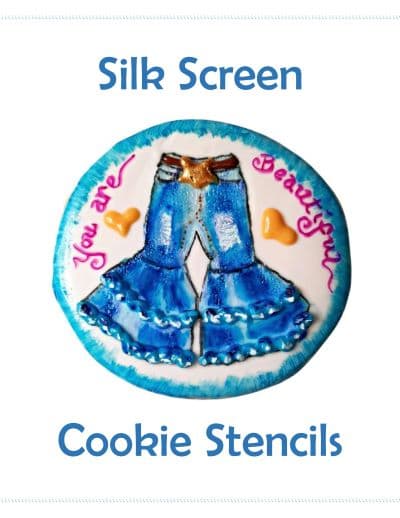 Silk Screen Cookie Stencils link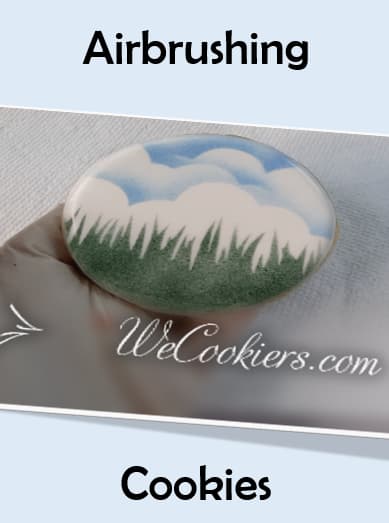 Airbrushing Cookies link