4th Of July Cookies: kaboom! Have an explosion of clever possibilities
4th of July cookies.
Light the fuse. Here we go.
What this page is about (naturally)...
red, white, and blue Independence Day cookie theme
-how to make deep blue and perfect red royal icing or glaze
-easy cookie platter with video tutorial
-turning plaque cutters into 4th of July cookies
-cookie cutter flips into 4th of July sugar cookies
Cause a bang with Uncle Sam's deep blue and red royal icing
Here it is. How to make Uncle Sam's beautiful deep blue and perfect red royal icing, or glaze...those sought-after colors!
No, I mean beautiful blue... 
...and deep red.
made another video around Valentine's Day for achieving that perfect red color. Since it's not that holiday, I decided to make another video for this page. 
Did you tap above for my Superior Royal Icing and glaze recipes? No worries, here they are again: Superior Royal Icing and Glaze Recipe. Free downloads!

Cause an explosion of flavor with my sugar cookie recipe that tops any I've ever tasted (my customers agree). Get that free recipe here: Best Sugar Cookies.
If you really want to make the perfect 4th of July cookies, it starts with these invaluable pages that are a must:
-best baking sheets (you may be surprised)
-how to bake sugar cookies (you may think this is a no-brainer, but believe me, you'll appreciate it)
-flooding sugar cookies with royal icing or glaze
-how to make professional cookies (1 of 3 of my most popular pages on Google)
4th of July cookies, and easy and fast-decorating platter set to cause a bang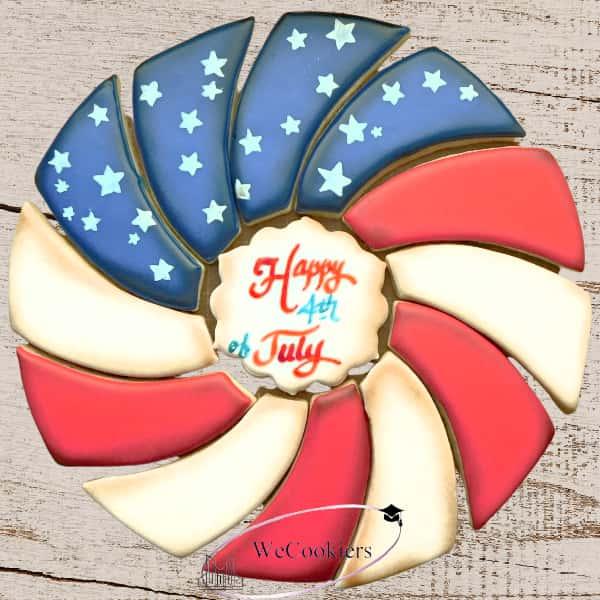 antiqued flag cookie platter by WeCookiers
This cookie-cutter platter set was purchased through Semi-Sweet Designs. I do like Mike's cutters.  You can tell he strives for perfection.
Here is my video showcasing this platter of sugar cookies and I have decorated them using my airbrush to make it POP!
If you are undecided if you need an airbrush, or just have many questions, I answer them on this page. You will see which one I use most every day and love. It also has a Yankee-doodle of a price, yay! Tap for this page: Airbrushing Cookies
I would have just airbrushed the stars with the stencil, but I wanted to use my newer white food color markers with these. I love the way they turned out!
To make the stars on the blue cookies, you can do one of several ways:
-airbrushing
-silk screen cookie decorating (see more on that here)
-drawing them on with royal icing using a cookie projector (this is the one I love and use almost daily for over 4 years now. Lots of questions answered on it too, tap here: Projector for Cookies)
-drawing them on using a white food coloring pen
For the ease and quickness of this platter, I opted to use the white edible marker with a star stencil and just colored in the stars with it. No fuss, no muss, no cleanup. Yes!
I like and enjoy using these white edible markers I purchased through Amazon. I feel they are well worth it, being a 3-pack especially. I also appreciate the brush tip.
The upper right of the package gives the expiration date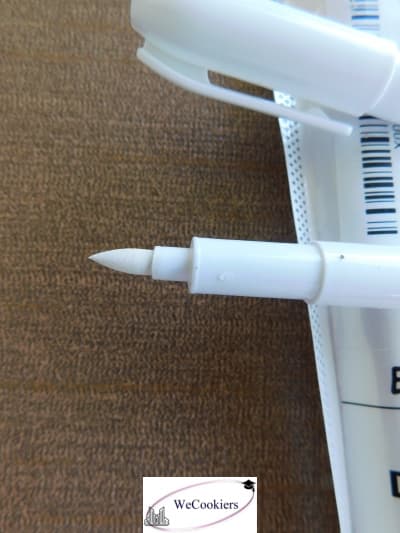 They have a wonderful brush tip!
This is how they come in a 3 pack.
As an Amazon Associate, I earn from qualifying purchases. This means no cost to you but I may receive a small commission when you click on the link below and make a purchase. 
I am proud to offer you affiliate links.
Why?
When you see one, that means I stand behind that product. I bought it, I love it, and I use it regularly in my own sugar cookie business. 
Because of this, you can be assured that there will be no spammy material/products on this site. 
These are perfect for chalkboard cookies. The white color is long lasting too. These graduation sugar cookies were over 2 days old and still looked great with the edible white pen...
Graduation hat using a white food color marker for 'Congrats'
If you would like to learn how to make your own stencils using a Cricut or other cutting machine, I teach you how to do that in a step-by-step video tutorial on Silk Silk Cookies Stencils. You'll be making your own faster than a skyrocket. 
Tap this image for the tutorial: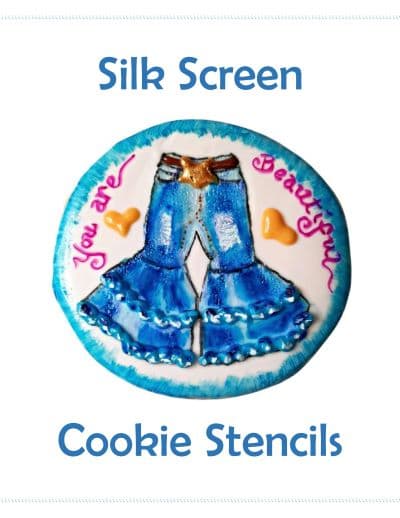 Here are a bunch more decorating ideas, tap the image below: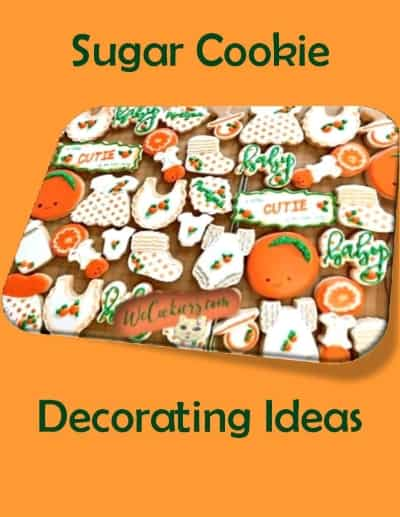 Using plaque cutters for 4th of July cookies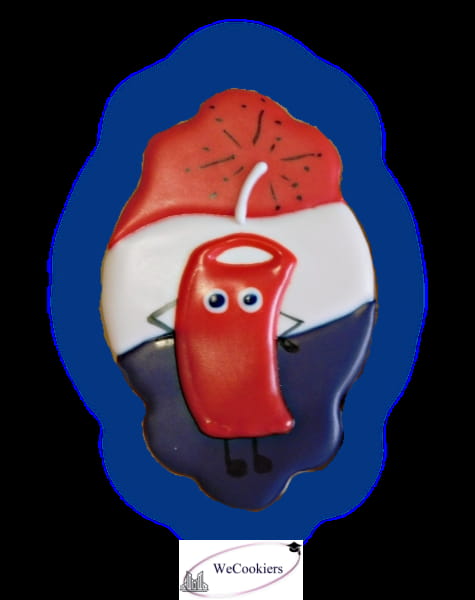 easy and quick design for a plaque cookie, topped off with food color markers
Even if you don't have those cute and unique cookie cutters, you can always use plaque cutters in any shape.
Here are some ideas to get you started...
-PYO cookies (make your own PYO cookie palettes. What is the best method? I size them up with a video comparison, new ways, and individual, unedited pictures. Tap this link: PYO Cookie Palettes)
-airbrushing images (like firecrackers) with stencils
-water-coloring images
-easily using a cookie projector to trace images
-edible images (can't get easier than this). Even if you do not own an edible image copier, you can still use the sugar sheets. Draw or trace your images on it, then apply them to the dried, flooded sugar cookies. This way, if you happened to make a mistake, you don't ruin the cookie!
Do you want one yet a little nervous to make that decision? I answer loads of questions you need to see. Also, I cover what I feel is the best decision between brands. Check that page out here: Edible Cookie Images.
-royal icing transfers-flood the cookie, let the icing dry, then 'pop' those babies on. Super easy. My sister page to this one is Royal Icing Transfer Sheets, for more details.
After you get your decorated 4th of July cookies done, you may want to look into some no-bake 4th of July desserts. You can find 45 delicious recipes here: Balancing Motherhood
4th of July cookies can be extra fun to make, especially with kids, making it a great family time.
Remember, you can always make the uniced sugar cookies up months ahead of time to save time when you are so busy planning for the 4th activities.
Top of 4th of July Cookies
Here are some of my most popular pages by Google: